Yên Bái pulls out all the stops to fight COVID-19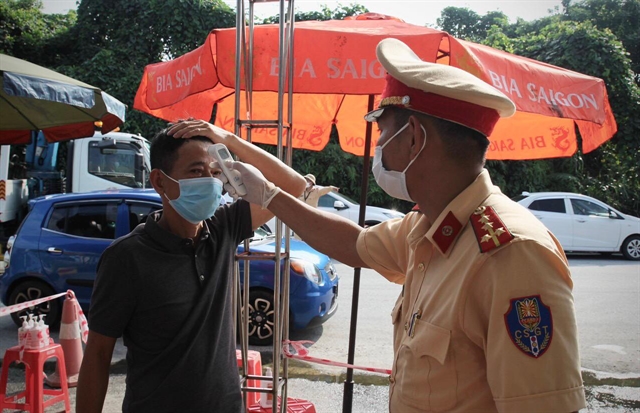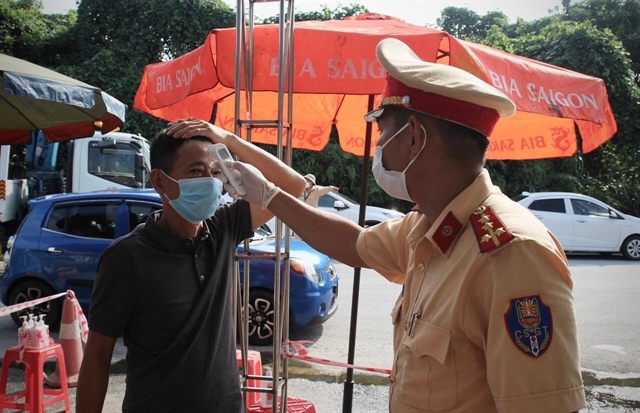 A traffic police measures temperature of a person in the quarantine station at the intersection IC12 connecting Yên Bái Province with Nội Bài – Lào Cai Expressway. —VNA/VNS Photo
YÊN BÁI — Captain Nguyễn Văn Thắng, of Trấn Yên District's Traffic Police Team stopped his daily work as a traffic police officer to go to the quarantine station at the intersection IC12 connecting Yên Bái Province with Nội Bài – Lào Cai Expressway on Sunday.
Thắng was assigned to be the head of the quarantine station. His duty is to tell drivers to make health and travel declarations to prevent the spread of COVID-19.
He said he and his colleagues always strictly followed regulations requiring drivers to make health declaration and provide information including their departure, destination, license plate and phone number.
For long-distance coaches, assistant drivers were told to work with the quarantine station's staff to provide the name, address, phone number and departure as well as the destination of every passenger, he said.
All people going through the quarantine station had to have their temperature checked and make a health declaration, he added.
Thắng and his colleagues at the station are among many police in the province working hard to prevent the spread of COVID-19.
Not only traffic police but also other forces at the quarantine station are busy day and night to ensure public safety.
Nguyễn Thị Yến, a medical worker of Minh Quân Commune, Trấn Yên District, said although she was worried she was optimistic because Việt Nam had already shown it can beat back the pandemic.
She also said she always tried her best to fulfil her tasks at the quarantine station.
Nine local quarantine stations have been set up since May 2 following the request of the provincial Steering Committee on COVID-19 Prevention and Control.
The quarantine stations are located at the gateways of the province, intersections connecting Nội Bài – Lào Cai Expressway, national highways to the province as well as on provincial roads. The quarantine stations have been operated 24 hours daily.
Inter-disciplinary forces working at the quarantine stations include the police, medical staff, soldiers and traffic inspectors.
This is the third time the province has activated the quarantine stations, so people are used to getting out of their vehicles and making a full health declaration.
Lê Văn Đức, of Yên Ninh Ward, Yên Bái City, said he travelled from Hạ Hòa Town in Phú Thọ Province to Yên Bái.
Đức said he thought the health declaration was very necessary.
He said he always followed the 5K message: Khẩu trang (face mask) – Khử khuẩn (disinfection) – Khoảng cách (distance) – Không tụ tập (no gathering) – Khai báo y tế (health declaration) as recommended by the Ministry of Health to prevent the pandemic, he added.
Vũ Hồng Linh, a driver of Thanh Lan Coach Firm, said he always got necessary information from passengers in accordance with regulations and told them to strictly follow regulations on COVID-19 prevention and control.
"I think it is very necessary to obey the regulations, it aims to ensure safety not only for myself but also passengers and the community," he said.
Lê Thị Hồng Vân, Director of the provincial Health Department, said on Thursday morning after receiving the urgent notification from the National Hospital for Tropical Diseases about a suspected new case of COVID-19, the province quickly investigated and discovered close contacts in Gia Hội Commune, Văn Chấn District.
Nineteen people were identified to have had contact with the suspected new patient, she said.
Fortunately, all of the samples were negative for SARS-CoV-2, she said.
The provincial Steering Committee on COVID-19 Prevention and Control had asked local people to not go to Gia Hội Commune if not necessary. The people were told to work with the authorities to control the pandemic, she said.
The health department also ordered all private medical facilities to suspend operation since midnight on Thursday to strengthen the implementation of measures to prevent and control the pandemic in the locality.
According to the department's quick report related to a Chinese expert that was found positive for SARS-CoV-2 after re-entering China from Việt Nam on April 30, by 7pm on May 5, the province took samples for tests and quarantined 11 direct contacts (F1) and 270 contacts of F1 cases.
All the samples were negative for SARS-CoV-2 in the first tests, the department said.
The province has recorded five cases of COVID-19 so far in the new outbreak, including four Indian experts, who were quarantined immediately after entry, and one person, who was an employee of Như Nguyệt 2 Hotel.
Currently, the five patients are being treated at National Hospital for Tropical Diseases and their health is stable.— VNS