VN to receive 5 million doses of COVID-19 vaccines late Feb: health ministry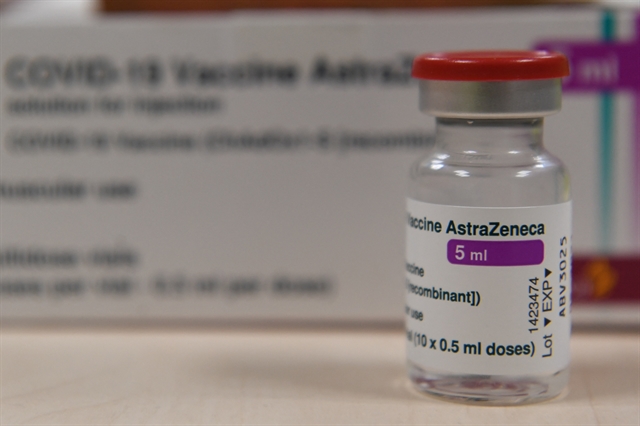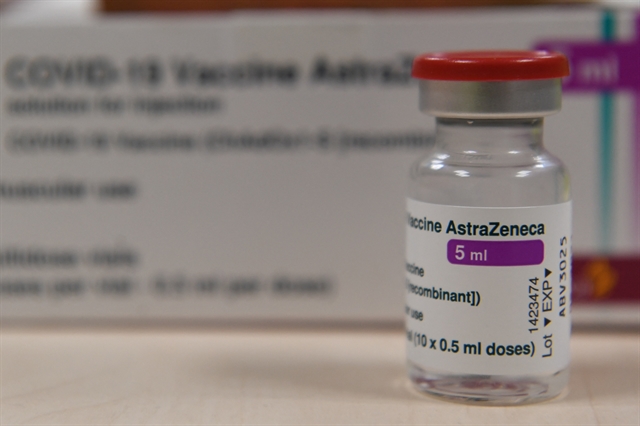 Oxford/AstraZeneca COVID-19 vaccine (AZD1222). — AFP/VNA Photo
HÀ NỘI — Five million doses of a COVID-19 vaccine will be available to be administered in the next weeks.
The Ministry of Health says Việt Nam is slated to receive the doses by the end of February as the country battles a new wave of community outbreaks.
Speaking at the Government meeting on COVID-19 prevention and control on Monday, Trương Quốc Cường, Deputy Minister of Health said the ministry has 'basically completed' procedures needed to receive 4.8 million doses via the World Health Organisation-led initiative COVID-19 Vaccines Global Access, aimed to ensure equity in the distribution of the vaccines, in addition to commercial import of another 117,000 doses, without providing specifics on the manufacturers.
Cường said five million people – mostly frontline workers – will be given the first shot, and when the next batch arrives, they will be given the booster shot.
Deputy Prime Minister Trương Hoà Bình suggested that given the current limited supply of COVAX, experts have recommended importing Russian-made COVID-19 vaccine Sputnik V, as it has proved to be effective and comes with an affordable price tag.
The COVID-19 vaccine developed by Oxford/AstraZeneca makes up the majority of the supply through COVAX initiative, in addition to a portion of the one made by Pfizer-BioNTech.
Prime Minister Nguyễn Xuân Phúc said importing vaccines must be considered the "focus priority" of the Government, asking the health sector to conduct all necessary measures to make COVID-19 vaccines available in Việt Nam this month either through purchases or from UN organisations.
The PM also required accelerating the research and production of domestically made vaccines. Việt Nam currently has one in phase two of human trials, and another one soon to conduct human trials.
He assigned the health ministry to decide options, partners and types of imported vaccines; identify priority subjects for vaccination; and coordinate with the finance ministry in arranging needed financial sources.
Many localities and businesses in the country have offered to provide financial support to purchase vaccines, and a final decision by the Government can be expected on Wednesday.
Praising prompt and drastic efforts made by the health sector and many localities since January 27, the day when new local clusters of COVID-19 infections were detected following nearly two months of no reported community cases, the Government leader underscored the fact that necessary social distancing measures have been implemented while thousands of medical personnel have been sent to COVID-19 hotspots.
However, the situation remains complicated with a number of pandemic-hit areas like in Hải Dương Province and Hà Nội yet to manage to curb their local outbreaks, Phúc noted.
The Government leader highlighted the need of more drastic implementation of his Directive 05 on urgent COVID-19 prevention and control measures, particularly in quickly zoning off outbreaks, large scale testing, and speedy contact tracing.
He agreed to proposals to halt festivals and activities of mass gatherings, and told the education ministry to coordinate with localities to carry out online teaching in some localities.
He ordered restriction to holiday visits and travel in the first lunar month of the new year, and strict adherence to COVID-19 prevention measures, particularly wearing masks in public areas, with stricter punishments for those who do not comply.
The PM ordered localities to re-conduct COVID-19 testing for foreign experts and tightly manage quarantine sites to avoid cross infections, with the army tasked with managing these sites.
Ensuring food security, promoting local farm produce consumption, and tight monitoring of entry-exit activities are also necessary, according to PM Phúc. — VNS