VN, Thai PMs to work together to overcome pandemic challenges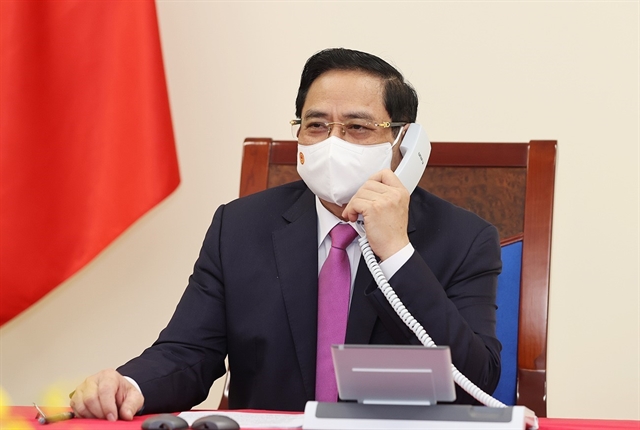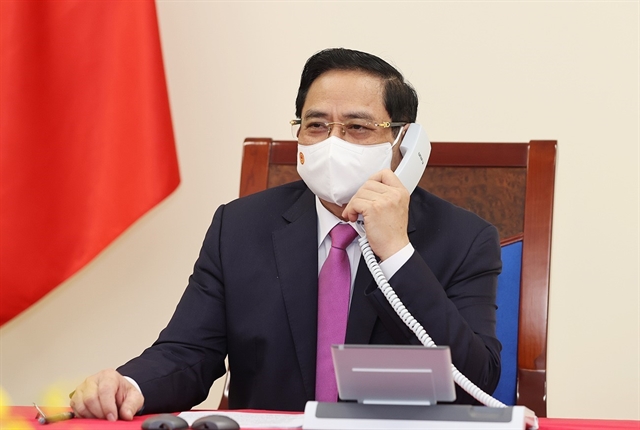 Prime Minister Phạm Minh Chính had a phone call with Thai counterpart Prayut Chan-o-cha on Wednesday. — VNA/VNS Photo Dương Giang
HÀ NỘI — Vietnamese Prime Minister Phạm Minh Chính held a phone conversation with his Thai counterpart Prayut Chan-o-cha on Wednesday night to discuss various aspects of bilateral co-operation, including facilitation of travel protocols between the two countries.
Thai PM Prayut Chan-o-cha sent his best regards and best wishes to Vietnamese Party General Secretary Nguyễn Phú Trọng and President Nguyễn Xuân Phúc, and congratulated PM Chính on his election to the post and invited the Vietnamese PM to visit Thailand.
The Thai leader praised Việt Nam's competent handling of the COVID-19 pandemic along with socio-economic development, successful fulfilment of its role as Chair of the Association of the Southeast Asian Nations (ASEAN) in 2020 as well as as a non-permanent member of the United Nations Security Council – especially as the President of the council in April this year, and the country's role in regional and international affairs.
He said Thailand holds in high regards relations with Việt Nam and wants to promote the partnership between the two countries.
PM Chính thanked Thai PM for sending congratulatory messages, conveyed greetings from Party General Secretary Trọng and President Phúc to the King, Queen and Prime Minister of Thailand and reaffirmed his willingness to work closely with Prime Minister Prayut Chan-o-cha to expand bilateral ties.
The two Prime Ministers requested agencies to organise activities commemorating the 45th anniversary of the establishment of diplomatic relations between Việt Nam and Thailand in 2021, maintain and promote effective bilateral co-operation mechanisms, including the organisation of the 4th Việt Nam-Thailand joint cabinet meeting at an appropriate time, early signing the Action Plan to implement the Việt Nam-Thailand Enhanced Strategic Partnership for 2021-25 and striving to bring bilateral trade to US$25 billion by 2025.
PM Chính said Việt Nam would facilitate and encourage Thai businesses to do business in Việt Nam, especially in fields with high potentials such as energy, tourism, hi-tech agriculture, supporting industries for the auto industry, and digital technology.
The Thai PM agreed with Chính's proposal on strengthening the direct exchange mechanism between two countries' ministers in a flexible manner to address difficulties and ensure effective economic, trade and investment ties.
The two PMs also discussed how to resolve problems faced by enterprises of the two countries due to the ongoing COVID-19 pandemic.
They agreed to facilitate the negotiations of priority travel mechanisms between the two countries and co-operation in ensuring safe and effective access to vaccine supplies, in a bid for sustainable post-pandemic socio-economic recovery.
Regarding regional and international co-operation, they agreed to boost mutual support in multilateral mechanisms such as the United Nations, ASEAN, APEC (Asia-Pacific Economic Cooperation forum), and to promote transport connectivity and sustainable development in the Greater Mekong Subregion.
The Vietnamese PM asked Thailand to back Việt Nam's in its bid to be the host country of the ASEAN Regional Center on Public Health Emergencies and Emerging Diseases (ACPHEED).
The two leaders shared the importance of strengthening solidarity and maintaining ASEAN's stance on the South China Sea (known in Việt Nam as the East Sea) issue, as well as holding negotiations to achieve an effective and substantive Code of Conduct in the South China Sea (COC) in line with international law, including the 1982 United Nations Convention on the Law of the Sea.
Regarding the situation in Myanmar, they affirmed ASEAN's central role in supporting Myanmar to overcome current challenges and agreed to work with ASEAN and member states to promote the implementation of the Chairman's Statement on the ASEAN Leaders' Meeting held on April 24.
PM Chính emphasised that, as members of ASEAN, in the face of complex COVID-19 developments, we need to build realistic and in-depth co-operation to bring prosperous and happy lives to the people.
PM Chính invited the Thai leader to visit Việt Nam at a suitable time and Thai PM Prayut Chan-o-cha accepted the invitation. — VNS