VN-made vaccine effective against UK coronavirus variant, initial results show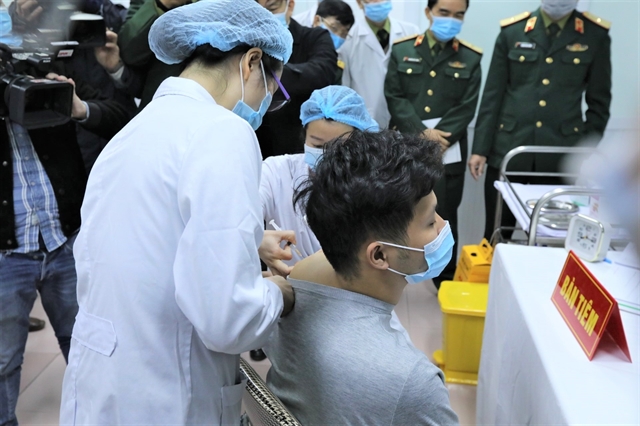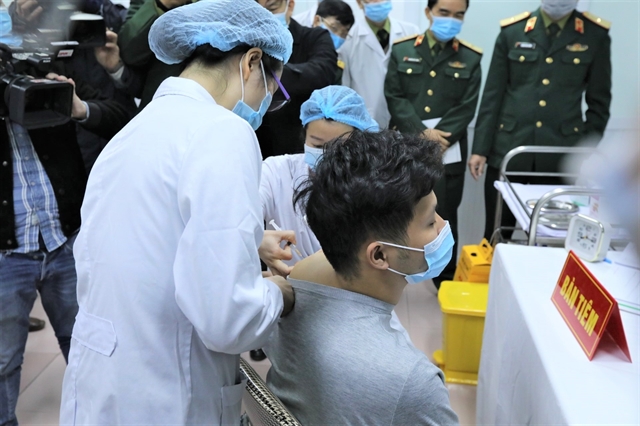 A volunteer is given a dose of Nano Covax on December 17. — VNA/VNS Photo Minh Quyết
HÀ NỘI — Việt Nam has completed the first phase of the human trials of Nano Covax, a locally made COVID-19 vaccine, tested on 60 volunteers, the Việt Nam Military Medical University said on Monday.
The last 22 volunteers received the second shots, with two receiving the 50mgc dose, and 20 getting the 75mgc dose.
In all, 120 shots (two for each volunteer) were given in this phase.
Experts from university said Nano Covax has proven safe and effective against the coronavirus SARS-CoV-2, even its new variant first reported by the UK health authorities, which is deemed more contagious but not necessarily causing more severe disease in those infected.
Most of the volunteers are in stable conditions after vaccination. Only few had light injection site pain and fever that disappeared after one to two days.
After Tết (Lunar New Year) holiday ends next week, the National Committee for Ethics in Biomedical Research (under the Ministry of Health) will start evaluating the initial results of vaccine trial.
The objective of the first phase is to evaluate the safety of the vaccine, developed and manufactured by HCM City-based Nanogen Pharmaceutical Biotechnology JSC.
Nearly 400 people have registered for the second phase that is expected to last for six months, during which 560 volunteers will be injected with the vaccine.
The Việt Nam Military Medical University will continue to administer the second phase trial, with the help of the Hà Nội-based National Institute of Hygiene and Epidemiology and HCM City Pasteur Institute.
The third phase will see the involvement of more than 10,000 volunteers – including several countries in Asia where there is widespread community coronavirus transmission. The third phase will begin when the second phase is half its way through, which puts the possible date at around August.
If the results are good, Việt Nam would administer the vaccine to the public in early 2022.
Nano Covax is the first Việt Nam-made COVID-19 vaccine to enter human trials starting from December 17, 2020. The vaccine can be kept at normal refrigerator temperatures (2-8 degrees Celsius).
Three other vaccine candidates are also being developed. — VNS