Vietnamese health minister holds talks with Moderna representative over COVID-19 vaccine deal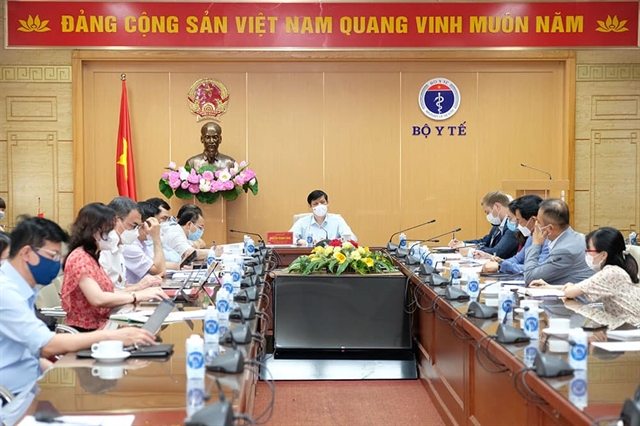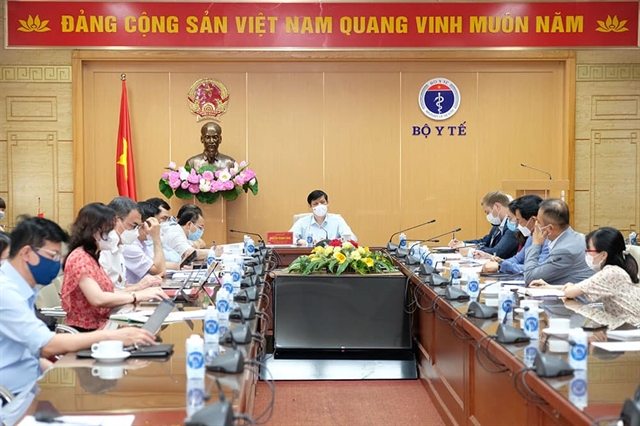 Vietnamese health minister Nguyễn Thanh Long had discussions with foreign partners on COVID-19 vaccine supplies to Việt Nam on Friday in Hà Nội. — Photo from the Ministry of Health
HÀ NỘI — Vietnamese health minister Nguyễn Thanh Long on Friday held discussions with Zuellig Pharma, the Moderna distribution partner in Việt Nam, over a possible deal to provide COVID-19 vaccines.
Minister Long and the pharmaceutical company talked about the "capacity and the conditions to provide Moderna COVID-19 vaccines to Việt Nam."
Health minister Long asked Zuellig Pharma to supply vaccines "at the earliest time and with the most appropriate price" to deal with the COVID-19 pandemic, as the country is currently suffering from a major fourth wave of infections that has seen thousands of new cases.
The Zuellig Pharma representatives said they would discuss Việt Nam's proposals with Moderna.
The same day, health minister Long also held talks with several foreign officials and partners – including representatives from the Japanese and South Korean embassy in Hà Nội, as well as delegates from Indian, Europe, UK, Japanese commerce associations and South Korean companies including Samsung, SK, and LG regarding supplies of COVID-19 vaccines to Việt Nam as well as vaccinations for workers in industrial zones and manufactories.
Given the country's success in handling the pandemic compared to elsewhere in the world, Việt Nam's access to COVID-19 vaccines is heavily limited as suppliers give priority to more badly-hit countries.
The health minister and other parties have discussed mechanisms to access COVID-19 vaccines such as asking countries to remove the ban on vaccine exports, encouraging foreign enterprises to directly import vaccines to vaccinate employees working for foreign enterprises in Việt Nam, and cost-sharing mechanism related to access to vaccines.
The foreign partners and officials have also expressed support to accompany and reduce the burden on the Government and people of Việt Nam regarding the issue of access to and supply of vaccines.
At the meeting, Minister Long said that COVAX Facility has committed to providing 38.9 million doses of COVID-19 vaccines to Việt Nam and Việt Nam also proposed that COVAX Facility support Việt Nam in purchasing an additional 10 million doses with cost-sharing mechanism.
Minister Long said he hoped that the embassies and businesses of the countries that sponsor COVAX Facility would provide further support and exercise their influence so that more vaccines can come to Việt Nam.
Minister Long has also asked countries with surplus vaccines to facilitate sharing with Việt Nam.
To date, the country has only administered over 1 million shots of COVID-19 vaccine, mostly for frontline workers and medical staff using Oxford/AstraZeneca vaccines provided via COVAX Facility, and only some 28,000 people have been given the full two-dose regime. — VNS