Vietjet overcomes pandemic with positive 2020 audit report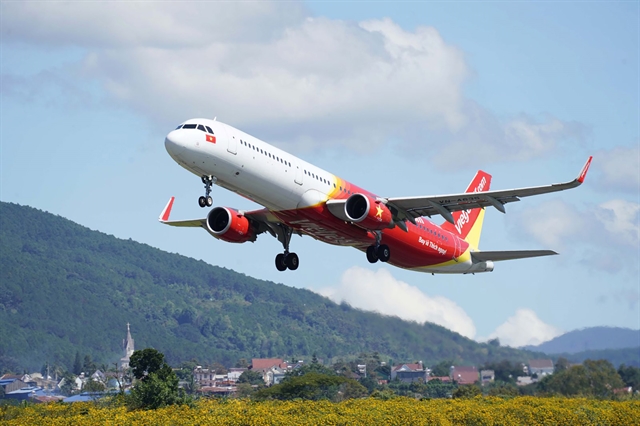 A Vietjet aircraft takes off from the Tân Sơn Nhất International Airport. — Photo courtesy of Vietjet
HCM CITY – Vietjet Aviation Joint Stock Company (HOSE: VJC) has released its audited annual financial statements for 2020.
The audited revenue of Vietjet's parent company in 2020 was reported at more than VNĐ15.2 trillion (US$657.9 million). Its consolidated revenue and post-tax profit after audit were VNĐ18.22 trillion ($788.4 million) and VNĐ69 billion ($2.99 million), respectively.
Regarding earnings by sector, Vietjet recorded a loss of more than VNĐ1.45 trillion ($62.9 million) in air transport, lower by 31 per cent than the figure previously reported in its own financial statements. This ensured Vietjet was among few airlines in the world able to keep their core business afloat and turn a profit in 2020.
Vietjet's total assets surpassed VNĐ45.19 trillion ($1.96 billion) while its owner equity stood at VNĐ17.32 trillion ($749.7 million) including treasury shares. Its debt-to-equity ratio was as low as 0.66 while the liquidity ratio remained at 1.28, considered a good performance in the aviation industry.
Based on the 2020 audited consolidated statements and the owner equity of more than VNĐ17 trillion, a stock dividend plan is to be submitted to the Board of Directors, Vietjet said in a statement.
Last year, Vietjet made drastic cuts to operating expenses by optimising fleet operations with a 50 per cent cost reduction, negotiating 20-25 per cent discounts with suppliers while bringing down at least 10 per cent of daily operating costs. The airline also hedged jet fuel which helped save 25 per cent of fuel costs compared to buying at market price.
The airline was the first in Việt Nam to be approved to deploy cargo operations in the passenger cabin (CIPC) in 2020. By optimising freight capacity and expanding its international network, Vietjet delivered more than 60,000 tonnes of cargo on nearly 1,200 international flights in 2020.
Thanks to its outstanding cargo transportation, Vietjet won the 'Belly carrier of the year' and the 'Low-cost carrier of the year' awards from cargo magazine Payload Asia.
The year 2020 also marked the launch of Vietjet Ground Services Centre (VJGS) at Nội Bài International Airport in Hà Nội. That has helped the airline greatly improve its service quality while slashing outsourcing costs.
Vietjet reported very positive operating indexes last year, with a load factor above 80 per cent while the on-time performance rate stayed at a high 90 per cent. Vietjet's technical reliability rate stood at 99.64 per cent and received the highest safety ranking of 7 stars. It was also listed in the 10 safest and best low-cost airlines in the world in 2020 by Airlineratings.
The airline also invested in the aircraft maintenance system and training for pilots and cabin crew to meet the highest demand of the domestic market while being on standby for the resumption of international flights.
The Vietjet Aviation Academy (VJAA) stayed open throughout 2020, offering a total of 47,386 training hours for employees of all units, many of whom attended online classes to ensure social distancing.
VJAA plans to kick off a series of technical and physical infrastructure projects in 2021, including installing a new flight simulator (SIM) to make VJAA an aviation training centre at the regional level.
According to Vietjet, the domestic market is now back in full swing, even surpassing the 2019 level. The carrier projects a recovery of the international market in the fourth quarter of 2021 as the Government is expected to maintain its tax and fee reliefs while considering possible financial assistance and loan interest deductions for airlines. — VNS