Việt Nam-US trade has new opportunities post-pandemic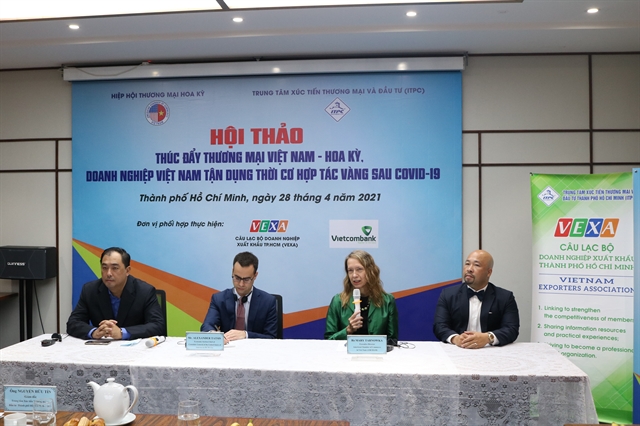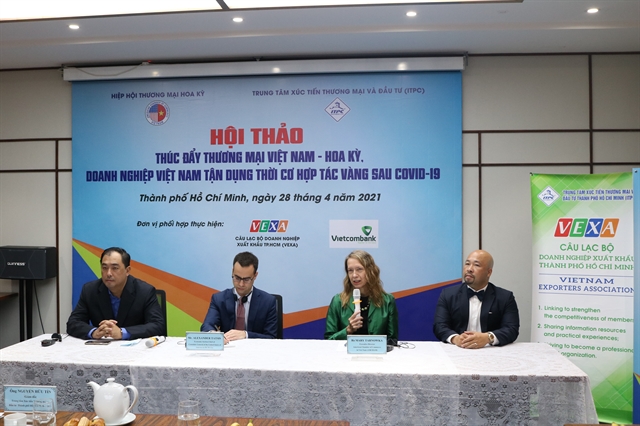 Speakers at a seminar on Việt Nam – US Trade organised yesterday (Apr 28) by the Investment and Trade Promotion Centre in HCM City. Photo courtesy of the centre
HCM CITY — Việt Nam plans to further enhance trade and investment cooperation with the US, especially after the Covid-19 pandemic ends, said a city official.
Speaking at a seminar on Wednesday Việt Nam – US Trade, Nguyễn Hữu Tín, director of the Investment and Trade Promotion Centre in HCM City (ITPC), said: "US-Việt Nam trade has made impressive progress in recent years, with the US currently being Việt Nam's largest export market."
Last year, Việt Nam ranked sixth in the world and third in Asia in exports to the US, after China and Japan, he said.
The US is shifting from imports of goods from traditional exporters to other emerging countries, including Việt Nam. "Việt Nam is gradually asserting its position as the leading partner of the world's largest economy," he said.
Tín attributed the achievement to "an open, dynamic and practical cooperation" of the two countries' governments and business communities.
The US has encouraged American enterprises to establish production and value chains between the two countries.
Việt Nam can benefit from its control of COVID-19 by enhancing trade with its partners, Tín said. Vietnamese businesses should grasp the "golden opportunity" to innovate and improve production and business capacity to exploit the US market, he added.
FDA registration
Nguyễn Bá Thiên Thư, chief representative of Registrar Corp, an FDA consulting firm, explained that the US Food and Drug Administration (FDA) regulates food, beverages, drugs, medical devices and cosmetic products available for commercial distribution in the US.
"Local businesses need to understand the FDA standards for exporting goods to the US market," she said.
The FDA regulations include safety and sanitary requirements for products exported to the US. To export food to the US, businesses are required to register wirh the FDA, while complying with the new labeling regulations and the Food Safety Modernisation Act (FSMA) by FDA.
Some local businesses are facing problems reaching required standards and quality, especially on completing procedures for FDA certification.
In the future, local enterprises must have FDA certificates for their products to be exported to the US.
To reach FDA standards, Vietnamese enterprises must have input materials that meet those standards. The US market has high technical and high product quality requirements.
Experts said Việt Nam should complete its system of standards and regulations to improve the quality of exports to the US. This will promote the competitiveness of Vietnamese products in the global market.
The event was organised by the Investment and Trade Promotion Centre in HCM City. — VNS