Việt Nam reports new record of COVID-19 cases on Sunday evening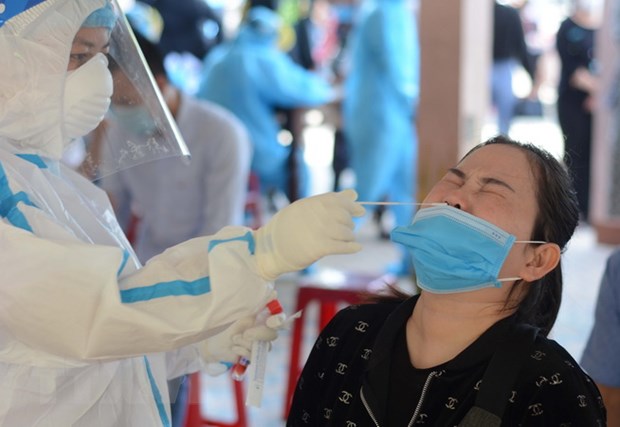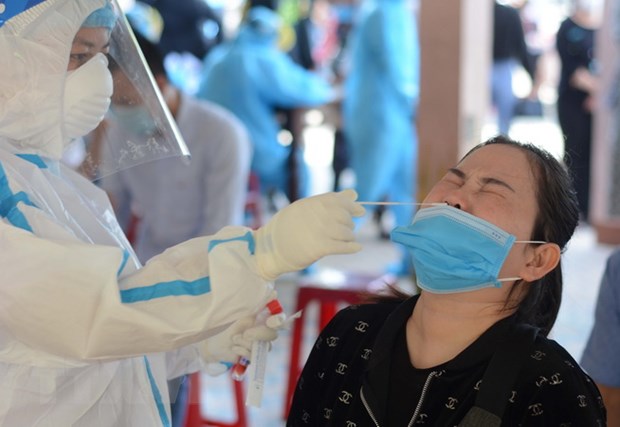 Health staff takes swab samples after new domestic cases were reported. VNA/VNS Photo
HÀ NỘI — Việt Nam has reported 87 new COVID-19 infection cases on Sunday evening – the highest daily case number since the pandemic began.
Of those, ten are imported and 77 are locally transmitted. The new community cases include 26 in Bắc Giang Province, 15 in Bắc Ninh Province, 11 in Hà Nội, two in Hưng Yên Province, two in Hoà Bình Province, 17 in Đà Nẵng City, two in Huế City, one in Quảng Nam Province and one in Quảng Trị Province.
All new cases in Bắc Giang and Hoà Bình were confirmed to have had close contact with previously confirmed COVID-19 cases.
Among the new cases in Hà Nội, two were linked to the outbreak at the Đông Anh facility of the National Hospital for Tropical Diseases, two were infected when having treatment at the National Cancer Hospital's Tân Triều facility, and the rest were in close contact with earlier confirmed cases.
Đà Nẵng reported 12 new patients linked to the Đà Nẵng-based AMIDA Beauty Salon outbreak. The rest had close contact with the previous confirmed cases.
The Đà Nẵng-based AMIDA Beauty Salon outbreak was also the infection source of cases in Thừa Thiên Huế, Quảng Nam and Quảng Trị.
Two cases in Hưng Yên Province were reported to have been receiving treatment at the National Cancer Hospital or in contact with COVID-19 patients.
Cases in Bắc Ninh are under further epidemiological investigation. They all have been isolated at Bắc Ninh General Hospital for treatment.
As of Sunday evening, the country's total infection cases stands at 3,332. Of those, 2,602 have been given the all-clear, according to the Ministry of Health.
There have been 333 cases since the latest outbreak hit the country on April 27. The COVID-19 pandemic has claimed 35 deaths in Việt Nam so far.
On Sunday, Yên Lạc Town in northern Vĩnh Phúc Province started 15 days of social distancing to curb community transmission of the coronavirus.
The decision was made after a confirmed case was reported to be linked to the local healthcare centre in Vĩnh Yên City.
The social distancing would begin from Sunday midnight and end midnight on May 24. VNS