Việt Nam announces COVID-19 vaccine delivery dates, warns of scams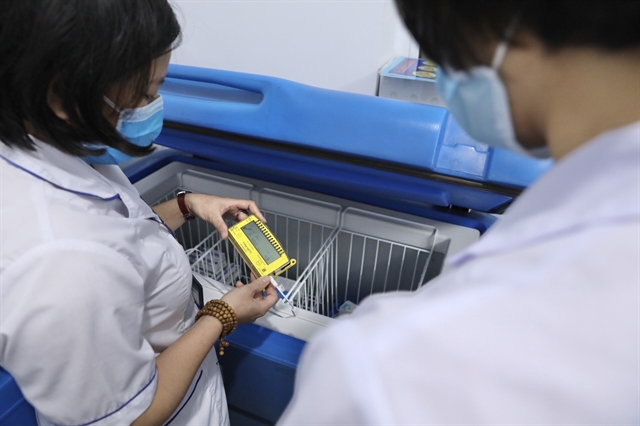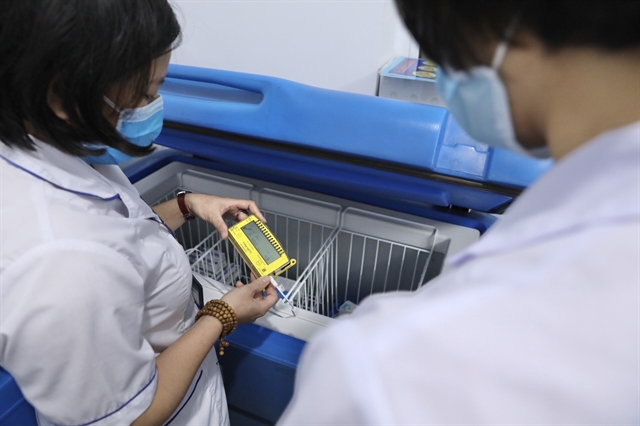 Cold storage for COVID-19 vaccines in Hai Bà Trưng District, Hà Nội. — VNA/VNS Photo Minh Quyết
HÀ NỘI — The Vietnamese health ministry has unveiled a detailed timeline for the delivery of various batches of COVID-19 vaccines to be used in the national vaccination drive, after the first 117,000 Oxford/AstraZeneca doses bought from the manufacturer arrived late February.
To date, Việt Nam has secured several supplies of vaccines, supported by COVAX Facility – a mechanism set up by the World Health Organisation (WHO), the Global Alliance on Vaccines and Immunization (GAVI), UNICEF, the Coalition for Epidemic Preparedness Innovations (CEPI), and manufacturers and partners for the development of vaccines to ensure that all countries, especially poor and developing ones, have fair and effective access to vaccines.
According to an announcement from UNICEF, the COVAX Facility has committed to supplying Việt Nam with 30 million doses of AstraZeneca vaccine this year, with the first batch of 1.37 million doses expected to arrive on March 25 followed by 2.8 million doses on April 25. The remaining 25.9 million doses will be transported to the Southeast Asian country between August to November.
The second supply of Oxford/AstraZeneca vaccine comes via the Việt Nam Vaccine Joint Stock Company (VNVC). The private company is one of the three parties that AstraZeneca authorised the supply in Việt Nam, apart from COVAX Facility and UNICEF. VNVC agreed to transfer the doses it bought from AstraZeneca to the Vietnamese health ministry on a no-profit basis.
Last month, 117,600 doses of AstraZeneca vaccines produced by SK Bio of the Republic of Korea arrived in Việt Nam. A total 29.87 million doses will arrive in the nation this year beginning in April (1.48 million doses), May (2.76 million doses), June (5.04 million doses), July (7.32 million doses), and August (13.27 million doses).
So far, 955 shots were given to frontline medical workers in Hà Nội, HCM City, Hải Dương and Gia Lai during March 8-10.
None of those receiving the jabs reported any abnormal reactions, though a dozen recorded typical conditions such as light fever, pain at the vaccination area, muscle tiredness, headaches, etc. but all are in stable conditions, according to the National Expanded Immunisation Programme that is in charge of administrating the vaccines.
All those who are given the vaccines must undergo health checks and follow-up medical monitoring.
In addition to the two 'secured' supply sources, the health ministry is also in talks with other COVID-19 vaccine manufacturers such as Pfizer, Moderna, Johnson & Johnson and Gamaleya (Russia's Sputnik V) ensuring sufficient vaccination coverage in Việt Nam as soon as possible.
The health ministry said it encourages all eligible enterprises to negotiate with suppliers for vaccine imports in order to help the nation ward off coronavirus.
Vaccine scams
The health ministry, however, has also warned of rampant COVID-19 vaccine scams after Interpol, China and South Africa police, arrested several suspects involved in the fraudulent vaccine rings, and urged those who wish to import vaccines must notify the health ministry beforehand.
The ministry said in recent times it has been approached by many organisations and businesses, both within and outside the country, to sell various types of coronavirus vaccines from manufacturers like Moderna or AstraZeneca, but they weren't officially authorised to conduct such businesses.
Earlier in March, AstraZeneca said that other than VNVC, COVAX Facility, and UNCIEF, it does not have deals with any other entity in Việt Nam.
Moderna also confirmed that it has not authorised any party in Việt Nam to import its vaccines, to date.
Pfizer and Johnson&Johnson both have branch offices in Việt Nam.
Regarding Sputnik V vaccine, the Russian embassy in Việt Nam has said all purchases or imports or cooperation need to go through the Russian Direct Investment Fund.
China and India have also reaffirmed that all COVID-19 vaccine deals must be approved by the respective governments. — VNS