Vaccine passports just the beginning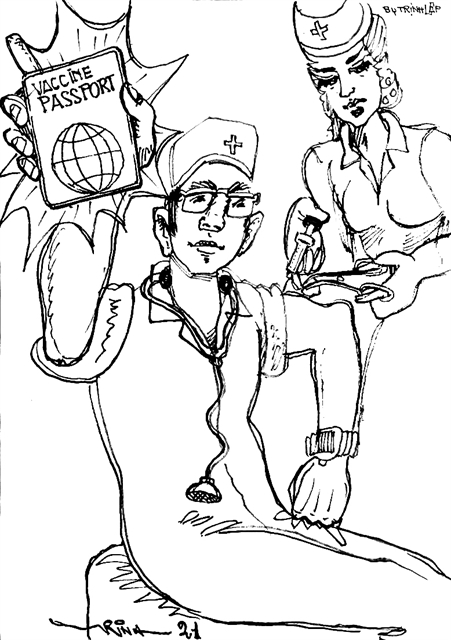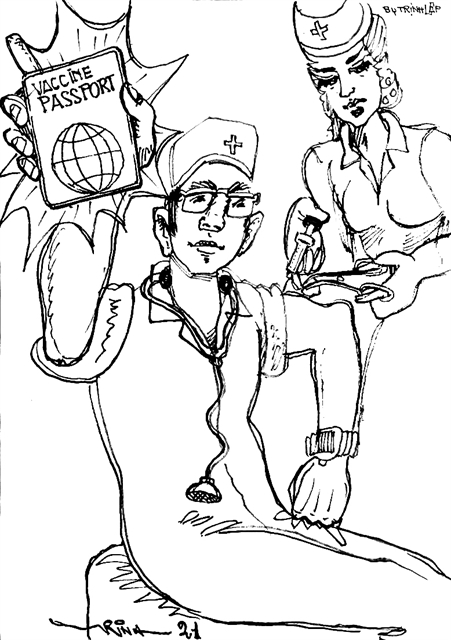 by Nguyễn Mỹ Hà
Much has been said and written about vaccine passports around the world and in Việt Nam too, with the new Minister of Culture, Sports and Tourism being interviewed on the subject by vnexpress.net, the country's most-read online news site.
"Vaccine passports will be key to us opening our doors," Minister Nguyễn Văn Hùng was quoted as saying. His top priority for now, though, is promoting domestic travel, and he suggested that the government allow international tourists to visit certain destinations.
"Has this been carefully considered?" asked a Western-trained virologist who preferred to remain anonymous. "Have they read the news? All countries are implementing new restrictions in anticipation of a new wave of the pandemic. Look at India, Europe, and the US."
The New York Times ran a video clip showing police in Brussels firing water cannons at crowds of people gathered peacefully in public parks on April Fool's Day, just over a week ago. While viewers denounced the brutal policing of regular citizens, who were only trying to enjoy some sunshine after a year of pandemic and lockdowns, there is also a brutal truth to be recognised: COVID is a killer and social distancing is no joke.
As the Minister of Culture, Sports and Tourism, Hùng oversees not only cultural issues but also travel restrictions and regulations as well as tourism promotional campaigns; quite a challenging task during these troublesome days.
"Tourism is a difficult issue at the moment, with the pandemic resulting in heavy losses being posted across the board," he said. "Our approach must be carefully calculated. We need to weigh up all domestic tourism solutions, promotional packages, and tourism products, and be ready to welcome international visitors when circumstances permit."
Since Việt Nam shut its borders in the early months of 2020, the number of international visitors has reached just 3.7 million, representing a hefty fall of 80 per cent compared to the previous year.
International commercial flights were also suspended, so those arriving on our shores over the last year or so have been experts, high-tech workers, and investors with existing projects in the country.
There were 56 million domestic tourists travelling around the country last year, who spent a total of VNĐ312,000 billion (US$14 billion), which was still down by about $19 billion compared to 2019.
Somewhere between 40 and 60 per cent of tourism workers lost their jobs or saw their hours cut, while 95 per cent of international tour companies closed their doors. Room occupancy at hotels fell to between 5 and 15 per cent.
There were some dark days in 2020, but because Việt Nam was able to exert control over the virus, domestic tourism was in a position to slowly come back to life, with local people travelling to destinations such as Đà Nẵng, Quảng Ninh, Đà Lạt, Nha Trang, and, last but not least, Phú Quốc Island.
Regarding international visitors, Hùng said that "We need to carefully prepare pilot programmes and select certain tourism products and markets to put vaccine passports into use, so that we can host visitors while ensuring safety."
"Why the hurry?" the virologist pressed. "Taxpayer money should go to help those who lost their jobs. Social distancing in Việt Nam worked, and we have not seen people dying in large numbers. But if we let visitors in, even after they've been vaccinated, they could still pose a threat to the community."
The virologist was right, though his criticism is nonetheless hard to swallow. It's true that even those vaccinated can be a threat, and many nearby countries have been marked by a lack of pandemic control. Việt Nam is already wide open in some respects, with viruses and disease entering through leaky borders.
Still, we undoubtedly need to hear from experts voicing concern about matters of public health.
The minister went on to say that Việt Nam should be ready to welcome visitors from countries that have been proven to have brought the pandemic under control or those who have vaccinated their populations and reached herd immunity. Destinations in Việt Nam will be restricted to compounds and resorts, where people coming in and out can be monitored, while all must follow each and every health procedure during their visit.
He called on the government to give early consideration to welcoming international visitors. With proper regulations in place that are implemented fully and without exception, international visitors would give a much-needed boost to the economy and create or restore jobs in the tourism sector.
"We are well aware that if the government is not kept abreast of developments, then Việt Nam may be late to the game in terms of opening its doors to international visitors," Hùng said. "But any proposals must take a safe and reliable path, with pilot programmes being a necessity."
He also said that destinations would be checked and reviewed under the direction of the government and the National Steering Committee for COVID-19 Prevention and Control, to ensure the success of pilot programmes before they are introduced elsewhere.
"We need to stay a step ahead regarding the return of international tourism, especially by having people in the service sector vaccinated," he added.
Welcoming international tourists is an ambitious plan, and one that would need concerted efforts from the Ministry of Health in checking all who arrive. It would involve all prospective visitors being vaccinated and testing negative to a realtime-PCR kit. They will also need to respect Việt Nam's health regulations and stay within locations defined by health authorities.
For example, visitors to Phú Quốc Island could move between designated locations on the island or remain only on the island. The truth is, people who have been vaccinated can still carry the virus, and so can spread it in the community.
We call such measures a "Green Fence", and international visitors must stay behind this green fence. Much has been done already. The Việt Nam National Administration of Tourism has begun to work with relevant government agencies and is to report to the government between now and the end of the month on all matters deemed relevant.
"The vaccines developed by Pfizer, AstraZeneca and Spunik V all have a certain degree of risk," the virologist pointed out. "And vaccines can only help prevent a pandemic, not quench a pandemic raging out of control. Look at how many people were infected after being vaccinated. Look at how Chinese officials readily accepted that their Sinovac vaccine was only 50 per cent safe! Only accurate scientific knowledge can help governments identify and adopt policies that save lives."
More than 60,000 health staff in Việt Nam have been vaccinated, and they are still being monitored closely for any unexpected symptoms. If our health workers become infected, then treating patients becomes truly problematic. They are the ones we all rely on.
"Have you been vaccinated?" I asked a close friend who lives near Brussels but who doesn't work in the health sector.
"I will have to," she replied. "If I don't, I can't go to Việt Nam. Every medication has side-effects. Have you heard of vaccine passports?" VNS