V.League 1 postponed again due to COVID-19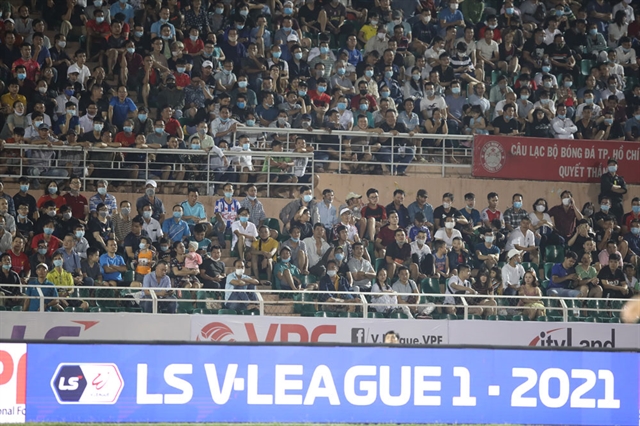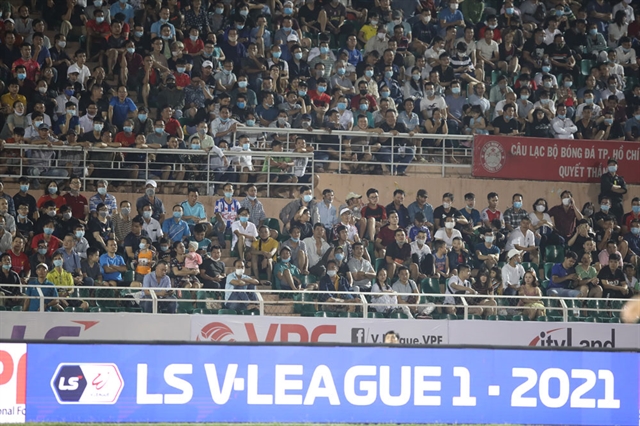 Supporters come to cheer match between HCM City and Hồng Lĩnh Hà Tĩnh last weekend at the Thống Nhất Stadium. This week, five out of seven matches have been delayed while the tournament will be postponed until unknown date. — Photo courtesy of VPF
HÀ NỘI — The V.League 1 season will be paused after this weekend due to the COVID-19 outbreak.
The Việt Nam Professional Football Company (VPF) has decided to postpone matches scheduled for February 5, 6 and 7, the final week of fixtures before the break for the Tet (Lunar New Year) holiday.
Trần Anh Tú, the VPF's chairman of the board of directors, said it was due to the complex community COVID-19 cases in Quảng Ninh and Hải Dương provinces, as well as new cases confirmed in Hải Phòng, Hà Nội and Bắc Ninh.
"We have to pause the matches and wait for decisions from authorities," said Tú adding that the date for a return is unknown.
"Depending on the actual situations and localities' instructions for COVID-19 protection and control we will inform clubs for further preparation and if matches can be open for supporters or not," he said.
"It is regrettable but a good way to ensure people's safety," he added.
The 2020 season had to be paused twice due to COVID-19 and the format was also changed to reduce the number of fixtures necessary for the completion of the season.
Earlier, four of this weekend's seven scheduled V.League 1 matches were postponed.
In addition to the Quảng Ninh-HCM City FC match that was postponed on Thursday, the VPF yesterday decided to postpone clashes between SHB Đà Nẵng and Hồng Lĩnh Hà Tĩnh, Hải Phòng FC and Hà Nội FC and Viettel FC and Becamex Binh Duong.
The match between Sông Lam Nghệ An and Sài Gòn FC will also reportedly be postponed, though a final decision had yet to be made at the time of writing.
The Hải Phòng – Hà Nội game, which was set to go ahead as of Thursday without fans, was called off after a new community COVID-19 case was confirmed in Hải Phòng City yesterday morning.
Meanwhile, the Đà Nẵng players and coaches, who visited Quảng Ninh last weekend for their second match of the season, will be quarantined and have reportedly all tested negative for COVID-19, according to tuoitre.vn.
At present only two games look likely to go ahead this weekend, with Nam Định's trip to Thanh Hóa on Saturday slated to be held behind closed doors.
The match between Hoàng Anh Gia Lai and Bình Định is also currently scheduled to go ahead on Sunday.
Dates for rescheduled matches will be confirmed later.
Talking to media, VPF General Director Nguyễn Minh Ngọc said VPF will try to make sure that tournaments will finish before October as planned so national teams could have time to prepare for the 31st SEA Games and the AFF Cup in November and December. — VNS