Trường Sa health system deploys COVID-19 prevention measures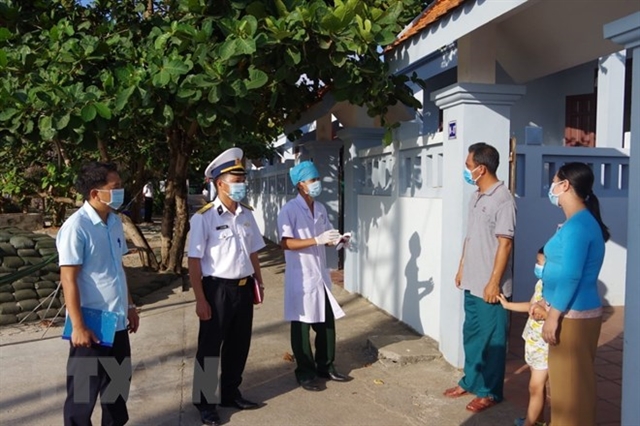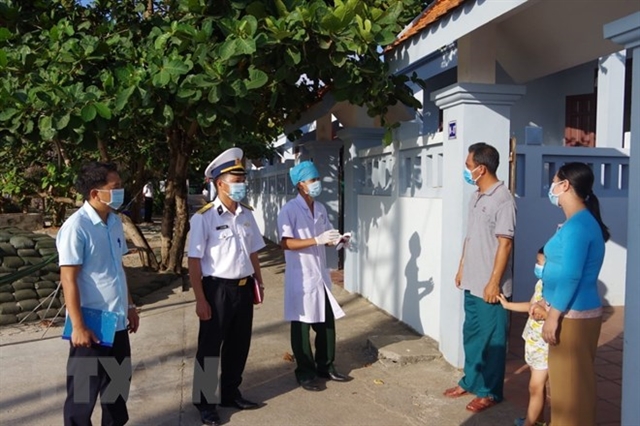 Trường Sa island's military health workers come to households to guide COVID-19 pandemic-preventive measures.VNA/VNS Photo
KHÁNH HÒA – No cases of COVID-19 have been reported in Trường Sa island district, Khánh Hòa Province, however, military health forces on the islands are staying vigilant.
With the motto of being proactive, positive and determined not to let the pandemic enter or spread, Senior Lieutenant Colonel Đinh Văn Cường, on Trường Sa Island, said the army has been proactive in the prevention and control of the COVID-19 pandemic.
"The army units have strictly directed and raised awareness for cadres, soldiers and people through the loudspeaker system and the direct guidance of the military medical staff."
Trường Sa Town leaders have formulated plans and set up subcommittees on pandemic prevention and raised awareness of control measures.
"All officers and soldiers have raised their awareness in pandemic prevention and control. In the near future, the situation may become more complex and Trường Sa island military medical force always ensures good health for the army and people, determined not to let COVID-19 enter and spread, "Cường said.
Those arriving on the islands from the mainland have had their body temperature measured, while medical workers distribute masks and disinfect areas.
Captain Dương Công Tuấn, Head of Nam Yết health centre, said under the guidance of the island's military commanders, his unit had carried out preventive measure with the local army force and people.
"When receiving any visitors, the health workers have to check and disinfect on the private path at the wharf to ensure maximum prevention of the COVID-19 pandemic," he said.
Lieutenant Bùi Ngọc Đảm, Head of Sinh Tồn health centre, said healthcare for soldiers and local people was their main task, especially in the complex circumstances of the pandemic on the mainland.
Last year, the unit set up a separate isolation area for COVID-19 patients to stop the spread of the virus.
When fishermen come to the island, health workers have to check their body temperature and register all relevant health information.
Teacher Phạm Xuân Diệu, at Sinh Tồn island, said part of his job was looking after the health of the children.
"We regularly guide students' parents to ensure disease prevention at home.
"At school, teachers regularly clean tables and chairs and plant trees outside, to create a landscape for the classroom and minimise diseases for students," he said.
Lieutenant Nguyễn Anh Vân, a military health worker on Sơn Ca island, said local soldiers and people had a close relationship. "People are well cared for when they are sick."
"Facing the complicated development of COVID-19, the unit must also tighten regulations to prevent pandemic for fishermen when they come to the island for medical examination and treatment," Vân said.
Lieutenant Nguyễn Huy Cường, Secretary of the Hồ Chí Minh Communist Youth Union on Sơn Ca Island, said the island's commanders have explained pandemic prevention measures to each team and soldier.
"We highlight the role and responsibility of cadres and soldiers when performing their duties.
"Therefore, the union members regularly organise cleaning on the island and patrolling for possible infections." VNS