Thousands of visitors flock to pagodas after COVID-19 closures end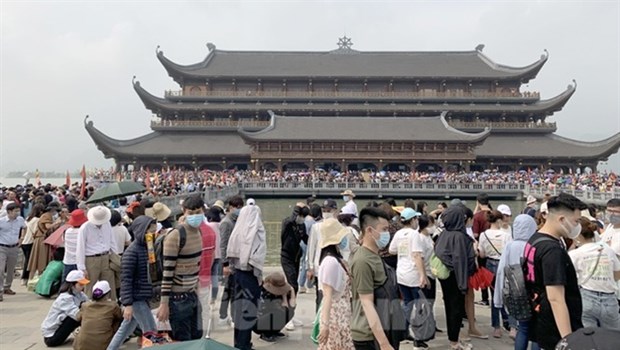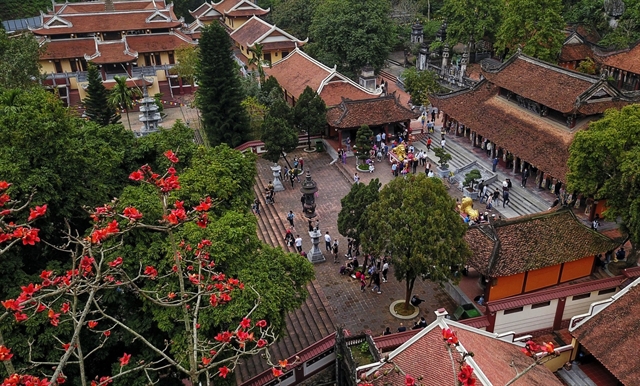 On Saturday, Perfume Pagoda welcomed nearly 30,000 visitors. VNA/VNS photo Thành Đạt
HÀ NỘI — Two pagodas in northern Việt Nam welcomed more than 100,000 visitors over the weekend when they reopened after being closed due to the COVID-19 pandemic.
The Perfume Pagoda in Hà Nội's Hương Sơn Commune recorded nearly 30,000 pilgrims on Saturday, while 70,000 others visited Tam Chúc Pagoda in Hà Nam Province on Saturday and Sunday.
The sites had been shut since February 16 to help stop the spread of COVID-19.
Measures were implemented to ensure safety, environmental sanitation and prevention of the pandemic.
At the entrances, the security and order forces regularly remind visitors to strictly adhere to the 5K message of the Ministry of Health: Khẩu trang (face mask), Khử khuẩn (disinfection), Khoảng cách (distance), Không tụ tập (no gathering), and Khai báo y tế (health declaration).
Pilgrims were required to make health declarations by scanning QR codes or filling in their information on paper; however, there were difficulties maintaining physical distancing with so many people visiting.
The Heritage Management Board of Perfume Pagoda arranged eight subcommittees, two interdisciplinary inspection teams and a rotating force to help maintain COVID-19 prevention measures.
Communications were strengthened with the use of billboards along Yến stream and all other access points to the pagoda. to remind people of pandemic regulations.
There were also regular patrols on Yến stream and in other crowded areas, with loudspeakers used to ask visitors to follow the pandemic prevention measures.
Scenic spots such as Yên stream, Thiên Trù wharf, Hương Tích cave and other sites were kept clean, with boats regularly picking up trash on the stream.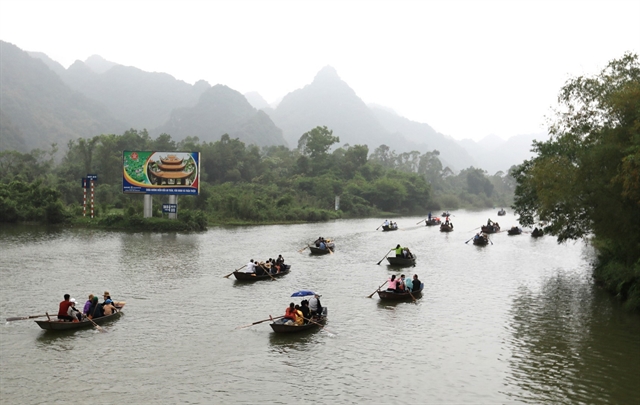 The boat trips down the Yến stream take visitors to the pagoda. VNA/VNS photo Thành Đạt
Despite these efforts to raise awareness, some visitors were still careless and failed to wear masks.
At the time when the pagoda was most crowded, maintaining physical distancing was a struggle and many boats carried too many guests on Yến stream.
In the northern province of Hà Nam, the number of visitors to Tam Chúc Pagoda over the weekend increased sharply to nearly 70,000.
On Sunday alone some 50,000 people visited the pagoda.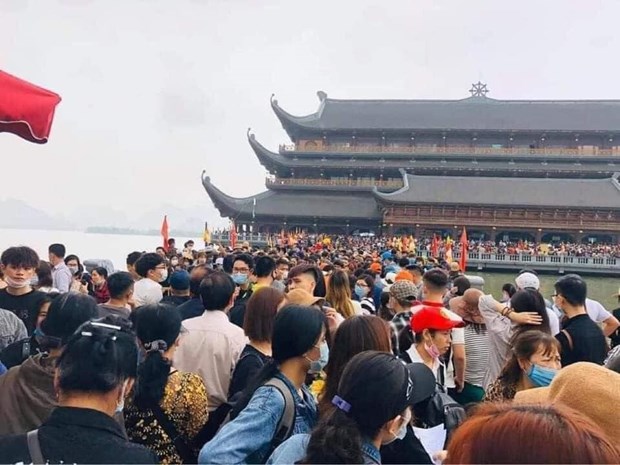 Nearly 70,000 pilgrims go to Tam Chúc Pagoda in only two days. Photo from Facebook account Tô Nguyễn
The surge in the number of tourists caused congestion in some areas that the Tam Chúc management board struggled to cope with.
The management board stopped selling tram and boat tickets to reduce congestion in the ticketing area and offered free transportation to bring visitors to the temple.
Tam Chúc Pagoda authorities plan to add a diversion plan and recruit more volunteers for the weekends and holidays to avoid congestion and ensure COVID-19 pandemic prevention. VNS