Third-graders quarantined in school after peer catches COVID-19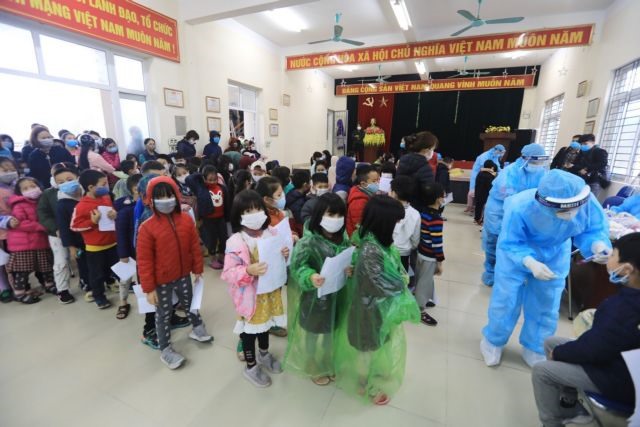 Students who have close contacts with a confirmed COVID-19 cases stayed quarantined at Xuân Phương Primary School in Hà Nội's Nam Từ Liêm District. Photo baotintuc.vn
HÀ NỘI — The children of Xuân Phương Primary School in Hà Nội's Nam Từ Liêm District would normally be getting excited for their Tết (Lunar New Year) holidays at around this time, but not this year.
Instead, almost 60 students will be spending the next three weeks living in the school, which has been turned into a makeshift COVID-19 quarantine centre after one of their classmates was confirmed positive for the virus.
"We are here as a classmate of mine is carrying coronavirus and got COVID-19," said a nine-year-old student of the school.
The student T.M said she was unhappy because she had to stay at school and could not spend Tết at home with family but "had to accept it".
"We have no choice," T.M said.
Her classmate N.Đ.N.K – a child of Patient No 1,694 – was confirmed to have COVID-19 late last week. Since Saturday night, 57 students, 12 teachers and 11 parents were identified as direct contacts and had to go into quarantine.
T.M said her parents were informed about the quarantine decision on Saturday. She was taken to school that night and her mother was allowed to stay with her during the quarantine.
Her classroom is now a quarantine room with the tables used as beds. Those being quarantined brought extra blankets, pillows and necessities for their 21-day stay.
"I'm used to sleeping on tables because my friends and I usually have lunch and a noon nap at school," T.M said.
On the very first night there, the kids were taken first coronavirus test.
"At about 2am, we were awakened and had health officers take testing samples. It does not cause pain," T.M said, adding that all of them strictly obeyed quarantine rules.
Another quarantined student H.G.M said that he did not feel fear as he was with friends, teachers and his father.
He felt quite comfortable as he had all he needed, except he was not allowed to play outdoors.
Trần Bích Ngọc, the mother of a quarantined student, said her child cried a lot when told they had to go into quarantine.
"But after I explained about the danger of the coronavirus and the need for health quarantine, my child was very co-operative and ready to go for health quarantine" she said.
"And she stopped crying when the school principal said that a parent was allowed to go with each student and the school itself was being turned into a quarantine area for them," Ngọc said.
"The children might feel bored as they are not allowed to play with each other in a group," the mother said.
On her Facebook page, Ngọc asked her friends for books for the children.
Nguyễn Quỳnh Trang, a teacher at the quarantine area, said that they had received books donated by netizens.
"The students are very happy to get the books, particularly their favourite comic books," Trang said.
Vương Hồng Lệ, a teacher of the school, said that she was very worried since she was informed about the COVID-19 case relating to her students and the quarantine decision.
"It's great to set up a quarantine area at the school – a familiar place for the students," Lệ said.
"I am aware that at this time, I must stay calm to reassure my students. They need me," Lệ said.
A father who is under quarantine with his son in the school told Tin tức (News) newspaper that when they arrived in the quarantine area, he was very worried.
"After seeing the efforts and care of teachers and health workers, we are much better now," he said.
"We parents usually tell our children to see the quarantine like a field trip or a camping trip where they can have a new experience and overcome challenges," he said.
"We are planning some activities so that quarantine time could be more fun and meaningful for the children," the father said.
On Sunday night, Hà Nội Centre for Diseases Control announced that students, teachers and students' parents had tested negative for the SARS-CoV-2 for the first time. VNS