Testing plays key role in controlling COVID-19: Health Minister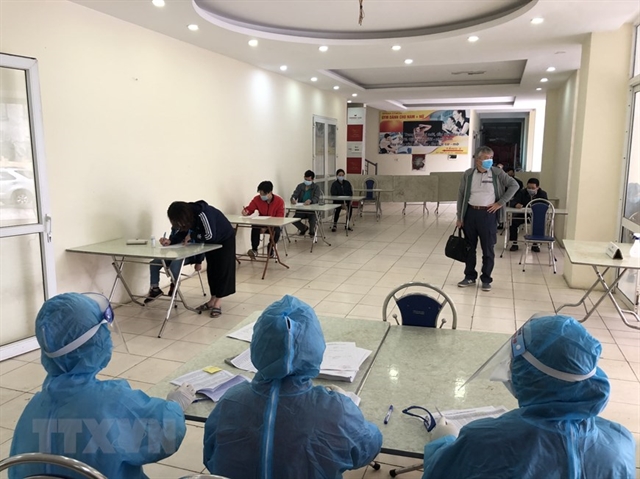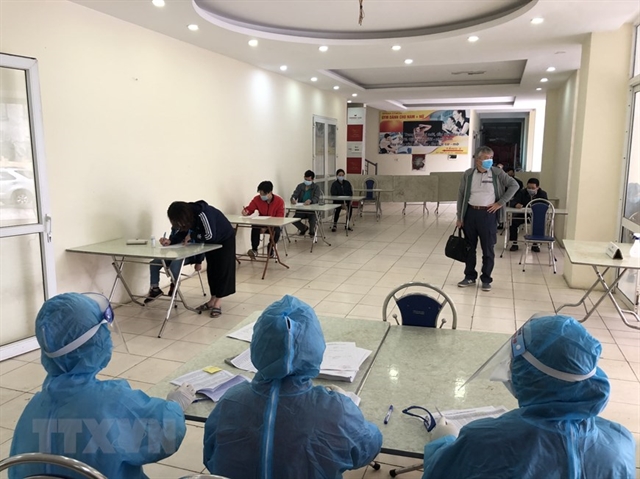 People who return to Hà Nội from localities with current COVID-19 outbreaks report their health conditions at Quan Hoa Ward's Community House in Cầu Giấy District. From February 19, all such returnees would be tested for SARS-CoV-2. —VNA/VNS Photo Huy Hùng
HÀ NỘI — Health Minister Nguyễn Thanh Long on Friday emphasised the "key role of testing in controlling COVID-19", asking localities nationwide to improve testing capacity, shorten time to produce testing results and make use of available resources to detect, isolate and monitor COVID-19 cases.
Speaking at an online meeting with localities nationwide over COVID-19 prevention and control, Long said that localities must prepare resources to improve their testing capacity.
"If we are slow in testing, we will still chase but won't stop the disease. Meanwhile, COVID-19 outbreaks at this time are spreading so quickly, we don't have much time or we will lose," Long said.
Current COVID-19 outbreaks, particularly ones in the north were developing with the presence of new variants of SARS-CoV-2 which could spread 70 per cent faster than the old one, Long said, adding that a high number of infections were reported within a short time.
The outbreaks happened in industrial zones, just before and during the Tết (Lunar New Year) celebration, which added difficulties to control the disease, Long said.
Last July, more than 300 COVID-19 locally-transmitted cases were reported during the COVID-19 resurgence in the central city of Đà Nẵng but over 500 cases have been reported during the resurgence in the northern province of Hải Dương since January 28 this year. The average cases reported daily in Hải Dương was also more than those in Đà Nẵng, the minister said.
"The fight against COVID-19 in Việt Nam may not end in the first six months of this year. It could last the whole year," Long said.
Localities were asked to not be neglectful as the disease could break out anywhere. Localities must prepare response plans, particularly in quarantine areas, among medical staff, medical materials and equipment.
"Those who have close contact with confirmed COVID-19 cases [known as F1] must be quarantined carefully to avoid the disease spreading into the community," Long said.
Deputy Health Minister Nguyễn Trường Sơn said the testing capacity of HCM City and Hải Dương Province was sufficient now.
However, it was necessary to pay attention to coordinating and receiving testing samples within 24 hours to respond to new strains of SARS-CoV-2, Sơn said.
"We must be fast in testing and tracing in the race with the new strains of the virus," Sơn said.
Head of the Preventive Medicines Department Đặng Quang Tấn said that until now, outbreaks in Hà Nội, HCM City and Quảng Ninh province were under control.
Other outbreaks in Hải Phòng, Hòa Bình, Điện Biên, Hà Giang, Bình Dương, Hưng Yên, Bắc Giang and Gia Lai had not reported new cases for the last 7-20 days, he said.
However, the outbreaks in the northern province of Hải Dương were still complicated and would have more new cases to report in coming days, he said. — VNS
Việt Nam expected to receive 60 million doses of COVID-19 vaccines this year while its demand for the vaccines could reach 150 million doses, said Health Minister Nguyễn Thanh Long.
Long said that the country negotiated with relevant parties on importing COVID-19 vaccines including AstraZeneca and those involved in the WHO-led COVAX initiative that aimed at equitable access to COVID-19 vaccines, especially for poor and developing countries.
"Now, the Ministry of Health is actively negotiating with other COVID-19 vaccine producers and suppliers in the world to find enough vaccines for all people," Long said.
The purchase, import and use of COVID-19 vaccines were carried out in an emergency with specialised purchasing mechanism under Việt Nam's laws and recommendations by WHO and vaccine producers, he said.
The imported vaccines would be first used for people living in areas hit by COVID-19 outbreaks and people in the most vulnerable groups.
"Health ministry calls for co-operation from vaccine suppliers in importing vaccines to ensure proper vaccines for people. We have been trying our best to ensure Vietnamese could access vaccines this year and restart the country's economy soon," Long said.— VNS