Shares decline over worries on rising COVID cases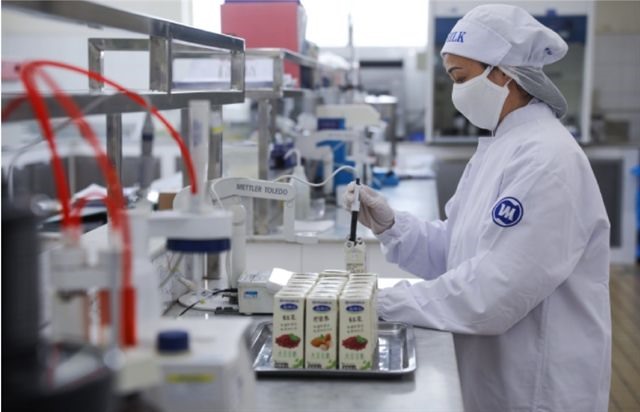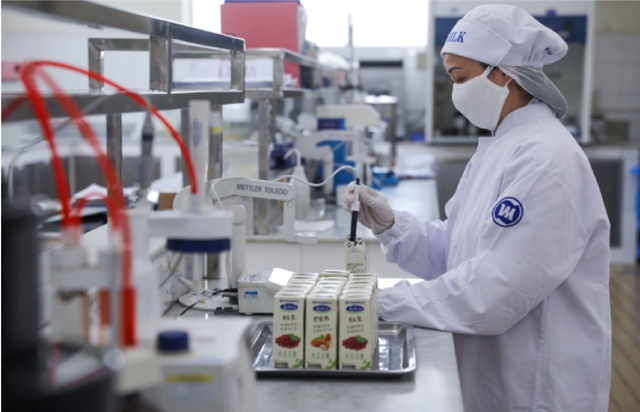 A worker checks Vinamilk's products at its laboratory. Vinamilk's shares (VNM) lost 2.6 per cent Thursday. Photo courtesy of Vinamilk
HÀ NỘI Vietnamese stocks struggled in volatile markets on Thursday with sentiment hit by increasing COVID-19 cases nationwide with the VN-Index failing to maintain its uptrend.
The market benchmark VN-Index on the Hồ Chí Minh Stock Exchange (HoSE) declined 0.47 per cent, or 5.86 points, to finish the trading day at 1,250.57 points.
The market breadth was negative as 262 stocks declined while 148 rose and 48 stocks ended flat.
The southern market index had risen 1.15 per cent to finish Wednesday at 1,256.43 points.
The market's liquidity was high with nearly 730.5 million shares traded on the southern market, worth VNĐ20.3 trillion (US$882.2 million).
Market sentiment has been weakened amid worries over the fourth wave of COVID-19 some of Việt Nam's cities and provinces.
Nationwide, there have been 64 COVID-19 cases in the fourth wave of the disease, in cities of Hà Nội, Đà Nẵng and HCM City and the nine provinces of Hưng Yên, Hà Nam, Vĩnh Phúc, Quảng Nam, Đồng Nai, Hải Dương, Yên Bái, Thái Bình and Bắc Ninh.
"After Wednesday's strong rally, the VN-Index corrected slightly after approaching the historic peak of 1,260-1,280 points," said BIDV Securities Co.
"Market liquidity decreased slightly along with the continued net selling trend of foreign investors on both exchanges had caused a market correction to the threshold of 1,250 points.
"Cash flow weakened compared to the previous session. The VN-Index may consolidate in the short term around 1,250 points before retesting the 1,260-1280 level in the mid term."
The 30 biggest stocks tracker, VN30-Index, lost 0.17 per cent to 1,344.64 points.
Of the VN30 basket, seven stocks increased while 27 decreased.
Among the banking stock group, Vietcombank (VCB) had the most negative impact on the market as it fell 1.88 per cent, closing at VNĐ98,300 per share.
Dairy giant Vinamilk (VNM) dropped more than 2.6 per cent, closing at VNĐ89,600 per share, recording the lowest level since August 4th, 2020. Moreover, this was the session where VNM was net sold for six consecutive sessions by foreign investors and had the largest net selling value since March 5, 2021.
Another notable loser was Sabeco (SAB). This stock has fallen for four consecutive sessions, closing at VNĐ156,000 per share on Thursday, the lowest level since July 1, 2020. Like Vinamilk (VNM), the beer giant's shares have still been net sold by foreign investors, though not as much as the dairy giant.
Meanwhile, on the Hà Nội Stock Exchange (HNX), the HNX-Index rose 0.06 per cent to close Thursday at 281.09 points.
The northern market index had risen 1.16 per cent to close Wednesday at 280.93 points.
During the session, over 115 million shares were traded on HNX, worth VNĐ2 trillion. — VNS