Saigon Co.op increases stocks of essential goods, takes COVID precautions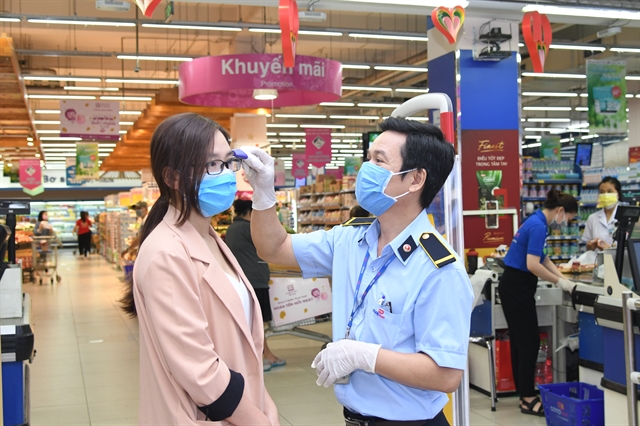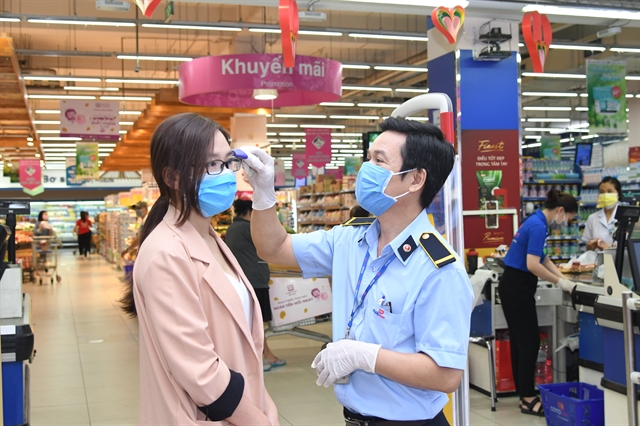 A customer has her temperature measured before entering a Co.opmart store in HCM City. At all Co.opmart stores, customers are required to wear face masks and get their temperature checked before entering the shopping area. — Photo courtesy of Saigon Co.op
HCM CITY — Saigon Union of Trade Cooperatives (Saigon Co.op) said it is working to increase stocks of essential goods at its stores and fight the COVID-19 epidemic.
Saigon Co.op's retail systems, including Co.opmart, Co.opXtra, Co.op Food, and Co.op Smile, have increased stocks of basic necessities such as sugar, rice, cooking oil, salt, fish sauce, meat, poultry eggs, and dry foods besides hand sanitisers, soaps and anti-bacterial cloth masks to ensure steady supply and prices for at least the next six months.
At all stores, customers are required to wear face masks, get their temperature checked and maintain social distance while shopping and waiting to pay.
Co.opmart and Co.opXtra supermarkets have co-ordinated with medical agencies to disinfect their stores, consider epidemic prevention measures and test thousands of their staff.
No employee has tested positive so far.
Nguyễn Anh Đức, general director of Saigon Co-op, said this time anti-epidemic measures have been stepped up because the outbreak is more threatening this time.
The supermarkets' two key tasks now are to ensure food security and a safe shopping environment for people, he said.
Saigon Co.op is working with suppliers of essential goods to offer discounts by turn on products to share the burden with consumers and minimise the increase in prices, he said.
It is expanding phone and home delivery services to offer more convenience to shoppers, he added.
Co.opmart and Co.opXtra are supplying nearly 3,000 meals a day to quarantine areas in HCM City, field hospitals in District 12, Cần Thơ, Củ Chi, and Hà Tiên and the HCM City Hospital for Tropical Diseases.
They are also donating tens of thousands of face masks, hand sanitiser gels, soaps, toothbrushes, toothpaste, and other essential products to them. — VNS