Post-vaccine reactions in Việt Nam within recommended level, drive to continue: official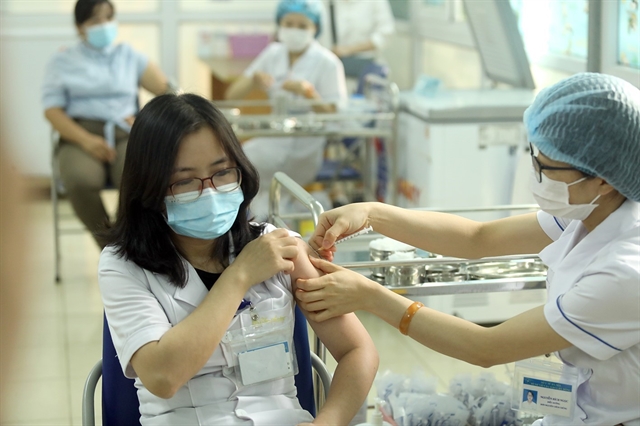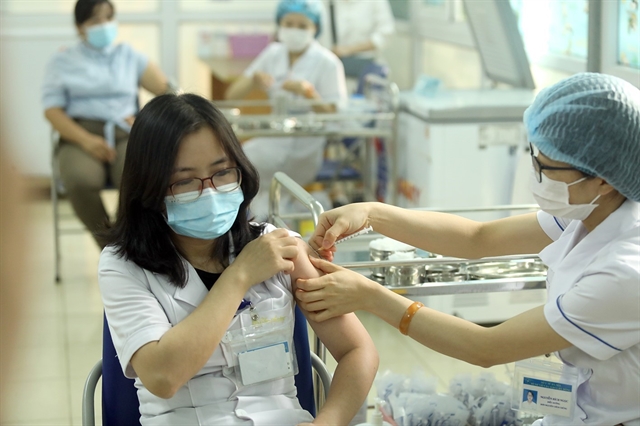 An employee of Hà Đông General Hospital (Hà Nội) receives the Oxford/AstraZeneca COVID-19 vaccine on Monday. — VNA/VNS Photo Phan Tuấn Anh
HÀ NỘI — The side effects those receiving the Oxford/AstraZeneca COVID-19 vaccine in Việt Nam have experienced have been within the permitted threshold, according to the leader of the national inoculation efforts.
According to Đặng Đức Anh, Director of National Institute of Hygiene and Epidemiology and head of the National Expanded Programme on Immunisation, Việt Nam is closely watching reaction data from other countries that have also started inoculation drives as it continues with the vaccine rollout.
But in general, the rate of post-injection reaction observed in Việt Nam is within the recommendations from the manufacturer as well as those of the WHO.
Concerns have been raised following overseas reports of blood clots in those vaccinated with the Oxford/AstraZeneca jab that have led to a pause in the administration of this vaccine in many countries.
"Post-vaccination reactions are expected and happen with all vaccines and there is still no evidence of a causal link between the blood clots and the Oxford/AstraZeneca vaccine," Đức Anh said .
On Tuesday, the National Expanded Programme on Immunisation announced 4,260 people were vaccinated against COVID-19 on Monday, pushing the total vaccinated people in Việt Nam to 15,865 in 12 localities – Hải Dương, Hà Nội, Hưng Yên, Bắc Ninh, Bắc Giang, Hải Phòng, HCM City, Gia Lai, Long An, Đà Nẵng, Hoà Bình and Khánh Hoà, a week after the national COVID-19 vaccination drive was launched.
Three more provinces – Quảng Ninh, Điện Biên in the north, and Đồng Tháp in the south – will be the next to start vaccination this week.
While some of those vaccinated have experienced expected reactions like muscle pain, headaches, diarrhoea, fever or hives, and even the rare cases of anaphylactic shock are in stable condition now, the health ministry has asked local health authorities which face serious post-injection reactions to set up a professional council to evaluate the causes and their reports will soon be available, Đức Anh said.
The priority groups in this phase are frontline workers, including doctors and nurses directly treating COVID-19 patients, medical workers tasked with collecting and diagnosing clinical samples for COVID-19, contact tracers, members of community anti-COVID-19 groups, and members of COVID-19 steering committees.
It is expected that by the end of March all 117,600 doses that arrived in the first batch (purchased from AstraZeneca) will be used, coinciding with the arrival of 1.3 million AstraZeneca vaccine doses supplied via the COVAX initiative, he added.
With the larger amount of doses available in April, the categories of people with access to the vaccines will expand, but inoculation for people over 65 years old or those with underlying health conditions might be slow as they will have the vaccine administered at hospitals where medical observation and intervention is ready to ensure their safety, according to the health official.
Việt Nam's plan is still to administer 150 million jabs for a two-dose regime this year to combat the pandemic.
WHO chief scientist Soumya Swaminathan said on a virtual media briefing on Monday there had been no association found yet between reported blood clots reported in some countries and COVID-19 shots.
She said the rates at which blood clots have occurred in people who received the AstraZeneca vaccine were less than what you would expect in the general population, urging countries to continue using the Oxford/AstraZeneca vaccine for now.
Vaccine hesitancy
Phạm Quang Thái, deputy head of Epidemiology Department of the National Institute of Hygiene and Epidemiology, and head of the northern region branch of the National Expanded Programme on Immunisation wrote an article for the health ministry's Sức khoẻ & Đời sống (Health & Life) newspaper addressing COVID-19 vaccine risks and vaccine hesitancy.
"For some, receiving the first shots of COVID-19 vaccine jabs is a big pride and delight, others feel anxious since the vaccine is too new," Thái wrote.
"Many reported experienced localised pain, headaches, dizziness or fatigue during the first day of the national vaccination drive, but these are all typical reactions following the injection of any vaccine and they all go away after some common pain or fever-relief pills, or at most, until the next day," the doctor noted.
"If an adult has a history of severe allergy against any component of the vaccine then the vaccine is not recommended, or if one has some type of allergy or underlying health conditions then the vaccination must be administered at a hospital under close medical monitoring, but other eligible adults could feel safe and assured when they roll up their sleeves," Thái wrote.
"It should be noted that the vaccinated could still contract the virus, but the risks would be lower and their disease would likely not be severe," he wrote, adding that it is still too early to tell for sure whether the vaccinated could spread the virus to others, or whether the vaccine could provide protection against different new variants of coronavirus.
He remarked that when the majority of the people are inoculated, "vibrant life, global trade and international travels and tourism" would return to normal, urging people not to be hesitant when it's their turn to receive the vaccine. — VNS