PM orders safety in industrial parks amidst COVID-19 resurgence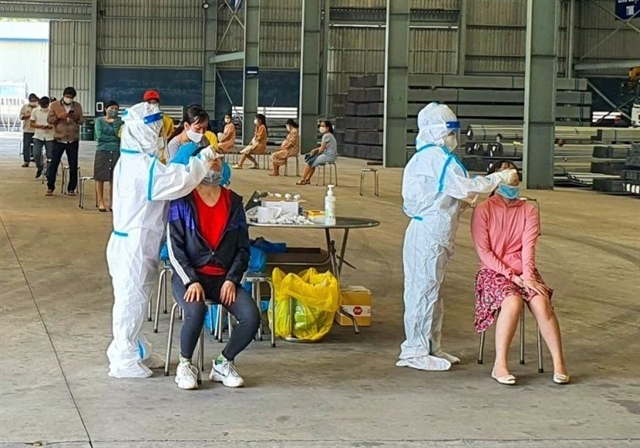 Medical staff take samples of workers at an industrial zone in central Đà Nẵng City for COVID-19 test. — VNA/VNS Photo
HÀ NỘI — Prime Minister Phạm Minh Chính has ordered localities and ministries to speed up work to contain COVID-19 in more than 300 industrial parks nationwide to prevent the disruption of the supply chain.
Under Dispatch No.680/CD/TTg, he stated that the outbreak had become more complicated in recent days, particularly at several industrial parks in the northern provinces of Bắc Giang and Bắc Ninh, posing a high risk of interruption in the supply chain and large-scale production.
In a bid to realise the dual goals of pandemic prevention and economic development, Chính asked ministries, sectors and localities to stay vigilant, and strictly follow directions of the Secretariat, the Government, the Prime Minister and the Steering Committee for COVID-19 Prevention and Control.
He said chairmen of the People's Committees of cities and provinces, the ministers of Industry and Trade, and Planning and Investment must guide industrial parks and plants to carry out prevention measures, evaluate safety, as well as update their situation to the COVID-19 map.
Any plant failing to ensure safety would be ordered to halt operations.
Health declaration was compulsory for all workers and people involved, including suppliers, transporters of materials and goods. Punishment would be meted out for anyone who does not make health declarations or fake the paperwork.
Additionally, the Minister of Health was asked to issue documents guiding quarantine and testing for workers at industrial parks in accordance with the developments of the outbreak.
COVID-19 vaccine fund
PM Chính on Monday suggested establishing a COVID-19 vaccine fund to mobilise resources for the country's vaccine strategy.
Donations to and use of the fund must be transparent, the leader told a meeting between the permanent Government members and a number of ministries and agencies regarding COVID-19 prevention and control.
He ordered quick access to vaccine sources, stepping up vaccine study and production, and rolling out suitable vaccination plans.
The pandemic had been still under control in Việt Nam, the PM said, noting that COVID-19 prevention and control measures had contributed to the success of the elections of deputies to the 15th National Assembly and all-level People's Councils for the 2021-2026 tenure.
"This reflects that Việt Nam is on the right track and has taken suitable actions in response to the pandemic," Chính said.
But he pointed out there were still difficulties and limitations, especially at industrial parks and in terms of management during and after quarantine.
Minister of Health Nguyễn Thanh Long said most of the COVID-19 cases detected during the fourth wave that began in the country in late April were associated with industrial parks.
COVID-19 variants first found in India and the UK had also been reported in Việt Nam in the latest outbreak, he said.
Long said the fourth pandemic wave was more complex and would last longer than the previous ones. However, it had been basically been contained in most localities. — VNS