Perseverance and calm needed in fight against COVID-19: secretary of Hà Nội Party Committee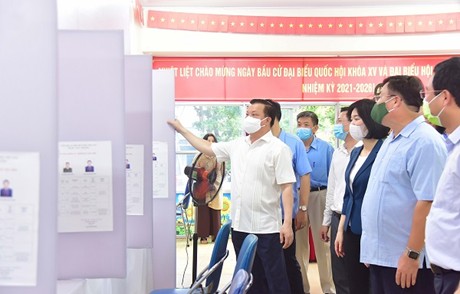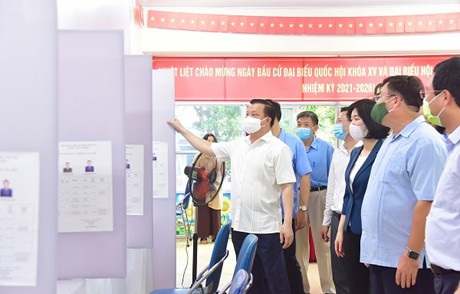 Secretary of the Hà Nội Party Committee Đinh Tiến Dũng (first left) checks COVID-19 prevention in preparation for the election of National Assembly and People's Council deputies on May 23 in Hoàng Mai District. — Photo baochinhphu.vn
HÀ NỘI — Politburo member and secretary of the Hà Nội Party Committee Đinh Tiến Dũng requested to focus all resources to firmly protect the achievements in COVID-19 control, and not let the pandemic spread widely in the community.
He made the statement during a press briefing on Sunday.
During the fourth COVID-19 outbreak, Hà Nội has had more than 200 cases, of which more than half come from the Central Hospital for Tropical Diseases No 2 and the National Cancer Hospital in Tân Triều.
Dũng affirmed that the key to leading and directing the COVID-19 prevention and control was to "continue to be patient, calm, lucid, determined to maintain the achievements in the fight against the pandemic, and focus on protecting hospitals and industrial zones".
"Only when the pandemic is under control can we maintain production and business, economic growth and ensure social security," he said.
Dũng expressed his belief that with the spirit of community responsibility and joint action, Hà Nội will continue to be exemplary, taking the lead in repelling the COVID-19 pandemic, successfully holding the election for National Assembly and People's Council deputies on May 23.
Dũng said that all levels and branches of the capital city must coordinate with management boards of industrial zones so that each industrial zone becomes a "fortress" against the pandemic.
Specifically, there must be a separate plan for pandemic prevention and control, suitable to the zones' characteristics and situation.
Particularly for the health sector, Dũng requested to regularly review, inspect and supervise to ensure strict procedures for receiving patients, patients' family members, and managing people entering and leaving the hospital.
Dũng directed the health sector to focus on completing testing and screening of people returning from pandemic areas, promptly quarantine to prevent the pandemic from spreading to the community. — VNS