Patient with liver cirrhosis is Việt Nam's 43rd COVID-19 death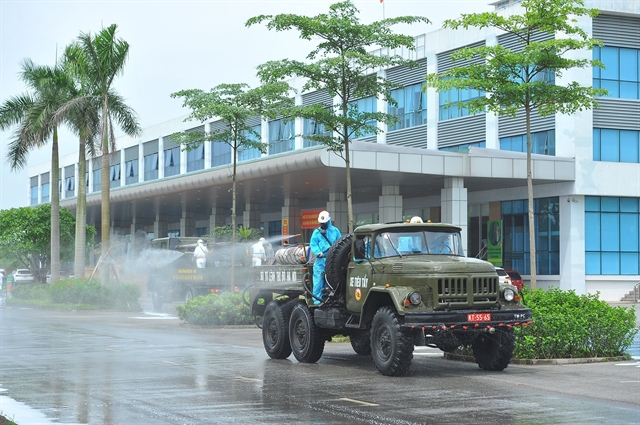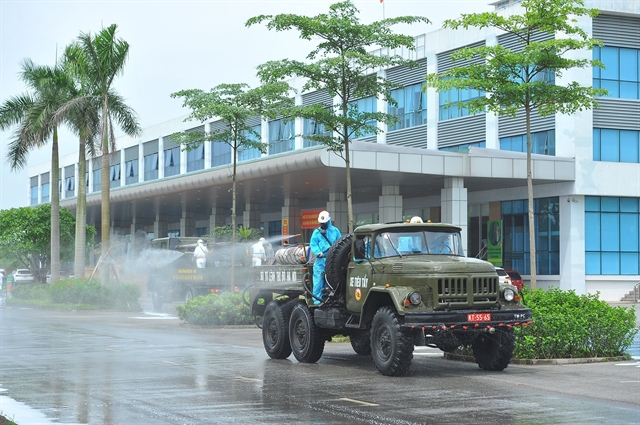 KIm Chung facility of the National Hospital for Tropical Diseases in Hà Nội sprayed with disinfectant on May 6 after a cluster of COVID-19 infections were detected and the facility was put under lockdown. — VNA/VNS Photo Minh Đức
HÀ NỘI — The treatment subcommittee of the National Steering Committee for COVID-19 Prevention and Control Monday morning reported the 43rd COVID-19 related death, a 50-year-old male patient with liver cirrhosis.
The liver disease was reportedly a result of years of heavy drinking, but the man had given up drinking for about two years.
One week before being admitted to Hải Dương Province General Hospital, the patient suffered from high fever, chills, jaundice, stomach swelling and digestive issues.
His blood culture was identified as positive for Ochrobactrum anthropic bacteria and he was subsequently given a five-day course of antibiotics but it failed to alleviate the infection.
He was transferred to the National Hospital for Tropical Diseases in Hà Nội on April 25 with diagnosed sepsis and cirrhosis ascites.
On May 5, the patient tested positive for coronavirus.
The patient was actively given resuscitation intervention with continuous mechanical ventilation and dialysis, administration of antibiotics, blood transfusion, diuretic, choleretic, and laxatives but still the patient's conditions gradually deteriorated, and septic shock, gastrointestinal bleeding, increasing ascites, and multiple organ failure developed.
On May 21, the leading experts council for treating COVID-19 patients have said the patient's condition is critical and death is imminent.
The patient died on Sunday night, with the cause of death given as septic shock, multiple organ failure, sepsis, gastrointestinal bleeding, and SARS-CoV-2 infection with underlying condition noted as ascites in liver cirrhosis.
This has been the eighth death in the fourth wave of COVID-19 hitting Việt Nam since April 27 with a few clusters detected in the National Hospital for Tropical Diseases and the National Cancer Hospital in Hà Nội. — VNS