Northern provinces promotes sale of lychee amid pandemic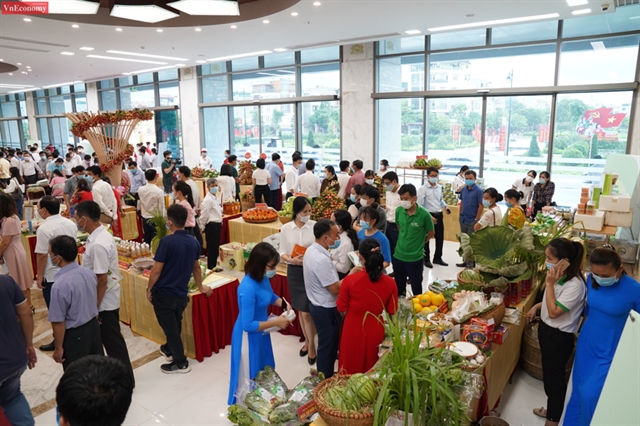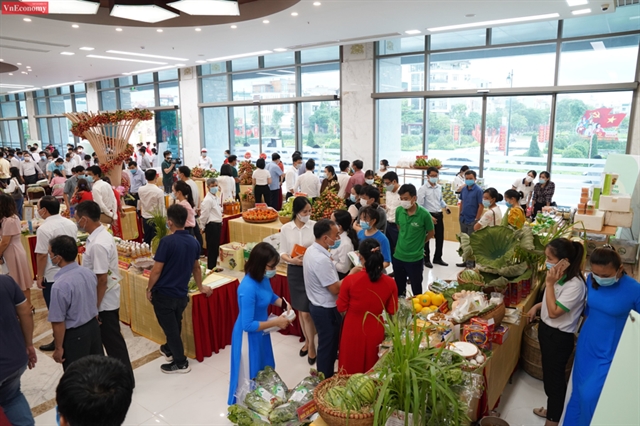 The three-day event to promote sale of lychee in Hải Dương Province kicked off on Tuesday. — Photo vneconomy.vn
HÀ NỘI — The northern provinces of Hải Dương and Bắc Giang – Việt Nam's lychee production hubs – were making preparations to promote sale of this type of fruit when the harvest season was nearing and to cope with any disruptions which might be caused by the COVID-19 pandemic.
Hải Dương Province People's Committee on Tuesday coordinated with the Ministry of Industry and Trade to organise an event with an aim to promote sales of the province's specialty Thanh Hà lychee which was connected with dozens of points in foreign countries, including the UK, Australia, Belgium, Holland, the Republic of Korea, Hong Kong, the US, Japan, France, Singapore and China.
The event also attracted the participation of some e-commerce platforms, such as Alibaba, Lazada and Sendo, to promote online sales of this fruit in the context of the pandemic which makes online shopping more popular.
At the event, the Trade Promotion Agency, the provincial Department of Agriculture and Rural Development and the provincial Department of Industry and Trade signed a cooperation agreement with e-commerce platforms Lazada and Sendo to bring lychee online. The three-day event also provided opportunities for supermarkets, e-commerce website Voso of Viettel Post and Postmart of Vietnam Post to discuss cooperation opportunities with lychee suppliers.
According to the provincial Department of Agriculture and Rural Development, lychee was entering harvest season.
There are a total of 9,186 hectares of lychee cultivation in Hải Dương Province with an expected output of 55,000 tonnes, 15,000 tonnes higher than the previous crop.
About 450 hectares in the province meet GlobalGap standards with an expected output of 2,500 tonnes, and 6,300 hectares have been certified VietGap.
A total of 10,000 hectares have been granted codes for export, including 45 codes to the US, Australia, Japan with a total area of 500 hectares, nine codes to Thailand with an area of 100 hectare, 77 codes to China with nearly 1,000 hectares.
Thanh Hà District is the lychee hub of Hải Dương with 3,328 hectares.
Virus-hit province raises scenarios for lychee sale
Bắc Giang Province People's Committee early this week issued a plan for lychee sale to prevent any disruptions caused by the impact of the COVID-19 pandemic.
Specifically, three scenarios were developed, corresponding to the development of the pandemic in the province.
Deputy Chairman of the provincial People's Committee Phan Thế Tuấn said that the province had a good lychee season this year with a total cultivation area of 28,100 and an expected output of 180,000 tonnes, 15,000 tonnes higher than last year's crop.
The harvest season runs from this week to around July 20.
In the first scenario in which the pandemic was put under control, the province expects that 50 per cent would be sold in the domestic market and the rest exported to markets including China, Japan, Australia, Thailand, the US and the European Union.
In the second scenario in which the pandemic continued to develop, domestic sales would account for 70 per cent and 30 per cent would be exported. Sale on e-commerce platforms would be promoted, together with increasing processing.
If the export was frozen as in the third scenario, the domestic sale would be promoted with a focus on wholesale markets, supermarkets, e-commerce websites and processing companies.
The provincial Department of Industry and Trade is providing support to enterprises and cooperatives to bring farm produce online to the province's e-commerce platform http://www.san24h.vn and others like Lazada, Shopee, Tiki and Alibaba.
Bắc Giang Province also said that it got a nod from the Government to allow 190 traders from China to enter Việt Nam via Hữu Nghị Border Gate in Lạng Sơn Province to purchase lychee. These traders would have to practise 21-day quarantine at designated hotels. — VNS