More users install COVID-19 tracing apps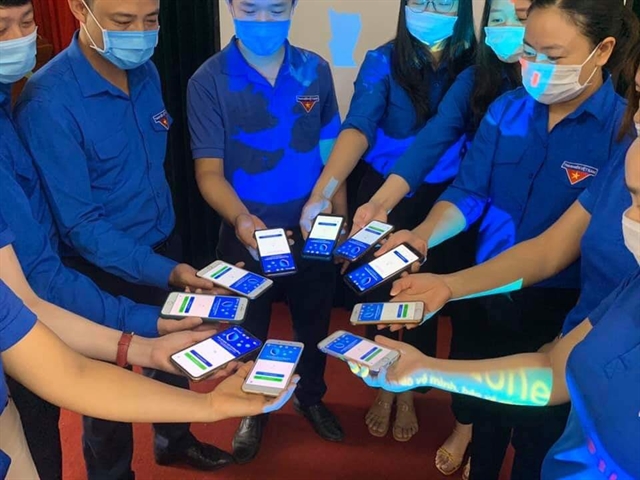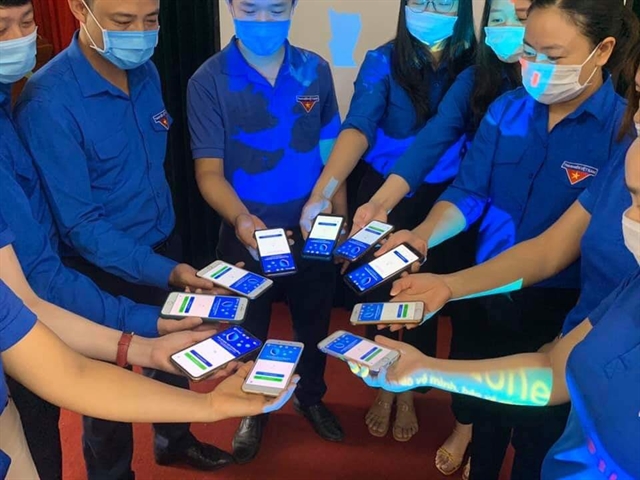 Young people in Ninh Bình Province install Bluezone app. Photo nhandan.com.vn
HÀ NỘI ­ – The installation and use of the Bluezone tracing application increased sharply, averaging 32,000 to 40,000 downloads per hour right after the discovery of new COVID-19 cases.
As of February 1, there were 27 million downloads of the application, according to suckhoedoisong.vn.
The tracing app will warn if smartphone users have been in close contact with COVID-19 cases and suspected cases.
Bluezone users will be less likely to be mistakenly quarantined due to cases not remembering their travelling schedule.
The more people who install Bluezone, the more effective the protection will be.
Prime Minister Nguyễn Xuân Phúc recommended everyone install Bluezone to help in controlling the pandemic.
Along with Bluezone app, the number of smartphone users installing the NCOVI domestic health reporting application was 7.72 million and the number of medical declaration records for the entire population was 18 million.
Users can download the NCOVI application to declare health information of themselves and their family anytime, anywhere.
An important function of the NCOVI application is the risk factor declaration. Persons traveling from pandemic zones, who have been in contact with patients or suspected cases, need to declare risk factors for timely assistance from health authorities.
NCOVI also has monitoring function of quarantine by checking the attendance 3 times a day by facial recognition and issuing an alert if the quarantined person moved more than 100m from the quarantine area.
Two days ago, Deputy Prime Minister Vũ Đức Đam urged people in pandemic areas to make the most of social media tools providing information to the Ministry of Health and the National Steering Committee for COVID-19 Prevention and Control about all people they have come into contact with. This was not only to protect oneself but also for the safety of the whole country, the deputy PM said.
According to Deputy Minister of Science and Technology Bùi Thế Duy, many COVID-19 patients and those in quarantine areas or F1 and F2 cases in Hải Dương Province had been very active in using social media to notify people they had contact, thereby helping to verify information of at-risk cases quickly.
Passengers' information updated
In order to ensure the safety of public passenger transport activities and minimising the risk of COVID-19 spread during times of high travelling demand before, during and after Tết (Lunar New Year), the Ministry Transport required the Directorate for Roads of Việt Nam (DRVN) and affiliated departments to raise the pandemic warning to the highest level, especially at airports, railways, ports, bus stations and on public means of transport.
In addition, the ministry has also asked the DRVN and the local transport departments to direct the transportation businesses to urgently update information of passengers on the Safe COVID-19 application.
The relevant agencies must strengthen inspection and suspend operations for businesses that did not update information on the app and not prepare pandemic prevention measures, said the ministry. – VNS