Medical workers rush to help Bắc Giang Province as COVID-19 spreads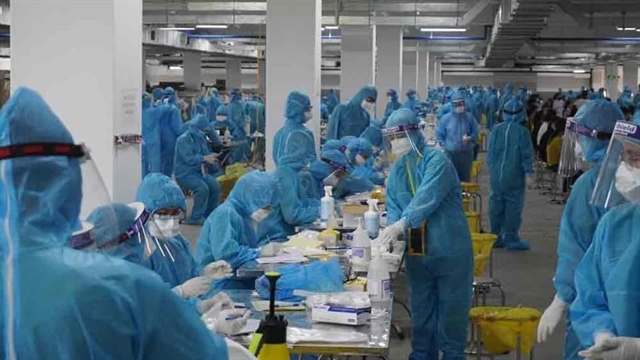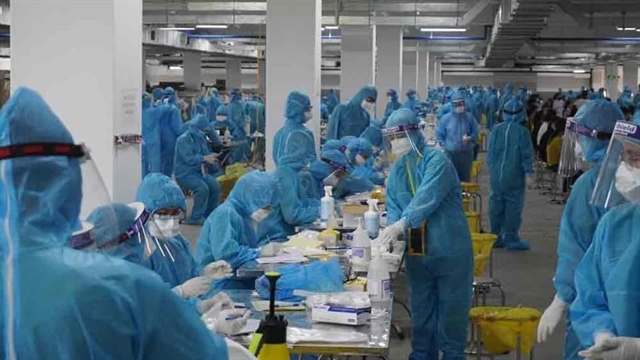 Medical workers from Quảng Ninh Province's Việt Nam- Sweden Uông Bí Hospital prepare to take testing sample at Quang Châu Industrial Park in Bắc Giang Province. Photo suckhoedoisong.vn
HÀ NỘI — Rapid transmission of COVID-19 has been reported in the northern province of Bắc Giang, particularly at industrial parks, making testing and isolating to prevent infections from spreading a vital task.
About 160,000 labourers from 14 localities nationwide work in industrial parks in Bắc Giang. With the number of confirmed COVID-19 cases, about 200,000 people in the province need testing as soon as possible, beyond the capacity of the local health sector.
The province has never witnessed such a major disease outbreak and needs help, particularly to take testing samples so testing can be conducted in a fast, accurate and economical manner.
Responding to Bắc Giang's calls for help, hundreds of medical workers and students from neighbouring provinces and cities have volunteered to help out.
Nguyễn Thị Hương, a 38-year-old nurse from Quảng Ninh Province's Việt Nam- Sweden Uông Bí Hospital said she and 199 other medical workers from the hospital arrived in Bắc Giang on May 15 and only had one hour to check-in to their rooms at a hotel before rushing to the province's Quang Châu Industrial Park in Việt Yên District.
"We worked overnight until past 2am," she said, adding that in two days, they took 5,000 testing samples in the industrial park.
Hương said as her husband worked in the construction sector and usually worked far from home, she alone took care of her family, including her son who is set to sit the high school entrance exam next month, a daughter who will be a first-grader this year and their parents who are all more than 80 years old.
She has been busy working at the hospital or disease clusters since the COVID-19 pandemic hit Việt Nam early last year, she said, adding that her husband now deals with all the housework.
"We don't know when we will finish work in Bắc Giang but it does not matter to me," Hương said.
Doctor Nguyễn Thị Oanh also from the Việt Nam- Sweden Uông Bí Hospital said she just had time enough to grab a few essentials before setting off for Bắc Giang.
"I gave my daughter a goodbye hug and kiss in a hurry," she said.
Nguyễn Thị Hồng Hoa, vice director of Việt Nam- Sweden Uông Bí Hospital, said that once testing was conducted timely, COVID-19 cases could be detected and epidemiological maps developed for the affected areas, helping control the disease.
"Medical workers all are aware of the danger, the difficulties and the risks that they could face when working in disease clusters," she said, adding that all were working almost day and night, determined to control the disease as soon as possible.
Doctor Lê Hưng, an official from Hà Nội's Health Department, said medical workers from Hà Nội were ready to support Bắc Giang in the fight against COVID-19.
"Among the volunteers, some of them have little children to take care of, many of them are overloaded with work and personal business. However, we are so proud to be the first people who reached and support medical workers in Bắc Giang Province," he said.
Dương Lệ Quyên, a student of Hải Dương Technical Medical University, said that she was happy to be told she was eligible to go to Bắc Giang to help out.
"Bắc Giang is my hometown. Hearing about disease clusters and increasing SARS-CoV-2 positive cases in the province during the past days make me worried a lot," Quyên said.
"Now, I can help fight the disease in my hometown," she said.
She added that she and her classmates also worked at disease clusters when COVID-19 resurged in Hải Dương Province early this year, so they had some experience.
"My parents agreed with me about my volunteering. They told me to be very careful when working at disease clusters," Quyên said.
Together with Quyên, three lecturers and 211 students from the university reached Bắc Giang on Sunday.
On Monday, 15 medical workers from the northern province of Yên Bái also headed to Bắc Giang to help.
In addition, 130 lecturers and students of Military Medical University, 300 officers and soldiers from Mobile Police High Command under the Ministry of Public Security arrived in the province.
As of Tuesday – just 10 days after the first COVID-19 case was reported in Bắc Giang Province's Shinyoung Ltd Company in Việt Yên District, the total cases in the province topped 400.
For six straight days, the number of cases in Bắc Giang has been the highest in the country, particularly on May 16, when nearly 200 cases were reported.
Deputy Minister of Health Nguyễn Trường Sơn said the disease development in the province was very complicated and unpredictable. He also warned about the risk of infections in quarantine areas. VNS