MARD to set up a team to trade agricultural products amid pandemic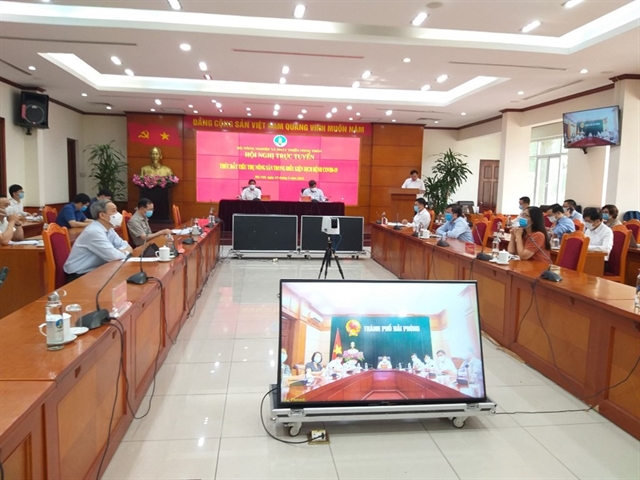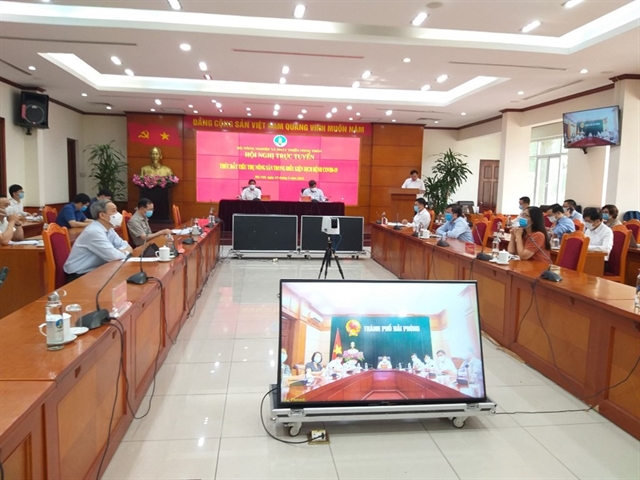 View of the online conference "Promoting the consumption of agricultural products in the context of the COVID-19 pandemic". — VNA/VNS Photo Bích Hồng
HÀ NỘI —The Ministry of Agriculture and Rural Development (MARD) has decided to form an interdisciplinary working group to deal with issues related to the consumption of agricultural products, especially at border gates amid the COVID-19 pandemic.
At an online conference on Friday, MARD's deputy minister Trần Thanh Nam said the team will be established among MARD, the Ministry of Industry and Trade (MoIT) and the Ministry of Finance.
MARD said agro-forestry-fishery production was recovering in the first four months while the consumption market has expanded with an estimated export turnover of US$17.15 billion, up 24.2 per cent compared to 2020.
In the first four months of this year, export turnover of agro-forestry-fishery products was estimated at more than $4 billion, accounting for 23.3 per cent of the total exports and growing 35.8 per cent compared to 2020.
The ministry wants the team to help localities with a lot of agricultural production, especially those with large areas of crops about to be harvested, and farmers, co-operatives and businesses to accelerate the consumption of agricultural products.
Nam suggested the MoIT and the Ministry of Foreign Affairs provide timely information on consumption markets and adjustments in import policies in other countries so Việt Nam can adapt.
"MARD will request the Chinese authorities to take timely measures to remove difficulties as well as co-ordinate and support to create the best conditions to promote economic growth and trade in goods," he said.
Việt Nam has many seasonal agricultural exports that often face difficulties and consumption pressure during the harvest season. Many products such as lychee, longan and dragon fruit face the risk of being spoiled if there is any delay in the export process at borders as the cold storage logistics system is still limited.
Việt Nam has 48 cold storage facilities for preserving agricultural and aquatic products with a total storage capacity of 2 million tonnes of products, however, they cannot meet the needs of preserving agricultural and aquatic products to serve the demand from the Mekong Delta.
Nguyễn Quốc Toản, director of the Department of Agricultural Product Processing and Market Development, said as most local lychees will be harvested soon, State management agencies, inter-sectoral forces, lychee growing localities and border provinces needs to develop multiple consumption plans for different scenarios.
Lychee production in 2021 in Bắc Giang, Hải Dương and Hưng Yên provinces has been estimated at 250,000 tonnes for this year and half of the figure was expected to be exported to the Chinese market.
Deputy chairman of Bắc Giang Provincial People's Committee Phan Thế Tuấn said the province has built some scenarios for lychee consumption in each context of the COVID-19 pandemic. It has connected with businesses, trade centres, supermarkets and e-commerce sites to consume the products.
Tuấn asked MARD and the Plant Protection Department to send staff to the province to assist in procedures to export lychees to Japan. He also asked MoIT to help businesses, distribution units and wholesale markets in consumption, asking the Government Office and the Ministry of Foreign Affairs to help Chinese traders buy lychees.
Phan Văn Chinh, director of the Import-Export Department, MoIT said: "China is currently the main export market of Việt Nam's agricultural products of lychee, longan and dragon fruit. To reduce the pressure of goods circulation on border provinces exporting to this market, it is necessary to strengthen measures to support border trade activities, facilitate customs clearance procedures, and avoid stagnant goods in border provinces with China."
To find the output for Hải Dương lychee, the MoIT said it will work with the province to organise a conference to connect and promote the consumption of Thanh Hà lychee and typical agricultural products of Hải Dương Province in 2021 on May 18. — VNS