Long-term economic solutions needed to cope with pandemic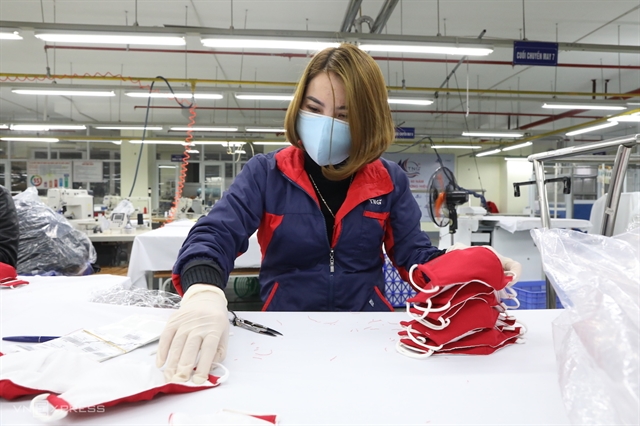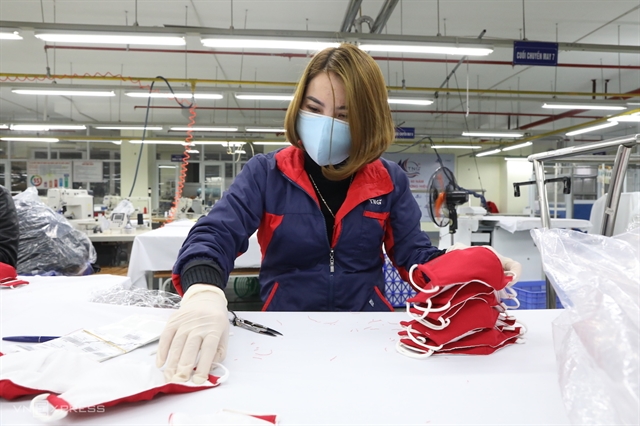 TNG Investment and Trading JSC produces facemasks to fill out the withdrawn clothes orders in COVID-19. — Photo courtesy of the firm
HÀ NỘI — As the COVID-19 pandemic could continue to have serious impacts on a global scale and may only be eliminated in four to five years, experts have said Việt Nam needs long-term policies to cope.
At the launch of a report on the impact of the pandemic on Vietnamese firms by the World Bank(WB) and the Việt Nam Chamber for Commerce and Industry (VCCI) yesterday in Hà Nội, VCCI's chairman Vũ Tiến Lộc said though vaccines were being distributed in many countries, humanity was still facing great risks.
The report, which surveyed 10,197 enterprises nationwide, found the pandemic had a very negative impact on businesses in Việt Nam, with 87.2 per cent of surveyed firms affected at the large level, with just 11 per cent of enterprises "not affected by anything" and nearly 2 per cent reported a "mostly positive" impact.
Some industries reported suffering great losses including private enterprises in the garment industry with 97 per cent, in communications with 96 per cent, and in electrical equipment manufacturing with 94 per cent. Foreign direct investment (FDI) enterprises in some industries also had a high rate of negative effects including real estate with 100 per cent, information and communication with 97 per cent and agriculture and aquaculture with 95 per cent.
In terms of geography, production and business activities stalled and declined more for private enterprises in the central coastal areas with 91 per cent negatively affected and FDI enterprises in the Central Highlands with 94 per cent.
Provinces and cities with the highest rates of private enterprises adversely affected were Đà Nẵng with 98 per cent and Kon Tum and Khánh Hoà with 95 per cent each.
Đậu Anh Tuấn, head of the VCCI Legal Department and a representative of the survey team, said the pandemic most influenced firms' access to customers, cash flow, labour and supply chains.
Tuấn said 35 per cent of private enterprises and 22 per cent of FDI enterprises had to reduce their workforce while 36 per cent of the small and micro private enterprises had to do so.
The report said it was necessary to prioritise policy implementation capacity to facilitate business and help them access support packages.
The report also suggested offering financial support to businesses that maintain a high proportion of employees and support the cost of training to improve qualifications for workers.
At the same time, it recommended policies to develop industries and supporting services to ease dependence on external sources, create added value, increase Việt Nam's position in global supply chains and enhance the benefits from FTAs.
Nguyễn Văn Thời, chairman of Thái Nguyên Business Association, said: "Firms must be restructured and innovate themselves to survive in such a pandemic."
Thời, also chairman of the garment TNG Investment and Trading JSC, said when he saw partners withdraw their orders for garments last year, he started making face masks and it was a great success.
"Opportunities emerge in a crisis and firms must always try to see those chances," he said.
To grow more, Lộc said: "Việt Nam should be in a higher end of the supply chain not only in a manufacturing and processing level."
"Labour and employment will a big topic for Việt Nam especially for the industries with labour intensive such as garment and shoemaking. Training and elevating our workforce is a key task for Việt Nam in the years to come," he added.
While 75 per cent of enterprises believed the Government's policies were useful, longer-term solutions are still needed.
According to the report, enterprises asked the Government to increase public investment, complete infrastructure works, and implement stimulus packages for economic recovery.
They said they wanted solutions to develop the domestic market, promote connections between domestic businesses and consumers, and form Vietnamese supply chains.
They also emphasised the importance of administrative reform, improving the efficiency of law enforcement to create a favourable business environment and support the sustainable recovery of businesses.
The WB's lead economist for Việt Nam Jacques Morisset said though the country was one of just 10 in the world and the only one in Southeast Asia to have recorded positive economic growth in 2020 with amazing control of the pandemic, there were still risks ahead.
"It is a risk that Viet Nam will go behind the world in the next six months in vaccine providing to people. That will be an impact on the investors to Việt Nam," Morisset said, though he noted the country was reacting very efficiently.
Morisset said the green economy was not something Việt Nam was strong enough in, saying if the country wanted to attract FDI in the future, it would need to prove to investors that it had good regulations to build a good environment and plans to respond to climate change.
"Most big corporations have to be green today," he said.
Responding to the Morisset, Lộc from the VCCI said: "Resilience is how the local economy attracts investment. We have an initiative we want to build a centre to research and develop a climate change and crisis resilient economy in Việt Nam."
Lộc concluded there should be more long-term and medium-term policies.
"There should be a breakthrough in polices to develop Việt Nam in the next five and 10 years, as a turning point of the country or Việt Nam will not be a developed country by 2045 as planned," he said. — VNS