Localities need to be on high alert in COVID-19 prevention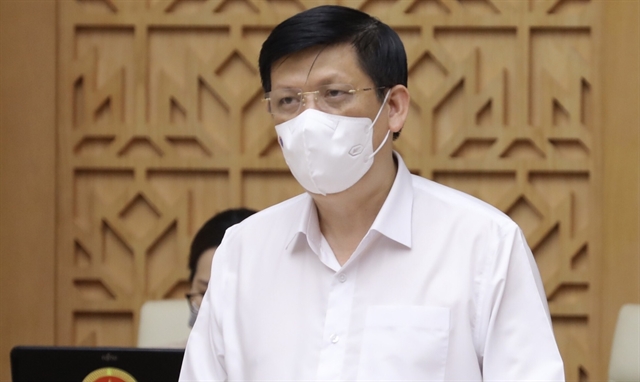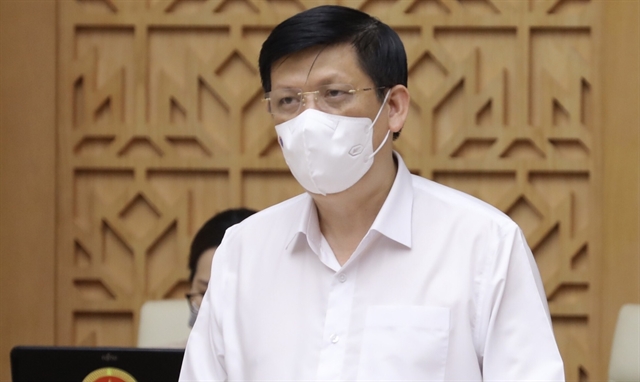 Health minister Nguyễn Thanh Long. Photo moh.gov.vn
Health minister Nguyễn Thanh Long recommends all localities must remain on high alert – even those who have not yet reported any new community COVID-19 infections while talking to Sức khoẻ và Đời sống (Health and Life) newspaper.
Can you please evaluate the current COVID-19 pandemic in our country?
After three waves of COVID-19 pandemic, we all found that the fourth outbreak is more complicated than the previous ones.
The fourth wave began on April 27, so far recording 528 cases in 26 provinces and cities. The latest outbreak is more complicated and has spread to many localities.
This outbreak has many sources of infection.
First is from foreign experts entering Việt Nam and the control of pandemics in some isolation areas has not been strict.
The second source of infection is in the community and cross-infections.
The third is the Indian COVID variant which is more transmissible and can spread quickly through the air, especially in closed spaces. Indian variant is more infectious than the UK variant.
It requires pandemic prevention to be very urgent. Localities are confident in disease control as new community cases confirmed over the past days were already in quarantine facilities, the areas under social distancing and lockdown, making the risk of transmissions low.
With complicated developments of COVID-19, what key measures has the Ministry of Health (MoH) focused on for pandemic control?
Since the pandemic appeared, the ministry has always been on very high alert and continuously directs localities and units to implement prevention measures.
As an advisory body to the Government, the Prime Minister, the National Steering Committee on COVID-19 Prevention and Control, we always have assessments to propose and give out specific solutions to fight the virus.
The first measure is to mobilise the entire political system, army and people in the fight against COVID-19.
The second is to adhere to the principles of prevention, detection, isolation, zoning, suppression and treatment and drastically implement all measures under the guidance of the MoH.
The third is to synchronously deploy all technical measures from testing to treatment.
The fourth is the application of science and technology to pandemic prevention and control and communicate with people so they understand, support and cooperate effectively.
Previously, we focused on tracing potential infectious, close-contact cases. At present, we are conducting large-scale testing and have issued guidelines to strengthen testing and proactively detect early cases in all high-risk groups.
We are also preparing scenarios to respond to the pandemic that appears in the community. Localities must be ready to deal with all possible situations.
In this fourth wave, some hospitals were locked down. What solutions does the health ministry have to protect COVID-hit hospitals?
Hospitals are generally one of the places where there are many risk factors that can spread diseases, especially central hospitals, where patients come from all parts of the country. So the possibility of transmission is very high.
The ministry has directed hospitals to screen and diversify patients and ensure medical examination and treatment for the people as well as pandemic prevention.
The agency also requires hospitals to conduct periodic screening tests for patients, their family members, medical staff, and strengthen testing in some high-risk areas such as the emergency department and kidney dialysis areas.
Patients are allowed to transfer to another place when their tests are negative and inform local authorities of their residence.
Hospitals must be locked down if any COVID-19 case is found.
Another issue is to strengthen the capacity of the hospitals, the place for both COVID-19 prevention and control and treatment. We also require hospitals to be on very high alert.
What do localities that have not yet reported new cases do to prevent the spread of the virus, especially with quarantine issues?
We recommend all provinces and cities, even those with no cases of COVID-19 infection in the community, to raise the alert to a high level and to implement all prevention measures to fight the virus.
Through three times dealing with the pandemic, we always raise a higher alert level than required. Localities must synchronously implement pandemic prevention and control measures as suggested by the central government to prepare response plans for the worst situations.
The COVID-19 quarantine period has been extended from 14 days to 21 days and people need to be tested more times when they leave to protect the community from the spread of coronavirus.
Local health departments and centres for disease control are required to strictly comply with centralised quarantine protocols to avoid cross-infection within quarantine facilities. — VNS