Localities, firms urged to protect industrial zones from COVID-19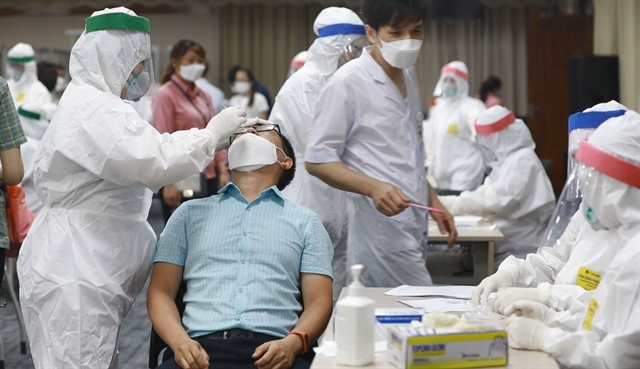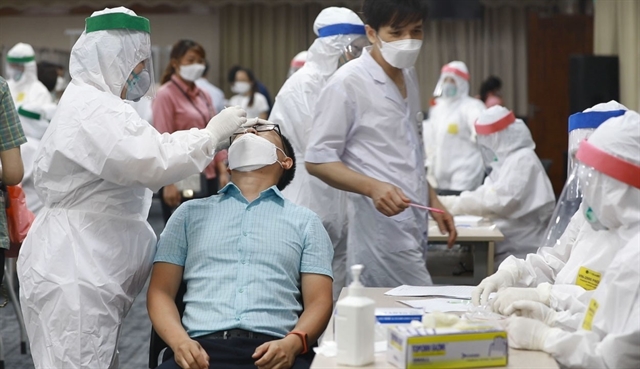 Medical workers take samples for COVID-19 testing for workers of Samsung Electronics Việt Nam in Yên Phong Industrial Zone in Bắc Ninh Province after two workers of the company were confirmed to get COVID-19 on Tuesday. — VNA/VNS Photo Thái Dũng
HÀ NỘI — Deputy Prime Minister Vũ Đức Đam has praised local authorities for acting quickly to stamp out COVID-19 outbreaks in industrial zones, which face great danger if a COVID-19 outbreak spreads within their facilities.
The National Steering Committee for COVID-19 Prevention and Control yesterday morning held an online meeting with the localities of Bắc Ninh, Bắc Giang and Đà Nẵng after SARS-CoV-2 cases were reported in industrial zones in the three provinces.
Speaking at the meeting, Đam also head of the steering committee, applauded the three provinces for their timely and responsible work by tracing suspected COVID-19 cases, isolating areas and speeding up testing.
He said risks remained high in industrial zones even though many localities were seen as able to deal with an outbreak.
Currently, 3.8 million people work in 369 industrial zones and bordergate areas nationwide, while some 600,000 people work at industrial clusters. They typically work in close spaces, start and finish work at the same time and live in small boarding houses or dormitory rooms.
Đam said the national steering committee has a great deal of concern about these vulnerable groups as well as disease prevention and control measures in workplaces.
"If COVID-19 hits industrial zones, production and supply chains would likely be disrupted, leaving negative impacts on the national economy," he said, asking the Ministry of Industry and Trade together with localities and enterprises to strictly implement disease prevention and control activities.
Đam also said localities were not allowed to impose travel restrictions on vehicles carrying workers to industrial zones where SARS-CoV-2 positive cases reportedly worked. He made the notice after Bắc Ninh authorities reported restrictions that prevented workers from reaching industrial zones where new COVID-19 cases were reported.
Đam suggested localities and industrial zones with new confirmed cases inform other authorities of the licence plate numbers of the coaches carrying employees to work through other provinces to ensure they can travel unimpeded.
He also asked local authorities to work with labour-intensive enterprises, especially those in industrial zones, on disease prevention and control.
"Enterprises can conduct regular screening and testing for workers to ensure disease-free production," he said.
"It's necessary to carefully prepare concentrated quarantine areas to avoid a scenario in which all workers of a COVID-19-hit plant are taken into a substandard quarantine area, which poses a high risk of cross-infection," Đam said.
"Employers should not be extreme or over-worried. It is also dangerous if employers make a hasty decision – halting operation and letting workers return to their hometown," Đam said.
Đà Nẵng City People's Committee chairman Lê Trung Chính said as soon as the city detected a case in Trường Minh Joint Stock Company in An Đồn Industrial Zone on Tuesday, local authorities conducted tests at night and detected 33 SARS-CoV-2 cases who had close contact with the confirmed case.
Instead of a group test of five samples as previously, Đà Nẵng health authorities conducted group tests of 10 or 20 samples to speed up testing.
Director of Bắc Ninh Province's Health Department Tô Thị Mai Hoa said after detecting a case in Samsung Electronics Việt Nam, authorities identified 49 people (F1) who had close contact with the person and 1,166 people (F2) who had contact with F1.
Also in Bắc Ninh, for the case in Johnson Health Việt Nam, local authorities identified 27 F1 and 589 F2 cases. For the infection in Canon Việt Nam, 40 F1 and 533 F2 cases were detected.
Hoa said that local authorities proposed speeding up testing with quick test kits in industrial zones. Authorities also called on workers to limit contact with those of other plants.
Chairman of Bắc Ninh Province People's Committee Nguyễn Thị Hương Giang said the province is home to 16 industrial zones with more than 300,000 workers, so it would suffer a huge burden if the disease spread among industrial zones.
"To date, Bắc Ninh still has the disease under control," she said.
Vice-chairman of Bắc Giang Province People's Committee Giang Mai Sơn said the outbreak at Shin Young Việt Nam Ltd Company in Vân Trung Industrial Zone was very complex as about 90,000 workers were working at the zone.
Until Wednesday noon, 75 SARS-CoV-2 cases were reportedly linked to the outbreak. The province tested nearly 24,000 people and locked down the area where the workers stayed.
It was reported that the area is home to about 15,000 people and local authorities took 8,000 samples for testing. Half of the tested samples were negative for SARS-CoV-2 while the remaining samples are waiting for results. —VNS