Industrial parks try to keep factories open amid COVID-19 outbreak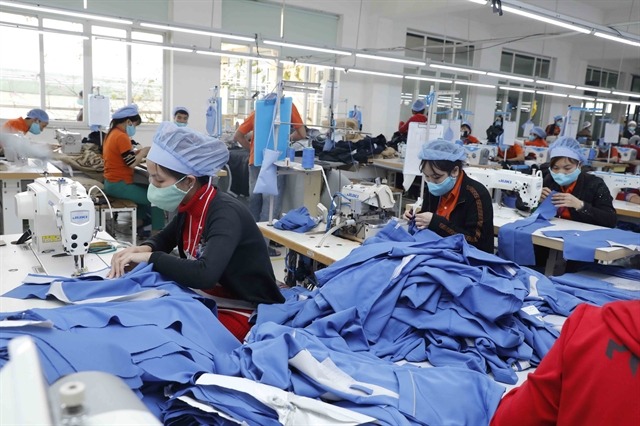 Wokers at work in Yên Mỹ Garment Company in Hưng Yên Province. Garment and textile makers have taken active measures on COVID-19 pandemic prevention. -– VNA/VNS Photo Trần Việt
HÀ NỘI – Deputy Prime Minister Vũ Đức Đam yesterday asked authorities in Bắc Ninh and Bắc Giang provinces to continue closely monitoring COVID-19 hotspots and bring companies with large supply chains back into operation.
The request was made at a meeting of the National Steering Committee for COVID-19 Prevention and Control.
"Bắc Giang Province must strictly manage workers in industrial zones to ensure the virus will not spread to other provinces," he said. "At the same time the two provinces need to quickly bring businesses that meet safety requirements back into operation, especially those with large supply chains.
"The Ministry of Health and the two provinces must learn from experience and prepare protocols to respond to outbreaks that take place near places with high populations like industrial parks."
He also requested the two provinces to keep testing and take advantage of technology to manage samples and test results.
He also asked the health ministry to closely monitor the outbreaks in Điện Biên Province and other localities with workers coming back from industrial parks.
At a national consultation on the treatment of COVID-19 patients held online on Friday, experts said the new variants of coronavirus have caused serious complications and sent 21 of them into critical conditions.
These 21 patients have been put on invasive ventilators and require intensive care.
The country also has 71 severely ill patients on ventilators, seven severely ill patients relying on non-invasive mechanical ventilation, and three other patients undergoing life support (ECMO) intervention.
The spread of COVID-19 has wreaked havoc in Bắc Giang and Bắc Ninh provinces in recent days and forced many businesses in industrial parks (IPs) and export processing zones (EPZs) with thousands of workers to suspend their operations.
As of Friday evening, 817 community COVID-19 cases had been reported in Bắc Giang Province since the resurgence of the pandemic in late April, with the vast majority linked to industrial parks, and the province has closed four of its six IPs until further notice.
This province has six industrial parks with more than 240,000 workers, all situated near residential areas and national highways and thus posing a major threat of spreading the infection to other industrial parks as well as residential areas.
After isolating outbreaks in the community, Bắc Ninh has been making efforts to keep industrial parks operating, according to Chairwoman of the provincial People's Committee Nguyễn Hương Giang.
Bắc Ninh IPs have nearly 500,000 workers, she said, adding that the locality's testing capacity is still below its needs. The province has recorded more than 380 cases in the ongoing outbreak.
However, Bắc Ninh is determined to avoid the closure of IPs by applying strict preventive and control measures, she said.
According to Chairman of the Bắc Giang People's Committee Lê Ánh Dương, after closing four IPs and applying social distancing in four districts and Bắc Giang City, the province has managed to monitor all workers related to the outbreaks and focused on preventing the pandemic from spreading to the community.
To deal with the problem, many businesses in IPs nationwide have taken measures to prevent the transmission of the virus to prevent possible disruption in the production and supply chains.
Crystal Martin Vietnam located in Quang Châu IP in Việt Yên District of Bắc Giang Province has built a smartphone app for its employees to update information. The company's cleaning staff disinfect twice a day and spray with a chloramine-B solution once a week. Besides that, there are always staff on duty to measure body temperature, instruct workers to disinfect hands, make medical declarations, and keep a safe distance.
The company aims to maintain operations as normal.
At JA Solar Vietnam Company also located in Quang Châu IP, the spraying of disinfectants is carried out regularly in the lobbies, offices, and warehouses. In addition to inspections, at the main gate, medical staff regularly measures the temperature of the staff and workers to promptly detect any suspected cases.
To date, the company has maintained operations and even has plans to expand the module manufacturing facility, so is recruiting new employees.
Vietnam-Singapore Industrial Park (VSIP) Bắc Ninh Province is one of 10 operating parks in Bắc Ninh, employing more than 36,000 labourers at some 100 businesses. To ensure safety, VSIP Bắc Ninh has established a COVID-19 safety team, while closing all parks, sports areas and outside gym sites.
Vũ Đức Giang, Chairman of the Vietnam Textile and Apparel Association (VITAS), said his association has warned textile and garment makers in IPs and EPZs to be more proactive in virus-safety work.
Giang said the pandemic was still challenging garment and textile businesses. VITAS has sent a document to the Ministry of Health and the Prime Minister to facilitate vaccine imports for workers in garment and textile businesses by paying every expense for vaccine imports in a bid to stabilise production and business operation.
Last year, many Vietnamese garment and textile businesses had to temporarily stop receiving goods and suspended orders due to the rapid spread of COVID-19, causing income losses and resulting in many workers resigning.
This year, garment and textile businesses have started receiving many orders from clients but now face a shortage of workers, in a year where the sector is aiming to earn US$39-40 billion from exports.
Meanwhile, Hòa Phát Steel company in Hưng Yên Province near Hà Nội, which employs 25,000 people, is also taking steps to ensure pandemic prevention and control.
The company requires workers to wear masks, measure their body temperatures, and report their medical status daily while ensuring social distancing at work. In rooms, departments, and workshops, disinfection spraying is also carried out regularly.
Authorities of IPs in Hải Phòng, Quảng Ninh, and Hải Dương have also been taking measures to keep workers safe and maintain business and production.
Industrial parks in the south are also tightening COVID-19 pandemic preventive measures in the midst of a resurgence of infections.
The Ministry of Planning and Investment (MPI) has sent a document to the People's Committees of provinces and cities to strengthen pandemic prevention measures in IPs and EPZs.
Management boards of IPs and EPZs were asked to strictly monitor the entry of foreign workers and experts to stop any illegal entrants working in IPs and EPZs.
Việt Nam now is home to 369 IPs and border-gate economic zones and export processing zones (EPZs) with a total number of 3.8 million labourers, and 700 operating industrial clusters employing 600,000 employees. As they gather a large number of people and have a closed manufacturing environment, it is one of the top priorities to ensure their safety. – VNS