Households in Hải Dương get support to restore livelihoods after COVID-19 devastation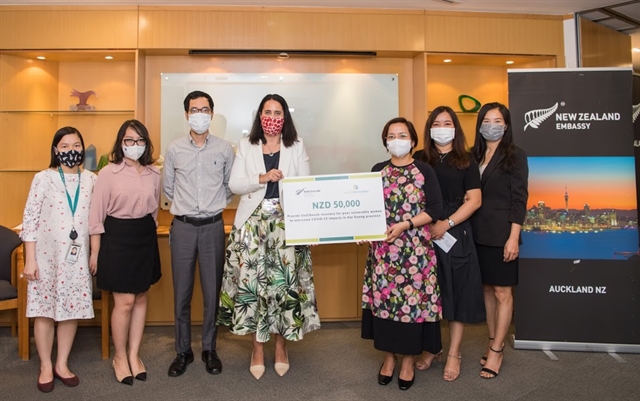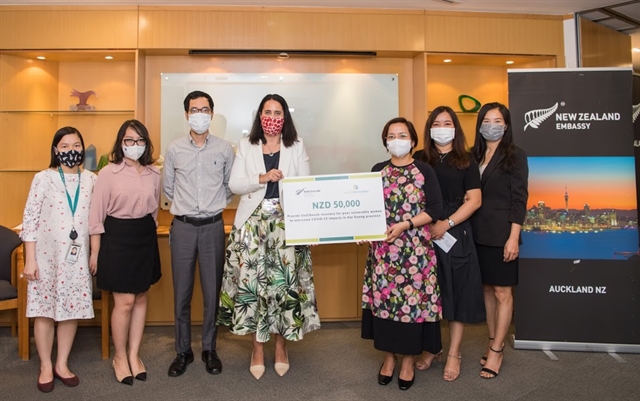 A project to help vulnerable women living in the northern province of Hải Dương overcome the impacts of COVID-19 is launched by The New Zealand Embassy in Việt Nam and the East Meets West Foundation. Photo Courtesy of New Zealand Embassy in Việt Nam
HÀ NỘI – The New Zealand Embassy in Việt Nam and the East Meets West Foundation (EMWF) on Friday announced the launch of a project to help vulnerable women in the northern province of Hải Dương overcome the impacts of COVID-19.
The New Zealand Embassy is providing VNĐ800 million (NZ$50,000) to support 270 households in five communes in the province's Kinh Môn District – a region hit hard by the pandemic earlier this year.
"This is the third COVID-19 relief project the New Zealand Embassy has supported and demonstrates the strong partnership between New Zealand and Việt Nam," said New Zealand Ambassador Tredene Dobson.
"This practical initiative will help ease the economic impacts of COVID-19 on women and their families. Certain groups have become more economically vulnerable during the pandemic, and we believe that this project will help families in Hải Dương to get back on their feet," he said.
The province experienced a serious COVID-19 outbreak ahead of Tết (Lunar New Year), which had a significant impact on its socio-economic development. Farming families were especially impacted, due to a decline in food demand and major disruptions to exports from the region.
According to a UN analysis on the social impact of the COVID-19 pandemic on Việt Nam, vulnerable populations continue to be strongly influenced by the long-term impacts of the pandemic.
As many as 87 per cent of the women reported a decline in incomes resulting from the crisis, with growing concerns of rising unemployment and declining demand for products even after the crisis. Approximately 43 per cent of the women are primary earners in their household, with an average income of $7 per day, according to UN Women. Therefore, one of the top priorities is to support workers in the informal sector through economic recovery and response programmes.
To empower vulnerable poor women to overcome difficulties of the COVID-19 pandemic, EMWF, in collaboration with the province's Women's Union, will support 270 poor and vulnerable women's households, particularly those with people with disabilities.
Through the project, vulnerable female-headed households will receive support to restore their livelihoods to improve incomes, especially when the situation is unstable.
Agricultural economists will help complete a needs assessment to understand the demand for agricultural products or services, providing livelihood products such as seeds, breeds, fertiliser, or production tools suitable to each family.
Beneficiary households will also receive financial hardship relief to support their purchase of necessities such as food, medicine, children's books, and tuition fees or/and healthcare services.
"Restoring livelihoods and empowering women is one of our main goals in our COVID-19 pandemic recovery projects, also reduces the socio-economic impact of the epidemic on vulnerable groups. We believe that this project, with cooperation with the province's Women's Union, vulnerable poor women families will have the opportunity to access resources for sustainable economic development and overcome the difficulties caused by the pandemic," said Nguyễn Hồng Hạnh, Country Director of East Meets West Foundation. VNS