Health ministry asks for enhanced COVID-19 measures during election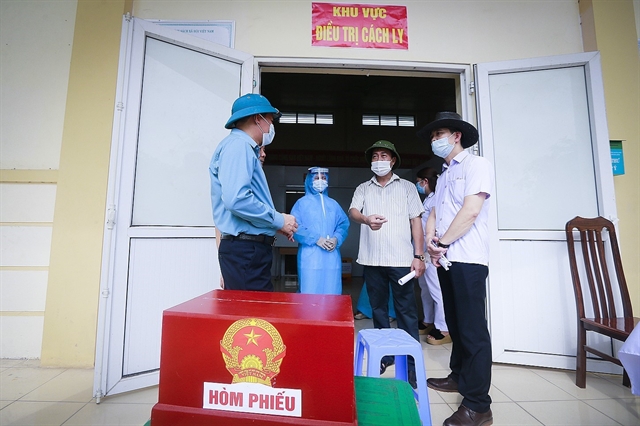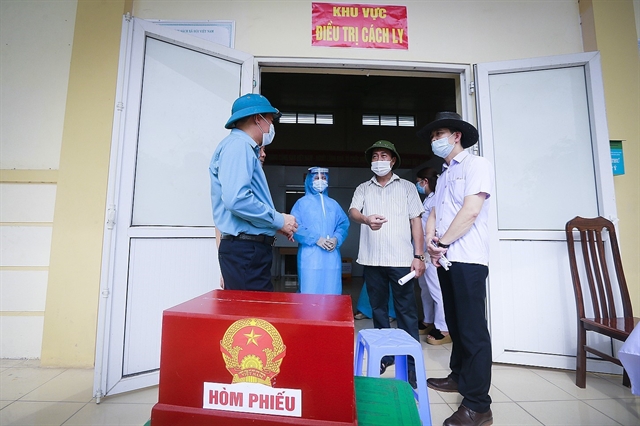 A drill involving the scenario of running a voting site at the quarantine area for COVID-19 patients was held in Đồng Tiến Commune, the northern province of Hoà Bình, on Monday. — VNA/VNS Photo Trọng Đạt
HÀ NỘI — The Ministry of Health has urged local authorities to ensure COVID-19 safety during the upcoming election.
The election of deputies to the 15th National Assembly and People's Councils for the 2021-26 tenure, slated for May 23, will be held amid the fourth wave of infections, with the number of daily community-transmitted cases hitting record levels.
In a document signed by health minister Nguyễn Thanh Long, the current outbreaks are noted to be "complicated and could affect the election," which required efforts from all authorities to carry out COVID-19 prevention and control measures before, during and after the election.
Local health departments were asked to regularly revise COVID-19 responses in the election to deal with changing outbreak situations.
The health departments must supplement plans for voters who are on duty in the fight against the COVID-19 pandemic, those who are quarantined or those who are being treated for the disease. In localities where there is community transmission, each polling station must have a separate area for the temporary quarantine of suspected COVID-19 infection cases.
The document also highlighted a number of requirements and recommendations for the election.
To ensure the voting rights for people who are self-isolated at home, in centralised isolation areas, quarantined in hotels or hospitals or in locked-down areas, the surfaces of ballot boxes must be disinfected before and after voting.
After voting is concluded, the ballot boxes must be marked as potentially hazardous to warn of risks of infections and kept in separate locations.
Members of the local election assisting team, election supervisors, transporters of ballot boxes, and vote counting staff must be equipped with and given proper instructions on how to safely wear and take off personal protective equipment and all said equipment must be properly collected and disposed of after use as infectious waste.
Voters will have to use their own pens.
The voting sites will need to be as open and well-ventilated as possible and voters will enter and exit the site according to a one-way traffic rule and go to the voting sites at a designated schedule for their respective residential unit to avoid overcrowding.
All voters' timing of entry should be recorded to be used for contact tracing purposes if a positive case or a probable case of COVID-19 infection is detected.
Those with symptoms like fever or coughing and those suspected to have been infected with coronavirus must not be allowed to participate in the election assisting team or other electoral procedures. — VNS