Health minister requested for further COVID-19 vaccine assistance from UN agencies and developed countries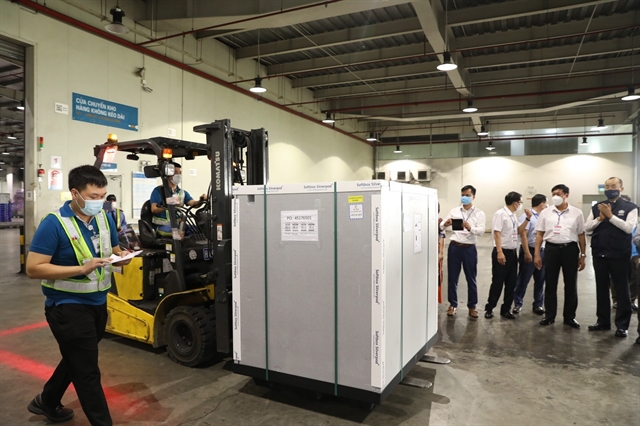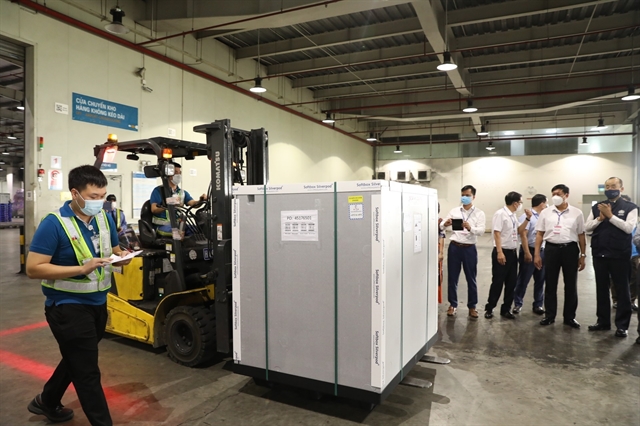 First shipment of 811,200 COVID-19 vaccine doses supported by COVAX Facility arrived in Nội Bài International Airport, Hà Nội Thursday morning. — VNA/VNS Photo Minh Quyết
HÀ NỘI — Health minister Nguyễn Thanh Long late Thursday had talks with diplomatic representatives and UN delegations in Việt Nam about securing more COVID-19 vaccines and ensuring a safe and rapid inoculation drive.
The minister met with UNICEF Representative to Việt Nam Rana Flowers, WHO Representative Kidong Park, and UNPFA Naomi Kitahara, to thank them for efforts in bringing COVID-19 vaccines to Việt Nam under the COVAX Facility, with the first shipment of more than 800,000 doses of AstraZeneca arriving early Thursday morning.
The COVID-19 vaccine is the priority of every country in the world right now, and in Việt Nam, along with prevention and control efforts, the Government pays "special attention" to administrating vaccines to return to a 'normal life' and get the economy back on track, with the goal of having 150 million doses in 2021 to achieve herd immunity, according to the minister.
Long said there should be a joint communique between UN agencies in Việt Nam and the health ministry on the effectiveness and safety of COVID-19 vaccines, as well as the safety of the Việt Nam's vaccination drive, to raise awareness on the issue and accelerate the number of people inoculated.
Long told the UN agencies' delegates that to date, all 50,000 people, identified as priority groups in the Government's Resolution 21, had received AstraZeneca shots safely, some experienced more serious side effects but the country's health system has dealt with the problems effectively and they have all recovered.
Cold chain storage for the vaccine as well as technical training and support was also discussed.
The UNICEF Representative said that a batch of syringes to go along with the vaccines received on Thursday would arrive next week.
The Vietnamese health minister also held talks with EU Ambassador to Việt Nam Giorgio Aliberti, US Ambassador Daniel J Kritenbrink, Japanese Ambassador Yamada Takio – countries who make major donations to the COVAX initiative.
The health minister congratulated the US for developing many effective COVID-19 vaccines, such as Moderna, Pfizer, and Johnson & Johnson, and currently being the world's leader in vaccination efforts with 220 million doses administered in such a short time.
Long requested the US to facilitate Việt Nam's accesses to these vaccines, both as aid and procurement.
For his part, the US ambassador congratulated Việt Nam for "amazing success" in containing the pandemic, and said the two sides would set up an ad hoc group to address Việt Nam's requests on vaccine access.
In talks with the EU ambassador, Long asked the EU to give priority to Việt Nam in facilitating access to EU supplies of vaccines, as well as provide technical assistance and training to ensure the success of Việt Nam's inoculation efforts.
He also called for European pharmaceutical companies and medical supplies producers to invest in Việt Nam as the country is a highly potential market with its sizeable population.
In the meeting with the Japanese diplomat, health minister Long asked for cooperation in vaccine production and trialling of Japanese COVID-19 vaccines, which are under development but showing promising signs.
The Minister also said Việt Nam hoped Japan would support the country's expanded immunisation programme, a large endeavour that requires heavy investment and capacity. — VNS