Heading to COVID-19 hot spots, doctors welcome new year far from home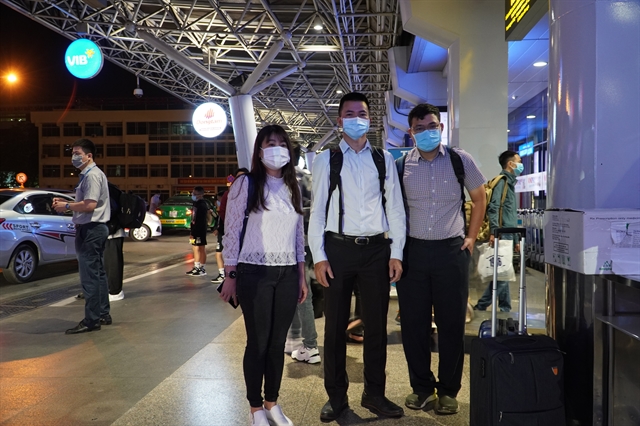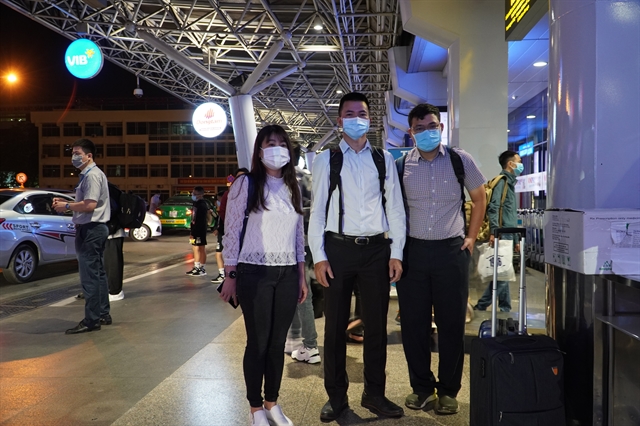 Three doctors of Chợ Rẫy Hospital's medical quick-response team are about to board a flight to Gia Lai to assist the hot spot of COVID-19. — Photo courtesy of the hospital
HÀ NỘI — When the new community cases of COVID-19 were reported in the Central Highlands province of Gia Lai last month, Võ Ngọc Anh Thơ, a doctor of HCM City's Chợ Rẫy Hospital, dropped everything and headed to the area on a mission.
With Tết (Lunar New Year) just a few weeks away, Thơ didn't know when she would return to welcome the new year with her family.
This year might be the second Tết she would welcome the new year far from home.
Last year she stayed at the hospital throughout the holiday to treat a Chinese father and his son, the first two COVID-19 patients in Việt Nam.
This year Thơ is a member of the medical quick-response team of Chợ Rẫy Hospital which is responsible for assisting other localities.
The team was mobilised to support Gia Lai after the province saw a surge in the number of COVID-19 cases linked to the cluster in northern Hải Dương Province.
Lacking experienced healthcare experts and medical equipment with poor treatment capacity, the Central Highlands province was in urgent need of assistance from national hospitals.
The medical quick-response team of Chợ Rẫy Hospital has three doctors – Dr Phùng Mạnh Thắng, head of Infection Control Unit; Dr Nguyễn Lý Minh Duy from the Intensive Care Unit and Dr Thơ, deputy head of the Tropical Disease Unit, the only woman in the team.
Before boarding a flight to Gia Lai, Dr Thơ said two hours after receiving the mobilisation call, doctors in the team prepared for their mission.
"I am expecting to welcome the new year far from home one more time," she told plo.vn.
Dr Thơ's duty in Gia Lai is to follow up patients' disease development.
"The new coronavirus variant is strong and has a high speed of infection," she said.
With one-year experience fighting against the virus, Thơ felt calm this time but not negligent.
Dr Phùng Mạnh Thắng, who is in charge of infection control, said the team didn't know when they would be able to return.
"The team will support quarantine work at the Gia Lai General Hospital. Depending on the outbreak development, we might support doctors there to treat COVID-19 patients," he said. — VNS