HCM City tightens COVID measures at drugstores, industrial parks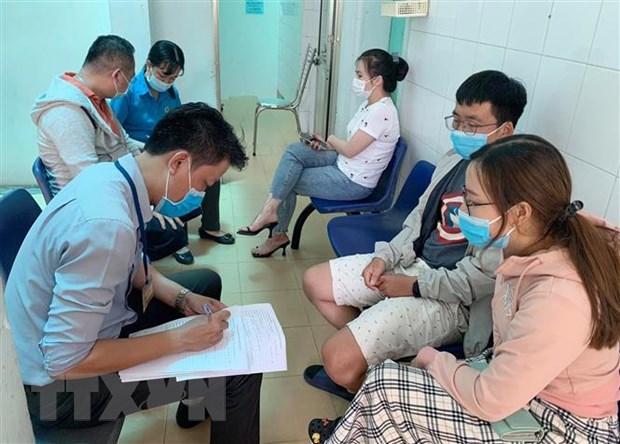 People fill out health declaration forms at HCM City's District 3 Health Centre. VNA/VNS Photo Đinh Hằng
HCM CITY— The chairman of HCM City People's Committee, Nguyễn Thành Phong, on May 17 instructed Thủ Đức city, 21 city districts and other agencies to strengthen COVID-19 preventive measures, particularly at drugstores and industrial parks.
Though the city has had only two community-transmitted cases in the last 20 days, the risk of an outbreak is still very high and could occur in any time, Phong said at a recent meeting with the city Steering Committee for COVID-19 prevention and control.
The HCM City Department of Health on May 17 told all drugstores to ask people who buy medicine for fever, cough, sore throat or shortness of breath to fill out an online health declaration.
If drugstores do not follow the rule, they will be fined. Drugstore staff must wear masks, wash hands with sanitisers, and keep a safe distance from customers.
In early May, a COVID-19 patient in Đà Nẵng said that he had gone to a drugstore in HCM City's Bình Tân to buy medicine when he was in the city. The drugstore's owner and her family's members were quarantined and tested negative for coronavirus.
Since May 3, the city has carried out surveillance of people from other provinces and cities, following the April 30 and May 1 holiday. City health officials took 5,348 random samples from passengers at the airport. Among these, 4,640 have tested negative for coronavirus, and the others are waiting for results.
Health officials have continued taking samples in community and high-risk areas including markets, commercial centres, entertainment sites, restaurants, hotels, apartment buildings for workers, industrial parks and others, with 33,002 samples, including 31,318 that tested negative for coronavirus. The others are waiting for results.
Nguyễn Tấn Bỉnh, head of the city's Department of Health, said that 77,668 people at hospitals have provided samples for COVID-19 tests.
Transport rules
On the same day, the city Department of Transport also instructed managers of bus and railway stations as well as transport business enterprises to strictly carry out preventive measures per the ministry's protocols.
They must ask their staff and passengers to fill out health declaration forms and have their body temperature checked.
Drivers of buses and trains are not allowed to stop in COVID-19-hit provinces and cities to pick up and drop off passengers. They are banned from transporting more than 50 per cent of vehicle capacity.
The maximum number of people on vehicles including drivers and their assistants must be no more than 30. Passengers must be arranged to keep a safe distance between them.
About 12,500 vehicles were checked at 69 checkpoints throughout the city in a three-day period. The checkpoints on May 18 began fining people in vehicles for not wearing masks.
Due to many new cases in the country occurring at industrial parks, the HCM City Export Processing Zone and Industrial Park Authority (HEPZA) and enterprises at the zones and parks have set up steering boards or teams for COVID-19 prevention and control. The boards and teams have developed several scenarios even if they have only one COVID-19 patient.
Industrial parks
Enterprises at export processing zones and industrial parks have set up hotlines to receive information about cases. They have evaluated the infection risks in their working facilities and apartment buildings, and have limited many events and mass gatherings.
Enterprises are also paying allowances to their workers who are currently quarantined, when it is required by local health officials. The allowance cannot be lower than the region-based minimum wage and can be even higher. The companies are not allowed to quarantine their workers if local health officials have not required it.
If companies face difficulties and have to lay off many workers, they must report to the Trade Union and employees management division at HEPZA to get assistance.
HEPZA and the city Trade Union have encouraged enterprises to offer proper assistance policies for laid-off workers. They should give priority to older workers, pregnant women, those who have young children, and those with financial difficulties.
The city has 17 export processing zones and industrial parks with more than 280,000 workers and nearly 3,000 foreign experts working at 1,500 enterprises. VNS