HCM City supports Vientiane, Phnom Penh in COVID-19 fight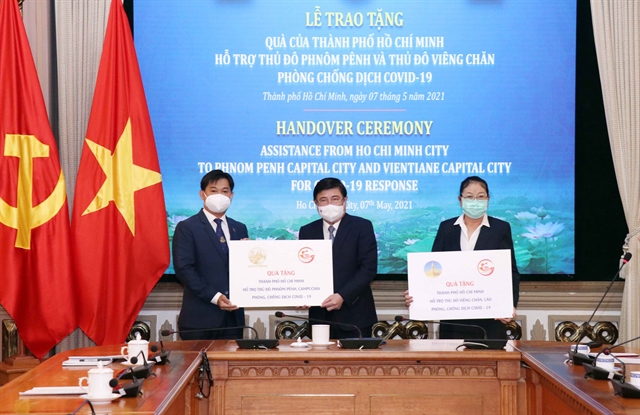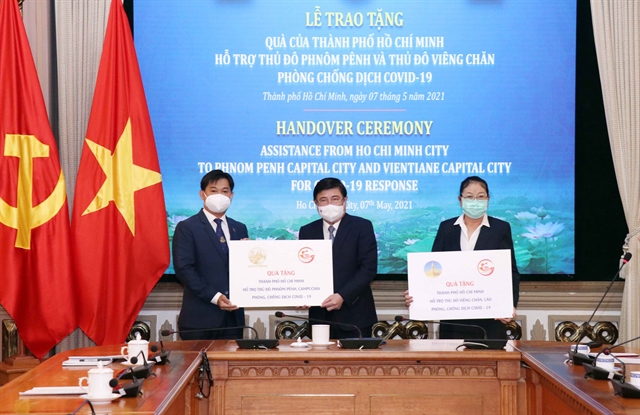 Chairman of the HCM City People's Committee Nguyễn Thành Phong (centre) presents financial aid to representatives of Laos and Cambodia. — VNA/VNS Photo
HCM CITY — HCM City has offered Vientiane and Phnom Penh US$50,000 each to support the two capital cities of Laos and Cambodia in overcoming the hard times due to impacts of the COVID-19 pandemic.
Chairman of the HCM City People's Committee Nguyễn Thành Phong handed over the assistance to the Consul Generals of Laos and Cambodia in the city following an online working session between him and Vientiane's Mayor Atsaphangthong Siphandone and Phnom Penh's Governor Khuong Sreng on Friday.
The HCM City leader underlined that amid the during the pandemic, the city has kept a close watch on the situation in Vientiane and Phnom Penh and helped ease the difficulties they face.
The Party Organisation, administration and people of HCM City have supported Vientiane and Phnom Penh and other localities of Laos and Cambodia by providing medical supplies to them, he noted, adding that the assistance shows the sentiment of Việt Nam and HCM City in particular towards Laos and Cambodia.
Phong affirmed that the city always attaches great importance to and works hard to foster relations with Laos and Cambodia as well as their capital cities.
He said that he hopes the pandemic will be thoroughly controlled so that both sides can recover trade ties, and resume exchange and cooperation.
Atsaphangthong Siphandone expressed his hope the three countries will strengthen their partnerships in controlling the pandemic, stressing that close collaboration among Laos, Cambodia and Việt Nam is a significant factor to the success of the COVID-19 fight in each country, creating an important foundation to boost socio-economic development and ensuring stability and prosperity in the whole region.
Khuong Sreng praised the initiative of HCM City to hold the online working session, which manifests the joint efforts and determination in COVID-19 prevention and control.
The Phnom Penh leader said that Cambodia and Phnom Penh is applying drastic measures to prevent the spreading of the pandemic. — VNS