HCM City strengthens COVID measures at hospitals, closes schools and gyms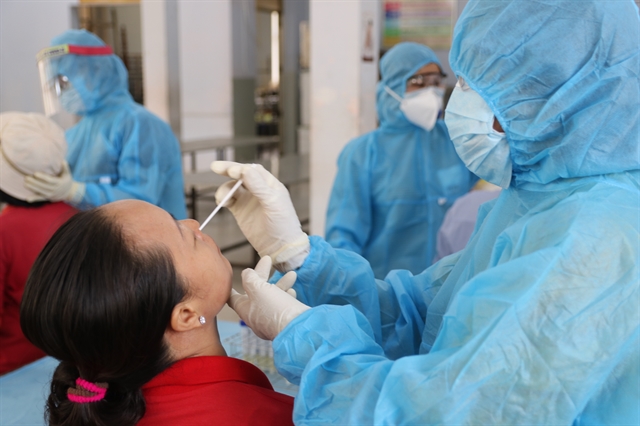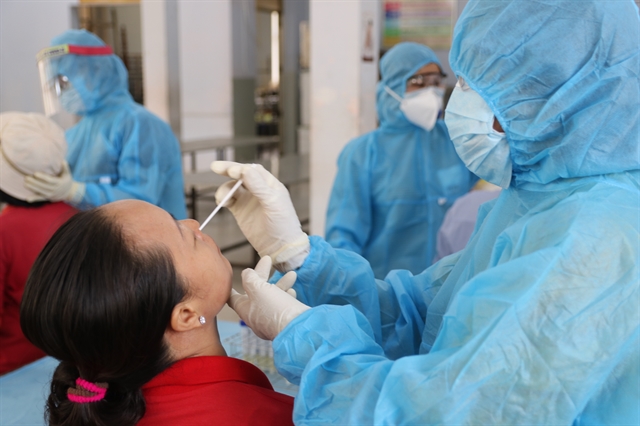 Health workers at HCM City's District 9 Health Centre take samples for COVID-19 tests. — Source: District 9 health centre
HCM CITY — HCM City hospitals are on high alert and are taking strict preventive measures against COVID-19 after 42 new cases were recorded at a facility of National Hospital for Tropical Diseases in Hà Nội's Đông Anh District.
All healthcare staff and others entering local medical facilities must have their temperature taken, fill out online health declaration forms, and wash their hands before entering.
Hospitals will use only one entry and exit door, and will regularly disinfect the property. They will also ensure that all staff are tested for COVID-19. Most health workers and other staff have already been vaccinated as part of the recent national vaccination drive.
The city Department of Health has instructed people to wear masks, have their body temperature measured, and fill out online health declaration forms when entering health facilities.
The Ministry of Health has told health facilities throughout the country to strictly comply with its criteria for COVID-19 prevention and control at hospitals. Telemedicine should be used as much as possible, it said.
HCM City has set up many inspection teams for COVID-19 prevention and control in its districts and in Thủ Đức city. On May 6, an inspection team led by the city People's Committee vice chairman Ngô Minh Châu visited an agricultural wholesale market, the An Sương bus station, and LOGISTIK Unicorp Vietnam Ltd in Hóc Môn District to check preventive measures against COVID-19.
The agricultural wholesale market's management board told traders and customers to comply with the health sector's recommendations, especially the proper wearing of masks.
LOGISTIK Unicorp Vietnam Ltd was told to rearrange the area for their workers to have lunch, according to the city's safety criteria. And An Sương bus station was instructed to remake their health declaration forms which had failed to meet the required standards.
The inspection team in HCM City also met with health workers at the District 12 Health Centre and district authorities. At the meeting, district authorities asked the city to allow the district to set up one more COVID checkpoint on Xuyên Á Street.
Schools close on May 10
The city People's Committee on Thursday approved the closure of educational establishments from kindergarten to high school, as well as professional education schools, starting on May 10.
The schools will teach online for the rest of the 2020-2021 academic year, which ends on May 31.
Most schools in the city have scheduled tests for the second semester earlier than scheduled. All tests will be completed by Saturday.
As of Friday, 16 provinces and cities have closed schools. These include HCM City, Hà Nội, Đà Nẵng, and Phú Thọ, Bình Thuận, Quảng Ngãi, Hà Tĩnh, Bắc Ninh, Đồng Nai, Lào Cai, Yên Bái, Vĩnh Phúc, Hà Nam, Quảng Nam, Hưng Yên, and Bắc Giang provinces.
The HCM City People's committee has also closed gyms, fitness centres, billiard places, yoga establishments, wedding centres, buffet restaurants, and events with more than 30 people, starting Friday. — VNS