HCM City records new domestic COVID-19 cases with Indian, UK variants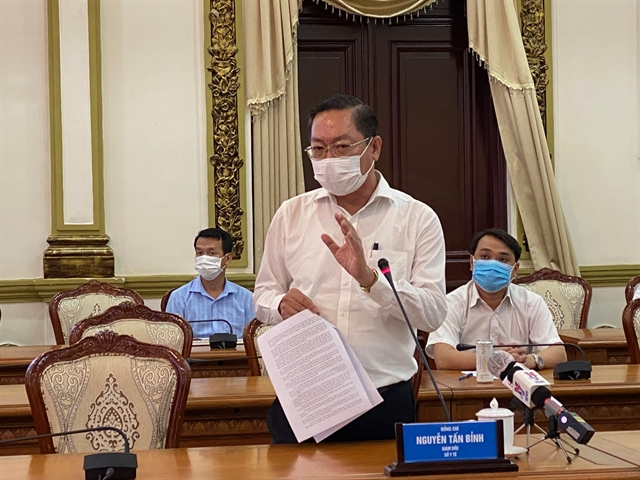 Director of the HCM City Health Department Nguyễn Tấn Bỉnh speaks at a meeting with the HCM City Steering Committee for COVID-19 Prevention and Control on Monday morning. VNS Photo Thu Hằng
HCM CITY — HCM City has reported a new COVID-19 community transmission case, a 18-month-old boy whose grandmother had tested positive for COVID-19, according to the city's Department of Health.
The boy was put under quanrantine along with three other people from his family in Tân Bình District at a Government-run concentrated quanrantine facility on May 20 after the grandmother, patient No 4780, tested positive with COVID-19 on the same day.
He was transferred to the HCM City Children Hospital for treatment on Sunday after a second test was positive. The first test on May 20 showed a negative result.
He is now in stable health condition.
On May 20, the city reported that the 58-year-old grandmother, who sells noodle soup in District 3, and her two children who live with her in the same house tested positive.
On May 15 and 18, the boy's mother took him to visit the grandmother in District 3.
Speaking at a meeting with the HCM City Steering Committee for COVID-19 Prevention and Control on Monday morning, director of the Health Department Nguyễn Tấn Bỉnh said that eight areas in the city are now placed under quarantine to curb the spread of the virus, including residential areas in District 3, Gò Vấp and Bình Tân, block A1 Sun View Town apartment building, the Medic Medical Centre, Quang Trung Clinic and Grove joint stock company.
The health authorities have conducted contact tracing and testing for 8,374 people in the city, including 365 people who had close contact with COVID-19 patients, Bỉnh said.
The city for the first time detected the Indian COVID variant and the UK variant in community transmission cases over the last week, he said.
Nguyễn Thành Phong, chairman of the city's People's Committee, said that the city found two community transmission clusters with five new cases over the past week after more than 20 days without any new cases.
He said the city must maintain high alert with stricter social distancing in public places with a high risk of infection such as traditional markets, commercial centres, retail markets, bus stations, gas stations and hospitals.
He ordered hospitals to fully prepare for temporary quarantine plans if suspected infections at the hospital are detected and to limit the number of visitors at the hospital.
The HCM City Export Processing Zone and Industrial Park Authority in coordination with local authorities and health officials were asked to adjust working hours to limit the number of workers on the same shifts at factories and workplaces, he said.
HEPZA was also asked to work with companies to conduct a quick response to infections detected at export processing zones and industrial parks and put in place measures for COVID-19 prevention and control. — VNS