HCM City medical university students help Centre for Diseases Control and Prevention combat COVID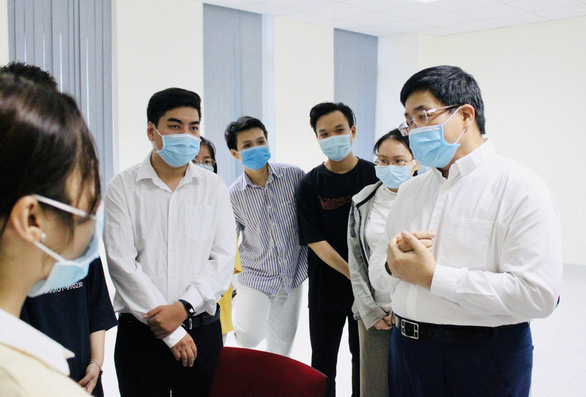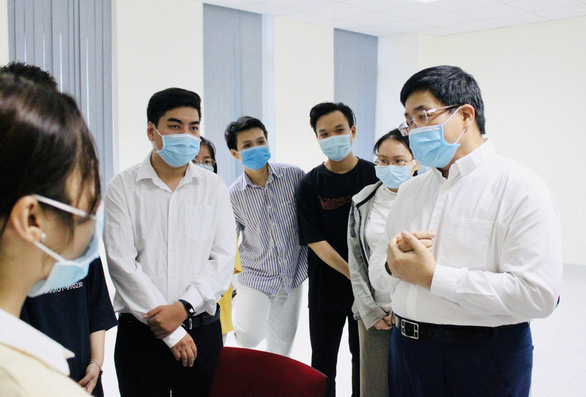 Assoc Prof Dr Nguyễn Hoàng Bắc, deputy rector of the HCM City University of Medicine and Pharmacy, encourages student volunteers who are working at the city Centre for Diseases Control and Prevention. Photo tuoitre.vn
HCM CITY— Seventeen students from the HCM City University of Medicine and Pharmacy are volunteering at the city Centre for Diseases Control and Prevention since before Tết on February 12.
Divided into groups, they help the centre staff trace information related to COVID-19 patients, their relatives and other people they came into close contact with.
They then routinely provide this information to health centres in districts for surveillance and taking samples for testing.
They also provide updates on COVID tests results and contact people who are at high risk of transmission to seek information and help them declare their health status to enable local health officials to trace and zone easily and quickly.
"These tasks require patience and meticulousness," Trần Nhật Quỳnh, one of the students, told Thanh Niên (Young People) newspaper.
Not only did they not return to their hometown to celebrate Tết with their family, but will also assist the centre's staff until the epidemic ends.
Nguyễn Thanh Sơn, another of the volunteers, said since they were medical students and heard the centre needed more hands, they wanted to pitch in.
He had also volunteered during the first outbreak in April last year, but said during that outbreak the incidence was lower, which made tracing easier.
Now the number of F1 and F2 people to be tested –people who came into contact with patients are referred to as F1 and those who came into contact with them are F2 — was higher, he said.
In the beginning he and his friends were apprehensive about affecting the centre's work, but the staff only encouraged them, he said.
During the Tết holidays people travelled around the country, making tracing difficult, he said.
When they called high-risk people to ask for health declarations, some got angry and refused, and then they shared their experiences to try and calm them down and accept their guidance, he said.
Phan Dương Minh Nguyệt, another volunteer and a public health student at the university, said she had acquired valuable experience.
Assoc Prof Dr Nguyễn Hoàng Bắc, the university's deputy rector, told Tuổi Trẻ (Youth) newspaper that assisting the centre's staff was a chance for the students to use in a practical situation what they had learnt. VNS