Hà Nội logs four new COVID-19 community cases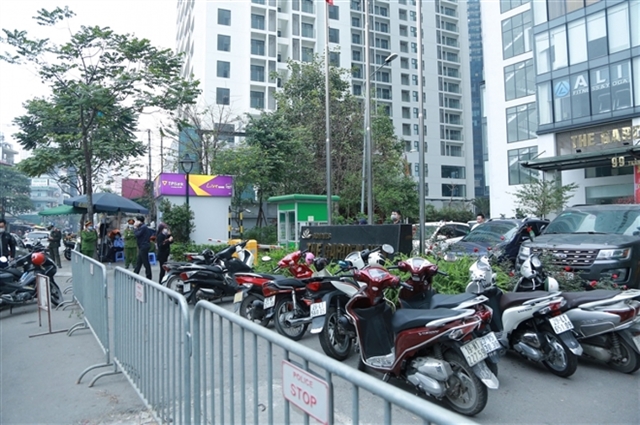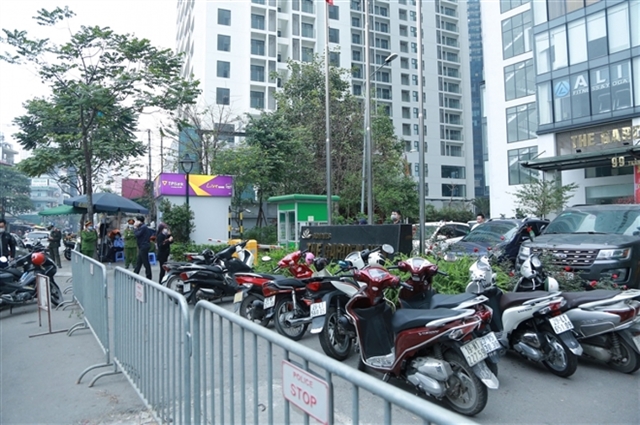 The Garden Hill apartment building, No.99 Trần Bình Street, Nam Từ Liêm District, in lockdown after three cases of COVID-19 were recorded on Monday. — Photo vov.vn
HÀ NỘI — The Hà Nội Centre for Disease Control (CDC) on Monday morning announced four new community COVID-19 infections, including one woman who came into contact with a confirmed case nearly two weeks ago but withheld the information from contact tracers.
The 28-year-old woman, whose name was given as N.T.K.A, residing at the Garden Hill apartment building, No.99 Trần Bình Street, Nam Từ Liêm District, reportedly came into contact with Patient No. 1,722 (connected to the outbreak at a military-run factory in Hà Nội, confirmed positive on January 30) on January 26 at the gate of the building.
On the afternoon of February 6, she called Hà Nội CDC for advice as she developed symptoms including fever, coughing and sore throat. She then got tested for COVID-19 and the results returned positive late on Sunday.
From January 26 to February 6, she failed to contact health authorities despite widespread public announcements seeking close contacts of the confirmed patient, Chairman of Nam Từ Liêm District People's Committee Nguyễn Huy Cường said, adding that she feared having to spend the Tết (Lunar New Year) holiday in quarantine.
The 12-day period she remained in the community posed risks of local spread and health authorities are investigating her travel history and contacts. Eight direct close contacts have been identified so far.
Her 10-month-old daughter N.B.B and her 40-year-old female helper H.T.N – who both live in the same apartment – have also tested positive for the virus.
All three have been taken to centralised quarantine at the National Hospital for Tropical Disease and are being treated here.
Four people at a hairdresser shop on the first floor of the building where she visited have been identified, but two other close contacts might have left Hà Nội, a Nam Từ Liêm health official said.
The apartment building with 1,200 residents has been locked down and disinfected. Testing for all residents is ongoing.
The other case is a man named T.C.D., a health official from the National Institute of Malariology, Parasitology and Entomology, residing in Vĩnh Phúc Ward, Ba Đình District.
He went to the Central Highlands province of Gia Lai, which has recorded 19 infections since January 27, on a business trip during January 28-29 and returned to Hà Nội on Vietnam Airlines flight VN1612 on January 29, departing from Pleiku City.
On January 30, he checked himself into National Hospital for Tropical Diseases to be quarantined.
His first two COVID-19 tests on January 30 and February 4 returned negative, but on February 6, he developed a mild fever and the test then returned positive for coronavirus.
To date, five people from the National Institute of Malariology, Parasitology and Entomology on the same business trip to Gia Lai have tested positive for the virus.
Gia Lai is conducting COVID-19 tests on all the staff at the Pleiku airport.
Hà Nội CDC said the case of D. has no risks of spreading to the community.
The lastest four cases, which have not yet been officially logged in the health ministry's records, put the total community cases of coronavirus infections in the capital city at 27 since January 27. — VNS