Hà Nội food outlets hit by new COVID-19 restrictions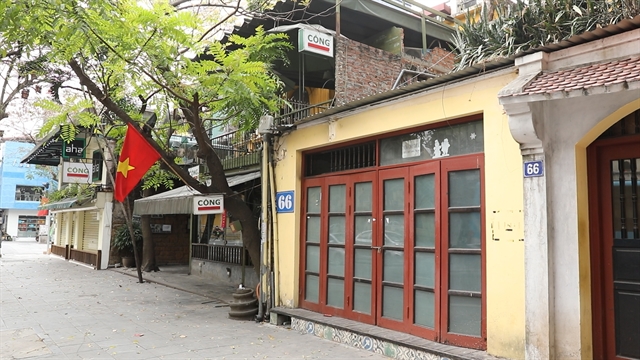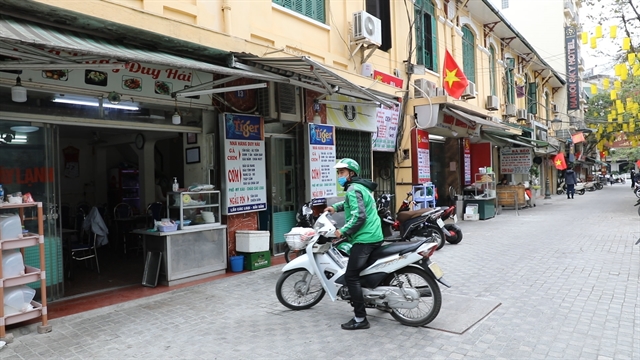 A driver collects delivery order in Tống Duy Tân street in Hà Nội. — VNS Photo Minh Phương
Vân Nguyễn, Minh Phương & Linh Chi
HÀ NỘI — Normal life resumed post-Tết in Hà Nội from Wednesday after a week-long holiday.
But as the city imposed new restrictions against the COVID-19 pandemic, food and beverage outlets have had to adapt.
Following newly-reported COVID-19 cases in the community, Hà Nội's authorities ordered a temporary closure of all cafes and streetside stalls starting from Tuesday until further notice.
While indoors food establishments can still open, they must ensure their diners maintain a distance of at least two metres from each other or one metre if there is a physical barrier installed in between them.
Tống Duy Tân food street, which is packed with cafes, bars and eateries, is usually bustling with people but almost empty these days.
The street now sees only a few delivery drivers or customers coming to collect orders or buy takeaways.
Shutting down is a tough decision for owners, but most feel it's a necessary step to prevent the spread of the virus and contain the pandemic so they can resume their business as quickly as possible.
Some coffee shops and eateries here have decided to shift from eat-in to take-out and food delivery services.
"When we learned about the [closure] order, most of us felt sad but we need to comply with the regulation, so the pandemic won't spread widely," said Đào Xuân Trường, manager of Puku café and sports bar.
His bar is closed for dine-in customers but still offers delivery services.
"Luckily we still have quite a few online orders which are booked through food delivery apps like Grab, Delivery Now or directly with us," he said.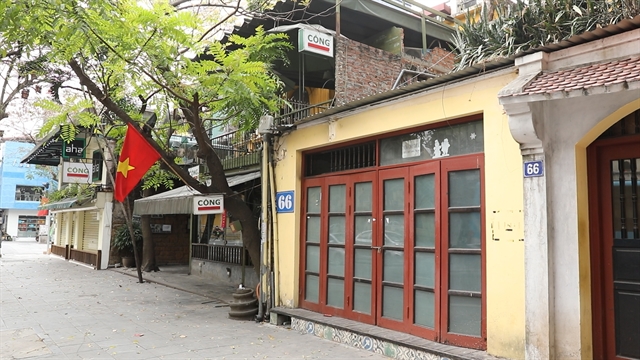 Coffee shops in Quán Sứ Street closed off following the city's order. — VNS Photo Minh Phương
The bar, which used to serve about 150 dine-in customers a day, now has only about 20 delivery orders a day, leading to a decrease of 90 per cent revenue in the first two days of operating, according to Trường.
Yet Trường believes the closure order is necessary and hopes others will closely follow regulations and instructions.
"We hope that people comply with the distancing order seriously so the pandemic will be contained in the next two weeks and we can resume our business," Trường said.
Bùi Thị Xuân Lan reopened her small restaurant selling gà tần thuốc bắc (chicken stewed with Chinese herbs) on Wednesday, expecting a decrease in sales due to the restrictions.
"With this restriction in place, the number of customers will reduce for sure because many are now too cautious to dine in at the restaurant. Only when the pandemic is contained can our business fully recover," said Lan.
"There aren't many customers coming here to eat but we have some who buy takeaways or order food online," she added.
The closure of food outlets and café in this neighbourhood gives local residents like 12th-grader Phan Duy Đức an eerie feeling.
"This street was so bustling but after Tết (Lunar New Year) holiday when there was a closure order, this street became quieter," Đức said.
"I feel pretty sad for my family's business because I can't see my beloved customers now," he added.
For customers like 24-year-old Lê Ngọc Nhung, the closure has impacted her dining choices.
"I eat out quite often. Previously, I was still able to order food online, but it's hard to find a shipper now, so I have to go out to look for restaurants and buy food myself," she said.
"This does affect my life but, with this pandemic, we have to accept this," Nhung said.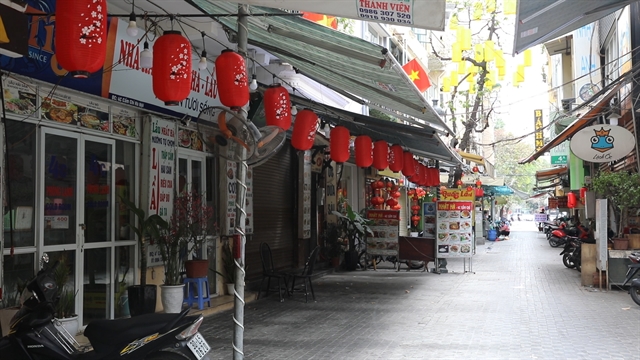 Tống Duy Tân food street, which is packed with a number of cafes, bars and eateries, is normally bustling with people but it is almost empty these days. — VNS Photo Minh Phương
As eating-in is not encouraged, the demand for food delivery services is expected to increase sharply.
"We don't have a lot of customers for GrabBike service but there are quite a few food delivery orders, which must be three to four times higher than normal days," said Lê Văn Dương, who works as a part-time Grab driver.
Though the delivery fee these days is higher than on normal days and there are more orders, the travelling distance is also longer as customers have fewer choices due to the closure of many eateries.
As travelling can increase risks of infection, Dương prepares himself with protective items.
"We take measures to protect ourselves and the community as the pandemic is spreading very quickly. I wear face masks, use sanitation as well as maintain a distance of one to two metres from others to ensure safety," he said.
The closure order is a small price to pay to keep Việt Nam safe in the wake of COVID-19 pandemic, which has infected 2,347 people in the country as of Friday morning.
"As long as we closely comply with the instruction, the pandemic will be under control and normal life will return very soon," Lan said. — VNS