Hà Nội bans mass gathering, draught beer venues amid COVID-19 spreading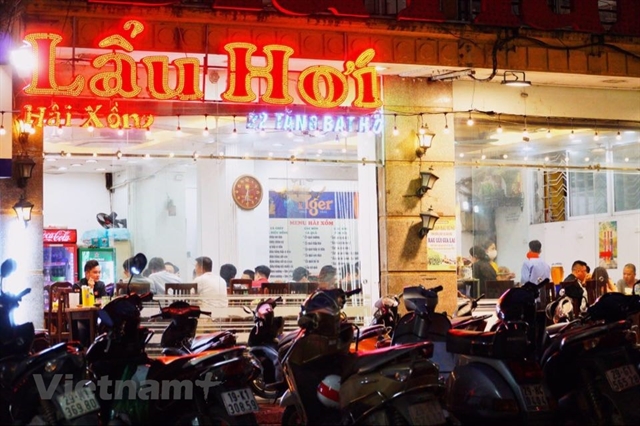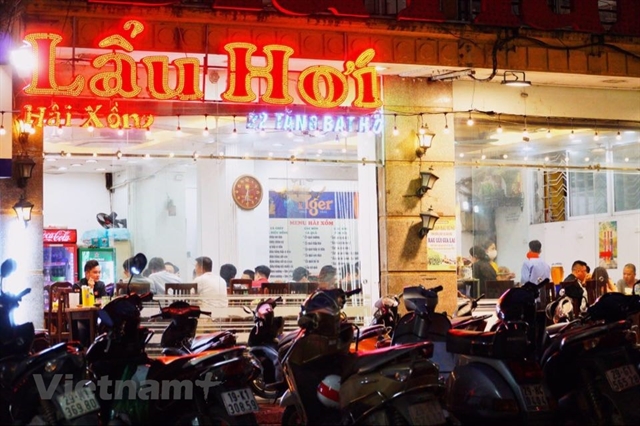 A bia hơi (draught beer) venue in Hà Nội's Tăng Bạt Hổ Street. Hà Nội has ordered the closure of all bia hơi shops amid the rising number of locally transmitted cases. VNA/VNS Photo
HÀ NỘI — Authorities in Hà Nội have ordered the closure of all bia hơi (draught beer) venues and banned the gathering of more than ten people in one place.
This comes after a sharp increase in the number of locally transmitted COVID-19 infections.
Restaurants and food stalls located close to hospitals have also been told to switch to take-away services.
In the directive sent to local authorities in the capital city on Tuesday, chairman of the municipal People's Committee Chu Ngọc Anh requested all gatherings to be stopped, except in offices, schools, hospitals and other places for election purposes.
He asked authorities at all levels to develop detailed plans to ensure safety of people during their election work. The general election for legislators at different levels will take place on May 25.
All meetings and unnecessary events must be suspended. Special events with large gatherings must be approved by local authorities and the number of participants must be not more than half of the meeting places' capacity. All participants are required to adhere to safe distancing measures, sit two metres apart from each other and wear face masks.
Food and beverage outlets near hospitals will be allowed to remain open. However, customers are no longer allowed to dine at these places and can only order their food to take away.
Coffee shops, food courts and convenience stores near the hot spots of COVID-19 pandemic such as the National Hospital for Tropical Diseases and the Cancer Hospital's Tân Triều facility must also be closed.
Anh also noted that hospitals must tighten the pandemic prevention to ensure patients and their relatives' safety.
Only a caregiver is allowed to be with a a critically ill patient and the visiting of patients must be suspended, the directive said.
Hà Nội on May 5 had ordered the temporary closure of relics, religious sites and street-side restaurants and drinks stalls.
The fourth wave of COVID-19 pandemic has been complicated with the unprecedented surge on the infection cases in 26 cities and provinces since late last month due to the SARS-CoV-2 variants originated from India and the UK. In Hà Nội, 144 cases have been recorded so far. VNS