Hà Nội advised to set up field hospital amid new COVID-19 outbreaks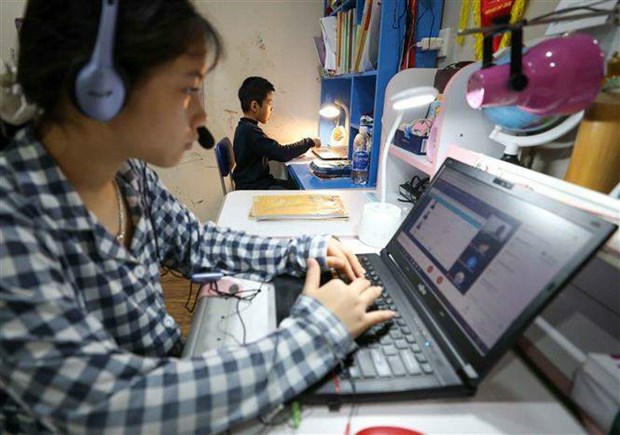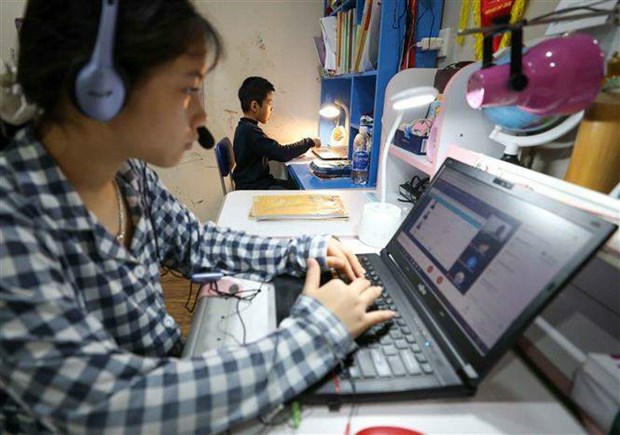 Hà Nội students study online after their schools closed to ensure COVID-19 prevention and control. — VNA/VNS Photo
HÀ NỘI — Health Minister Nguyễn Thanh Long has requested Hà Nội authorities to consider establishing a special hospital to treat COVID-19 patients, given the rapid spread of coronavirus in the community.
Coronavirus currently has a high transmission rate, as one patient can transmit the disease to 10 others or more, not just 4-5 people like before, according to the minister, who spoke at a working session with the capital city's leaders on pandemic prevention and control on February 1.
The incubation period also decreases from 4-5 days to 1-2 days after contact with the patients.
Therefore, the capital city should change its methods of COVID-19 response, he stated, emphasising the need to consider all the second generation of infections (F1s) as suspected infections and trace for all F1 and F2 cases.
The Health Minister urged Hà Nội to speed up COVID-19 testing, zone off areas where the infected cases are detected at a broader scale, and request all locals to wear face masks when going out.
The Health Ministry is willing to provide maximum support for Hà Nội, and assign the National Hospital of Tropical Diseases to help with treatment.
Chairman of the municipal People's Committee Chu Ngọc Anh said that right after the working session, the committee will ask relevant units to continue strengthening efforts and increasing the testing and treatment capacity to quickly put the pandemic under control.
Following directions of the municipal People's Committee, all educational institutions officially suspended operations from February 1 to ensure disease prevention and control.
Students will continue with their studies, but classes will be conducted online.
Services closure
Authorities in Hà Nội have ordered the temporary closure of online game and internet shops from February 2, as part of the efforts to contain the spread of COVID-19 pandemic in the city, according to Vice Chairman of the municipal People's Committee Chử Xuân Dũng.
Previously, municipal authorities ordered the closure of bars and karaoke clubs to avoid large crowds, and required restaurants to have partitions.
Addressing a meeting of the municipal Steering Committee for COVID-19 Prevention and Control on February 1, Deputy Director of the municipal Department of Health Hoàng Đức Hạnh said this new wave of COVID-19 spread quickly and could become more complicated.
Hạnh proposed to raise the prevention work by one level.
He said that the COVID-19 contact tracing must be quickened, towards swiftly collecting samples and quarantining of those from pandemic-hit areas.
Hà Nội has so far identified about 15,000 people relating to the outbreaks in Hải Dương and Quảng Ninh, of them 10,000 have been tested.—VNS