Geriatric hospital protects elderly patients from COVID-19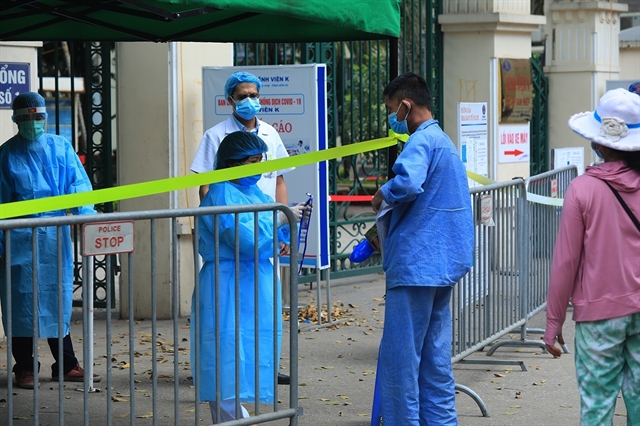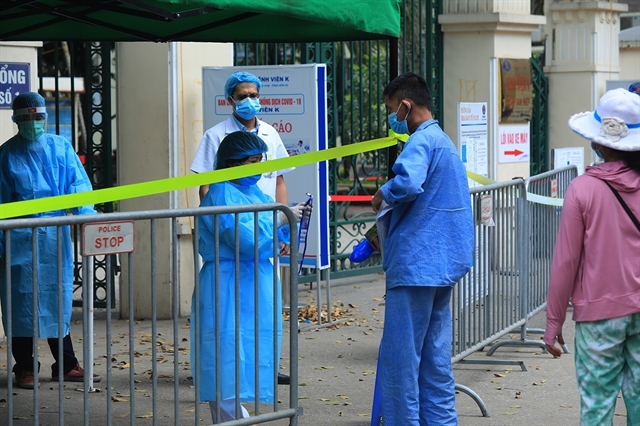 The National Cancer Hospital in Thanh Trì District, Hà Nội is locked down due to COVID-19 pandemic. — VNA/VNS Photo Phan Tuấn Anh
Many health facilities in Việt Nam including the National Hospital for Tropical Diseases and National Cancer Hospital have been locked down due to COVID-19 transmissions. This has been a big concern and lesson for many other medical facilities, especially those that treat elderly patients with chronic diseases.
In a recent interview with Sức khỏe và Đời sống (Health and Life) newspaper, Dr. Nguyễn Trung Anh, Director of the National Geriatric Hospital talked about measures needed to prevent the pandemic.
The National Geriatric Hospital is a central health facility for elderly patients. Could you share measures that the hospital has taken to prevent the spread of COVID-19?
Older adults often have many chronic diseases, therefore, they are vulnerable and susceptible to diseases. If infected with COVID-19, the elderly are likely to experience severe conditions and complications and the transmission is very rapid.
Given the complicated development of the COVID-19 pandemic, our hospital upholds pandemic prevention tasks and has strictly implemented measures set by the Ministry of Health while identifying response plans for different situations.
For patients and their caregivers, we have many layers of screening. First, when they come to the hospital, we have temperature scanners and offer hand sanitisers and masks for patients. Our staff also keep track of people coming in and out throughout the day.
All patients and their caregivers are required to wear face masks, sanitise hands, make health declaration, maintain distance and have temperatures checked.
For inpatients, the department they visit must check their epidemiological history and symptoms again. In emergency and intensive care departments, where patients with severe conditions are treated, we offer regular COVID-19 testing for those at high risk.
We also promote remote health consultations and manage time to avoid crowds and carry out communication work to raise awareness for patients and their caregivers.
In addition, we also have separate lanes for incoming and outgoing people as well as a quarantine area for suspected COVID-19 patients while preparing medical equipment and supplies and staff when necessary.
We also ensure we have enough protective suits, masks and safety glasses for medical workers. We also test frontline departments like the emergency department.
Infection control is very important in the fight against COVID-19. We have hand sanitisers in many places in the hospital for medical workers, patients and their caregivers to use. We also ensure disinfection is carried out regularly.
We also proactively prepare response plans in case the hospital is quarantined and are ready to be vaccinated. We also have regular training and updates about COVID-19 pandemic from the Ministry of Health for all staff.
Each staff member is a soldier and our hospital is a unified organisation with the joint determination to fight COVID-19.
How should hospitals limit visitors during the COVID-19 pandemic?
Visiting patients is a long-standing habit and culture of Vietnamese people, but in the face of the current situation, we encourage patients and their families to closely implement preventive measures which include limiting close contact to reduce the risk of infection for themselves, their loved ones and the community. We limit the number of visitors and stop this during the peak time of the pandemic.
We allow only one caregiver for each patient and limit substituting caregivers as much as possible.
How is intensive care carried out here given that the hospital limits the number of visitors and caregivers?
Intensive care is a difficult problem for health facilities, especially for the elderly. The quantity and quality of human and material resources for health care are insufficient and poor. Establishing a whole system isn't easy as patients can't wait.
During this time, we consider patients' relatives an important element. They help the hospital take care of patients, especially the elder.
Health workers are the solid "wall" protecting people against the pandemic. We need to keep this wall strong as the battle will be long and challenging.
In internal medicine departments, hospital visits are not allowed, each patient will have only one caregiver if necessary.
Health workers offer training for caregivers about basic caregiving practices for patients as well as measures to protect themselves and control infection to prevent the transmission of the coronavirus.
In emergency and intensive care departments where we have patients with severe conditions, we deliver intensive care services. Here we have capable human resources with multi-dimensional approach to carry out intensive care in a comprehensive and effective way. — VNS