Flower growers look to online sales amid COVID-19 resurgence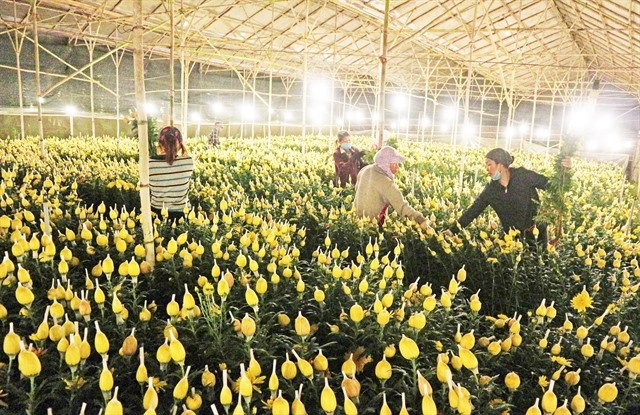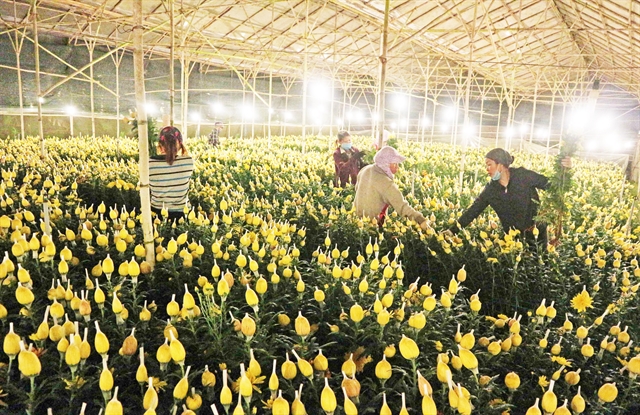 Workers at a flower farm in Đà Lạt City. VNA/VNS Photo
HCM CITY — Flower farm owners and merchants are selling their products online ahead of the Tết (Lunar New Year) holiday as flower demand has fallen because of the recent COVID-19 outbreak.
Traditionally, city dwellers shop for flowers and botanicals at flower markets to fill their home with the most cheerful blooms to celebrate the new year.
But many flower growers said that flower markets were not busy this year, leaving them with an oversupply.
Nguyễn Duy, a flower farm owner in Đà Lạt City, said that COVID-19 outbreaks in many localities would likely affect people's purchasing power for flowers ahead of Tết festival.
Thụy Vũ, director of the Thế Giới Hoa Tươi JSC, a wholesale supplier of flowers, said it would not focus on retail sales for the Tết festival this year due to market uncertainty.
Nguyễn Thị Ngọc Lan, a flower vendor at Hồ Thị Kỷ flower market in HCM City, said flowers stockpiled for the Tết market this year were not as numerous as last year due to concerns over weak purchasing power.
Purchasing orders with flower farms are expected to change in the next few days depending on the control of COVID-19, Lan said.
Flower farms in Đà Lạt City have seen a 55 per cent drop in orders from wholesale markets in other cities and provinces, according to a survey of the Đà Lạt City People's Committee.
The committee, however, has reported a boom in online sales of agricultural produce, flowers and botanicals ahead of Tết.
It advised farms to use bank transfer payments for retail orders and to sign contracts with merchants for wholesale orders to ensure the success of online deals.
Livestreams
Shoppers can find various types of flowers from flower farms and merchants on online shopping platforms.
Nguyễn Thị Bích Thủy from Biofresh Company in Đà Lạt City has hosted livestreams via Facebook to guide viewers through different types of flowers and plants available on the farm.
Amid the pandemic, live commerce has helped promote and sell products, and engaged potential shoppers, Thủy said.
Trần Văn Tám, a flower grower in Đà Lạt City, said that flower farms in the city adopted online sales to reach new buyers as wholesale buyers were reluctant to close deals due to worries about weak demand.
This year, flower farm owners are concerned that they will be left with an oversupply of flowers, so they expect to quickly sell stocked products at reasonable prices, Tám said.
Dalat Hasfarm is offering Tết collections of flower vases and combo deals for cut flowers and pot plants with discounts on online orders.
Online flower markets are also featuring extensive selections of imported flower products such as forsythia, ilex, and Japanese peach flowers. A vase of imported flowers costs VNĐ3-9 million (US$130-390). — VNS