Export of vegetables and fruits continues to climb in four months despite pandemic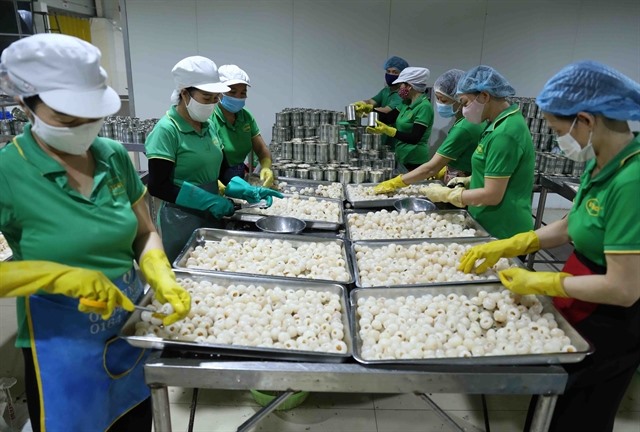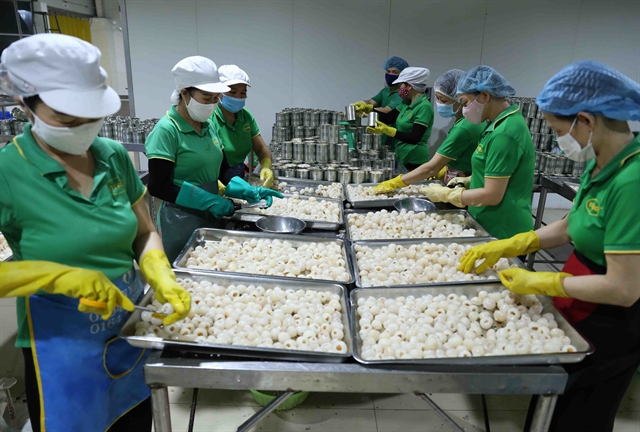 Workers process lychees for export at Vifoco Import Export JSC. Việt Nam raked in $1.35 billion from exporting vegetables and fruits in the first four months. — VNA/VNS Photo Vũ Sinh
HÀ NỘI — Exporting fruit and vegetables brought Việt Nam US$1.35 billion in the first four months of this year, up 9.5 per cent year-on-year, data of the Ministry of Agriculture and Rural Development's Agro Processing and Market Development Authority (Agrotrade) showed.
The figure in April alone was estimated at $380 million, equivalent to the value recorded in March.
Mainland China remained the top importer of Việt Nam's fruit and vegetables in the first quarter with 64.7 per cent of total export value. Vegetables and fruit shipped to this market reached $610.8 million in the first three months, up 16.2 per cent year-on-year.
Ukraine witnessed the strongest growth with export value increasing nearly seven fold over the same period last year. In contrast, exports to Saudi Arabia suffered the steepest decline in export value with a fall of 62 per cent.
Việt Nam's staple items including dragon fruit, mangoes, bananas, coconuts, jackfruit, lemons and watermelon enjoyed growth of between 3 per cent and 63 per cent, the authority reported.
Import value of fruit and vegetables reached $100 million in April, lifting the four-month import value to over $451 million, up 19.5 per cent over the same period of last year.
China, the United States and Myanmar were the three largest suppliers of fruit and vegetables for Việt Nam in the first quarter. Except the United States, which saw a drop of 5.9 per cent in import value, imports from China and Myanmar increased 59.6 per cent and 35.1 per cent, respectively.
COVID-19 has negatively affected Việt Nam's export of vegetables, fruits and processed products. However, the second quarter is the peak time of hot weather, so fresh or frozen fruits and vegetables will see consumption rise.
According to Agrotrade, Việt Nam has done rather well in exporting vegetables and fruits and is promoting the export of fruits and nuts. In the first months, several types of fruits and nuts saw increases in export value such as macadamia nuts, walnuts, longans, mangoes, bananas, tamarinds and coconuts, especially to Taiwan. However, the proportion of these products remained modest in the total export value, not matching with development potential of the industry.
"This is a group of products with competitive advantages and help to increase export value," Agrotrade said.
High profits from dragon fruit and pinapple
According to the Ministry of Agriculture and Rural Development, pineapples and dragon fruit are in season and being purchased at high prices by traders.
In Quảng Nam Province, prices of pineapple purchased at the garden ranged from VNĐ8,000-VNĐ10,000 ($0.34-0.43) per kilo, nearly twice as high as in previous years. To avoid risks, in recent years, local farmers have practiced the spread of cultivation, not harvesting once to avoid dead stock.
Meanwhile in Tiền Giang Province, dragon fruit is off-season in April so the price of red flesh dragon fruit is also high, being purchased at VNĐ25,000 ($1.1) per kilo at the garden. With this price, farmers can earn a profit of over VNĐ15,000/kg.
In the first months of 2021, farming activities took place in favourable conditions compared to the same period last year. Some summer fruits began to be harvested such as Sơn La plum, U Hồng and U Trứng lychee in the Central Highlands and mangoes in the Mekong Delta region. High demand is pushing up prices of these fruits. — VNS