Enterprise and social responsibility efforts in the context of COVID-19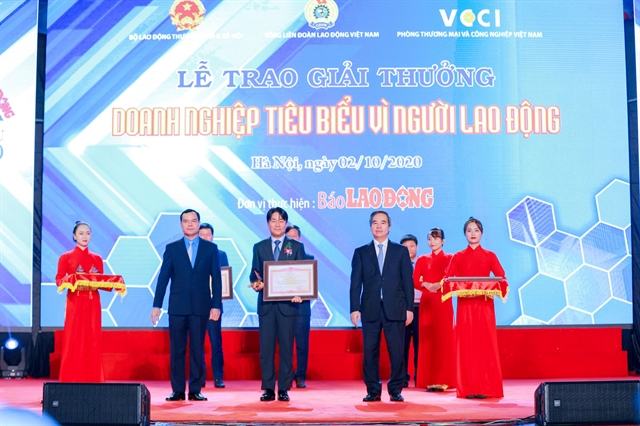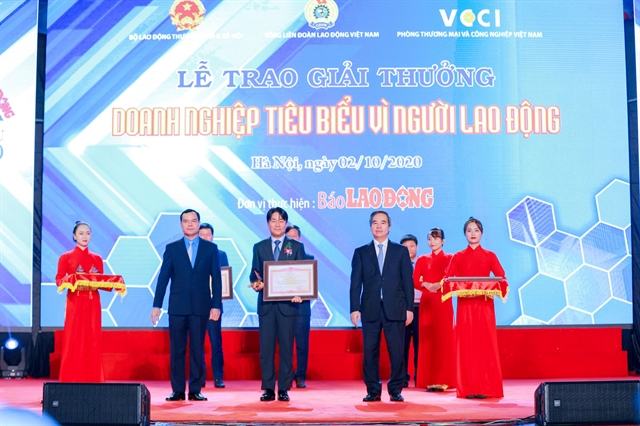 Samsung Viet Nam was honoured to receive the Certificate of Merit from the Prime Minister. — Photo courtesy of Samsung
HÀ NỘI — In 2020, facing COVID-19, the Vietnamese economy has been suffering from severe aftershocks. However, in that context, we also witnessed resilience in maintaining jobs for employees, vigorous recovery and restructuring efforts of enterprises to overcome the crisis and work to repel the pandemic. Especially, many businesses showed their social responsibility and solidarity.
The same goes for Samsung Vietnam. An unprecedented challenge from the COVID-19 pandemic highlights the importance of the values of co-prosperity and development. Continuing to implement social responsibility activities is one of the ways Samsung reveals these values.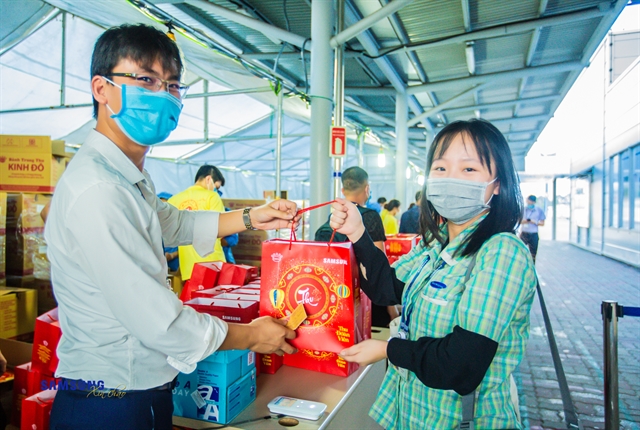 A representative of Samsung Viet Nam presents Tet gifts to their employees. — Photo courtesy of Samsung
Samsung Vietnam donated VNĐ10 billion, including cash and protective clothing, to the Vietnamese Government for the prevention and control of the COVID-19 pandemic. During this period, more than VNĐ1.6 billion donated by employees' through CSR kiosks and factory grassroots labor union contributions was also presented for COVID-19 prevention and control in Việt Nam.
To assist the Government in accelerating the deployment of technology applications in preventing the pandemic, Samsung Vietnam also presented the group's most advanced smartphone products to serve testing and developing the application for COVID-19 in Việt Nam. At the same time, Samsung Vietnam also provided large-screen displays and televisions to assist authorities in monitoring the pandemic.
Strive to maintain community activities
Besides supporting Việt Nam's pandemic prevention, various community activities of Samsung have continued to grow despite the pandemic.
Most recently, factories and employees of Samsung Vietnam donated VNĐ5 billion to support fellow Vietnamese in the central provinces affected by floods. The donation was given through the Fatherland Front Committees of Bắc Ninh, Thái Nguyên and partly transferred directly to people in flooded areas.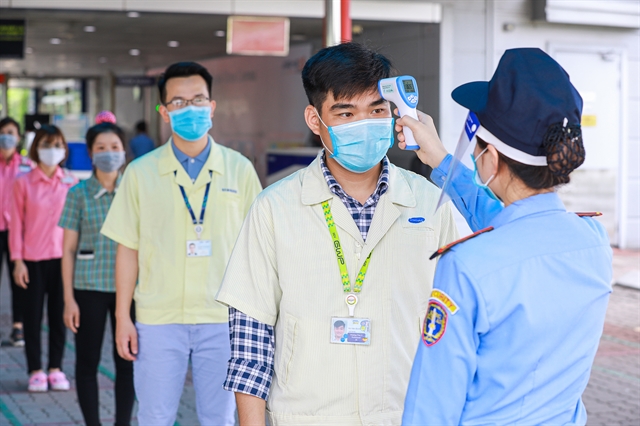 Temperature check-ups for employees before entering factory at Samsung Viet Nam. — Photo courtesy of Samsung
Previously, to share the heavy losses caused by flooding in the Central region, Samsung Vietnam factories simultaneously launched a fundraising programme. The total amount came from the employees' donations along with contributions from the trade union fund and the factory's social responsibility fund.
In addition, Samsung Vina Electronics, the sales and marketing units of Samsung in Việt Nam, have carried out the program "Joining hands with people in the Central region to overcome the effects of floods and storms" in six affected provinces. The most affected areas are Hà Tĩnh, Quảng Bình, Quảng Trị, Thừa Thiên Huế, Quảng Nam and Quảng Ngãi. Accordingly, Samsung will repair and maintain all Electronics-Refrigeration products for free, support 50 per cent of the price to replace new genuine components; do laundry for free, to ensure the hygiene and well-being of residents in the floodplain, and donate Samsung washing machines to the locality after the programme ends.
"Blood for Vietnamese 2020" is also a programme that Samsung continued to implement in 2020 in the conditions of ensuring safety against the pandemic. Since 2010, Samsung has implemented the "Blood for Vietnamese 2020" programme, so far it has contributed more than 87,000 blood units for emergency and disease treatment and is expected to contribute an additional 10,000 units of blood this year.
As part of a series of activities that light up the aspirations to reach the young generation's science dreams, Samsung has built Hope School for the poor in Bắc Ninh and Thái Nguyên provinces. In 2020, Hope School in Bắc Giang has officially started construction in Đinh Hương Village, Thắng Town, Hiệp Hòa District, Bắc Giang Province. At the same time, Samsung also signed a Memorandum of Understanding for the implementation of the Samsung Hope School project in Mai Pha Commune, Lạng Sơn City. It is the fourth school in the Samsung Hope School project.
In addition, amid the pandemic, many meaningful activities, and humane programmes of the Samsung Vietnam community have brought happiness, hope and motivation to many people such as: donating wheelchairs, awarding scholarships, along with many other programmes.