Emergency department of Hà Nội hospital locked down due to COVID-19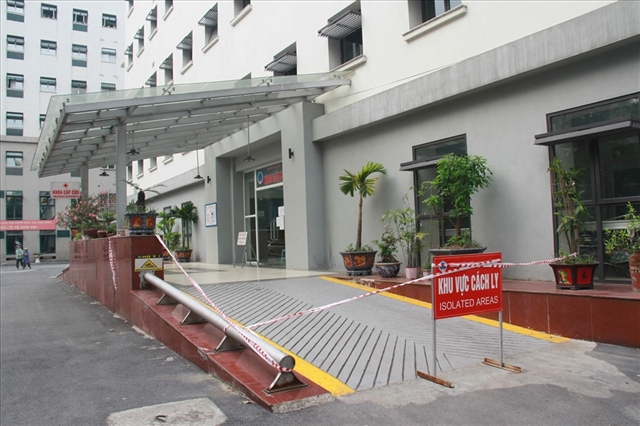 à
A sign saying that the emergency department of Hữu Nghị (Friendship) Hospital was locked down. Photo laodong.vn
HÀ NỘI – The emergency department of the Hữu Nghị (Friendship) Hospital in Hà Nội was locked down on Wednesday afternoon after two COVID-19 positive cases were detected in the hospital.
At 10.30am on Wednesday the Emergency Department received two patients named N.T.T.H and N.V.T residing at the Centre Point Building on 27 Lê Văn Lương Street, Hà Nội.
The two patients did not report their epidemiological history and said they wanted a check-up because they had a sore throat, cough and fever. Both were taken to the quarantine room and tested for COVID-19.
When the rapid results came out positive, the two patients said they had visited Da Nang from April 30 to May 2 and had symptoms of cough and sore throat from May 6.
The Emergency Department reported the incident to the hospital's steering committee for COVID-19 prevention. The department then was locked down and disinfected.
Five health workers who examined and took samples from the patients have been quarantined at the hospital.
The two patients were sent to the National Hospital for Tropical Diseases for treatment at 2.30pm the same day.
The patients' samples were sent to the city's Centre for Disease Control for confirmation. The PCR test showed that they were positive for SARS-CoV-2.
According to Hà Nội CDC, the two patients travelled to many places and met many people.
The building where they live has been put under lockdown and disinfected. The epidemiological investigation is underway.
Võ Đăng Dũng, chairman of Thanh Xuân District, said local authorities have so far detected 10 F1 cases in the building. All of them have been quarantined and had their samples taken for testing.
He said the number of people who have close contact with the two patients would increase as their travel histories were very complex. – VNS