Eight people in Vĩnh Phúc, one in Hà Nội test positive for COVID-19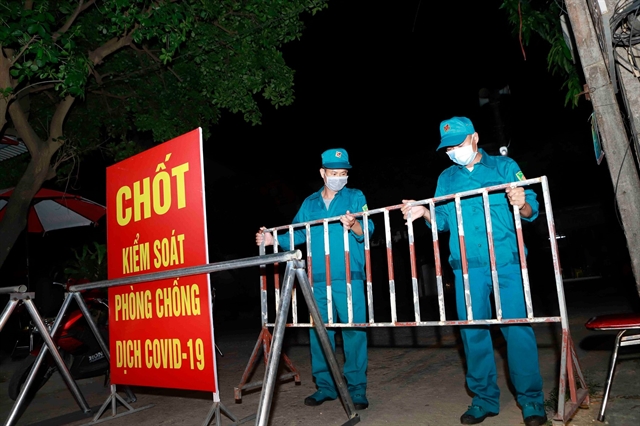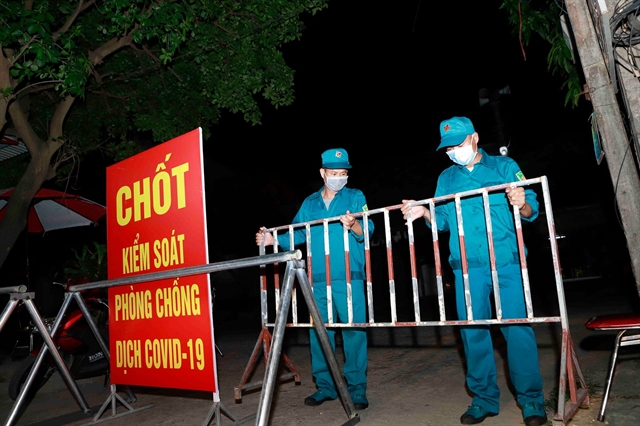 A quarantine checkpoint in Tân Phong Commune, Bình Xuyên District, Vĩnh Phúc Province after community COVID-19 cases were reported. Photo Hoàng Hùng
VĨNH PHÚC — Eight people in the northern province of Vĩnh Phúc tested positive for SARS-CoV-2 once early on Wednesday, according to the province's Steering Committee for COVID-19 Prevention and Control.
They are all linked to the resurgence of COVID-19 in the province after five Chinese experts visited the province late last month. One of the experts tested positive when he returned to China on April 30. Another man tested positive for the virus the following day.
To date, 14 people in the province have been confirmed as COVID-19 patients.
Local authorities have taken 2,845 testing samples, of which, they found eight positives for SARS-CoV-2 once. The positive samples will be sent to the labs of central hospitals for verification to be recorded as a confirmed case.
Authorities also detected 911 F1 who had close contact with confirmed COVID-19 cases, 2,681 F2 who had close contact with F1 and 1,450 F3 who had contact with F2. Of them, 750 people were taken to concentrated quarantine areas operated by the military, 42 people quarantined at city/district healthcare centres and 4,760 people quarantined at home.
The provincial People's Committee chairman Lê Duy Thành at a meeting on early Wednesday asked the province's Health Department to add more staff and equipment to speed up the testing.
All F1 cases in the province were expected to get tested on Wednesday.
Quarantine areas in districts were asked to prepare accommodation for suspected cases. They were also asked to prepare to set up a field hospital if the situation worsens.
The provincial People's Committee chairman allowed chairpersons of People's Committees of districts to decide the opening of quarantine areas. Agencies and departments will arrange funds for pandemic prevention and control.
Hà Nội on Wednesday morning also confirmed a COVID-19 community infection – a 32-year-old woman who travelled to Hà Nội from Đà Nẵng on the same flight as the two Chinese experts on April 29.
At least four passengers on that flight have been confirmed to get COVID-19 so far.
According to Hà Nội's Centre for Disease Control, the woman from Đà Nẵng visited popular street food restaurants in Hà Nội including a fish noodle restaurant on Hòa Nhai Street in Ba Đình District, Hà Trang snail restaurant on Đinh Liệt Street, "phở" in Bát Đàn Street and Huyền Anh soup restaurant in Hoàn Kiếm District and Hải Xồm Bia on Nguyễn Du Street in Hai Bà Trưng District. She also visited the pedestrian street around Hoàn Kiếm Lake. She reportedly travelled to Sapa from April 30 to May 2.
Meanwhile, in the southern province of Đồng Nai, the province's Centre for Disease Control reported last night one woman who works with a confirmed COVID-19 case in Đà Nẵng tested positive to SARS-CoV-2 once.
The woman works at New Phương Đông Bar in Đà Nẵng. On the morning of May 3, she took flight VN113 from Đà Nẵng to HCM City's Tân Sơn Nhất Airport and then caught a coach from the airport to Long Khánh City. — VNS