Drug circulation body proposed health ministry approve Moderna, Sputnik V COVID-19 vaccines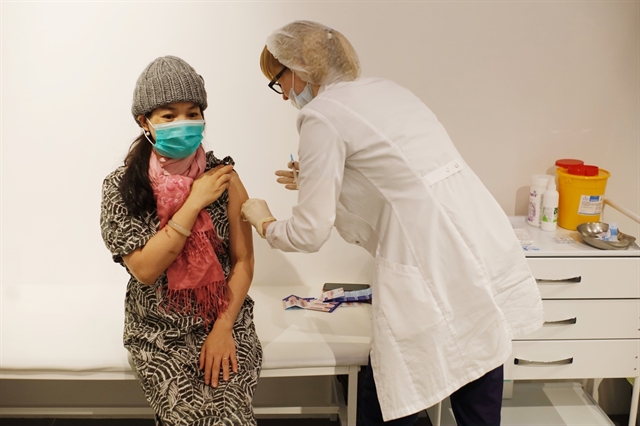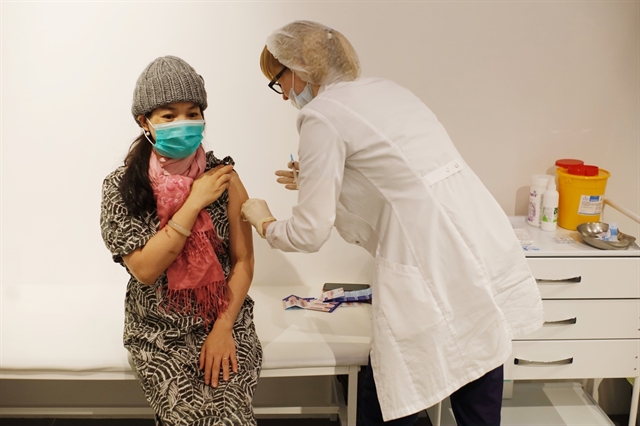 A Vietnamese citizen living in Russia receives a shot of the COVID-19 vaccine Sputnik V in Moscow in February. — VNA/VNS Photo Trần Hiếu
HÀ NỘI — The Advisory Council for the Registration of Circulation of Drugs and Medicinal Ingredients under the Ministry of Health has proposed that the approval of two COVID-19 vaccines, US-made Moderna and Russia's Sputnik V, for urgent use in Việt Nam.
Russia's vaccine (Gam-COVID-Vac), the first in the world to be licensed for use last year, was developed by Federal State Budgetary Institution N.F. Gamaleya Federal Research Centre for Epidemiology and Microbiology of Russia's Ministry of Health. It was manufactured by pharmaceutical company Generium.
Latest results from phase 3 trials of Sputnik V show a 91.6 per cent efficacy against symptomatic COVID-19, according to the medical journal The Lancet. The vaccine can be transported and kept at normal fridge temperatures (between 2 and 8 degrees Celsius).
Việt Nam is in talks with the Russian, who say they can supply 60 million doses.
Moderna COVID-19 vaccine, mRNA-1273, reportedly has a 92.1 per cent efficacy, but needs to be stored at minus 20 degrees Celsius, which could prove a challenge for poor regions and developing countries.
In early February, the Vietnamese health ministry officially approved the vaccine produced by Oxford/AstraZeneca from the UK, because of its safety and effectiveness, as well as its availability and convenience for transport and store.
The first batch of the vaccines, 117,000 doses, arrived in Việt Nam on Wednesday.
The first to receive vaccine shots will be priority groups, including health workers, forces participating in COVID-19 prevention and control activities; diplomats, customs and immigration officers; army and police forces; teachers; people over 65 years old; those providing essential services in the fields of aviation, transportation, tourism, electricity and water services; people with chronic diseases; those wishing to go to work and study abroad; and residents in pandemic-hit areas in line with epidemiological indications.
Vaccinations will start in early March, and 1.2 million more doses may be added to the programme later that month.
Health minister Nguyễn Thanh Long said the ministry would secure 90 million doses of COVID-19 vaccines from different sources in 2021.
The health ministry was making every effort to carry out the vaccination drive, which is the biggest ever in the country, towards ensuring the schedule and coverage of the programme, Long stressed.
Regarding domestic production of vaccines, the minister said all relevant stages were on schedule.
Việt Nam expects to produce its own locally developed vaccines by 2022. — VNS