Domestic COVID-19 outbreak grows as northern localities record new cases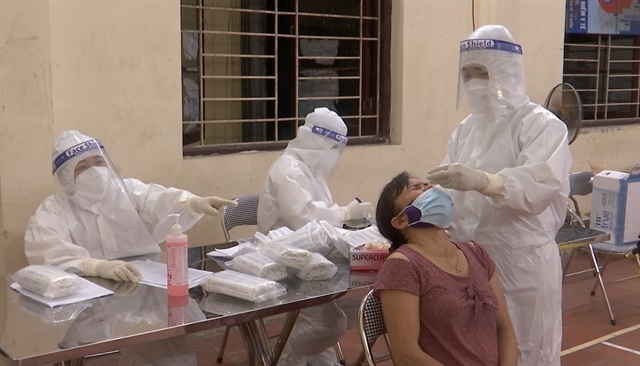 Residents of Mão Điền Commune, Thuận Thành District, Bắc Ninh Province, had samples collected for COVID-19 testing throughout Friday night after more than a dozen cases were found. — VNA/VNS Photo Thanh Thương
HÀ NỘI — The domestic outbreak of COVID-19 grew on Saturday as the northern localities of Hà Nội, Bắc Ninh and Nam Định recorded more than 20 community infections this morning.
Hà Nội saw eight new locally transmitted cases, including two direct contacts in Hà Đông District of a woman in Bắc Ninh Province who came into close contact with positive cases found at the cluster involving the Kim Chung facility of the National Hospital for Tropical Diseases in Đông Anh District, Hà Nội.
Five other cases are also connected to the outbreak at the hospital, including a 59-year-old former patient of the hospital.
The eighth case is a 28-year-old woman in Phúc Xá Ward, Ba Đình District, who returned from Đà Nẵng, where there is also a local outbreak, and tested positive for the virus during her examination at a branch location of the private hospital chain Medlatec.
The northern province of Bắc Ninh earlier today reported 17 new positive cases all in Thuận Thành District, with 14 in Mão Điền Commune, two in Xuân Lâm Commune, and one in Hoài Thượng Commune, all connected to the tropical diseases' hospital outbreak, adding to the 14 patients in Mão Điền officially confirmed by the health ministry late Friday.
Health authorities are rushing to test all 15,000 residents in the commune with collection of samples lasting through Friday night.
Social distancing has been imposed on the commune, which means that all non-essential stores and businesses are closed, public transport is halted, and people are urged not to go outside unless for emergency and essential purposes.
By noon on Saturday, 1,200 people including medical workers, patients, and their caretaking relatives, at the National Cancer Hospital's Tân Triều facility, had tested negative for the virus.
The facility is currently under lockdown after a cluster of 11 positive cases recorded on Friday among 3,000 people present at the facility at that time, with the source likely linked to the tropical disease hospital's cluster.
The remaining results are expected on Sunday.
The northern province of Nam Định in the morning reported that the 16-year-old daughter of a 45-year-old female patient confirmed by the health ministry of Friday has tested positive for the virus who had come to the tropical diseases hospital in Hà Nội to take care of a relative under treatment there.
Lê Quý Đôn High School in Trực Ninh District where she is currently a student has had to shut down for disinfection, while the neighbourhood of the family has been locked down.
The central city of Đà Nẵng today also recorded two more positive cases who work at the same place as a patient confirmed by the health ministry on Friday afternoon, a 33-year-old woman working at the a venue on Phan Châu Trinh Street, Hải Châu District, of a beauty chain called Amida.
The two new patients are a 20-year-old woman L.T.D. who works as the tattooist here, and the 29-year-old manager N.T.H.A. of the establishment. — VNS